Small mills suffer for low quality of raw jute
Production has slowed at small jute mills in northern regions of Bangladesh due to low quality of raw jute resulting from problems in retting during harvest, according to market players.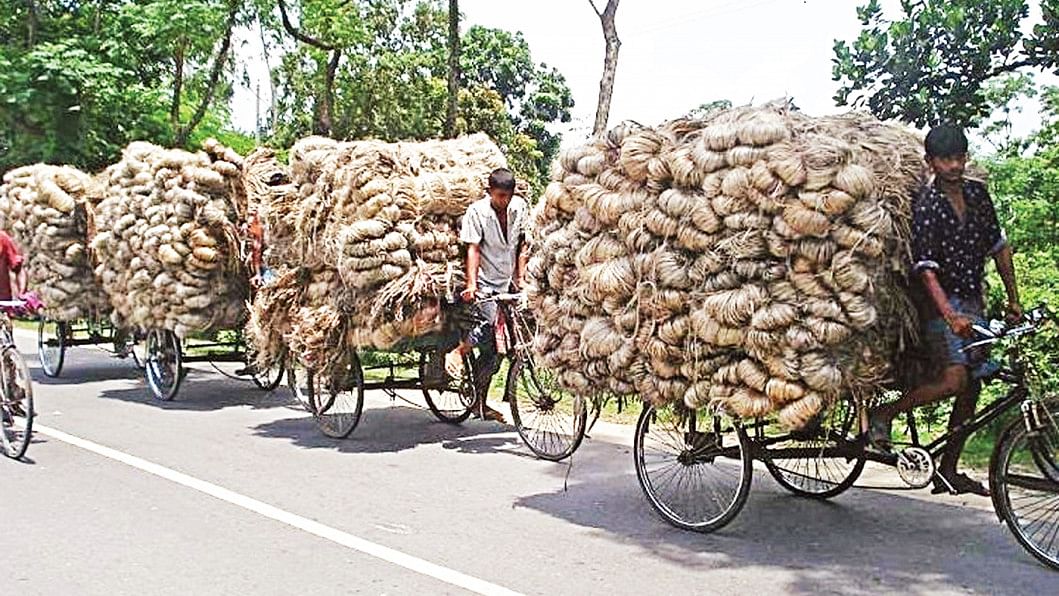 Production has slowed at small jute mills in northern regions of Bangladesh due to low quality of raw jute resulting from problems in retting during harvest, according to market players.
The quality of jute has deteriorated as farmers had to soak the stalks in shallow ponds or mud in the canal bed, which is giving the material a hard and dark look instead of the soft and glazy appearance it is known for. As a result, they are not getting sufficient prices.
The mills in northern districts of the country, namely Rangpur, Dinajpur, Gaibandha, Lalmonirhat and Nilphamari, mostly cater to the domestic demand for jute sacks, hessian, jute thread and other jute products.
However, after water in local ponds and canals became scarce during the harvesting period between July and August, farmers were unable to carry out the retting of their plants as usual.
Retting is the process of soaking jute stalks in water to help separate inner fibres from the stem.
Abu Sayed, general manager of Equ Jute Process Ltd in Nilphamari, said they mainly produce jute sacks made from good quality raw jute, which is currently scarce in local markets.
"So, we are now buying jute at a slow pace of just 700 to 800 maunds per day compared to 1,500 to 2,000 maunds per day last year," he added.
Each maund is equal to roughly 37 kilogrammes. Sayed then said his mill has 150 looms, of which just 100 are currently being operated at full swing due to the lack of raw jute.
Md Shafiqul Islam, general manager of Nine Jute Mill in Rangpur, said they operate three days a week now as high-quality raw jute is rarely available while there is an abundance of the low-quality variety.
Borjahan Ali, chief inspector of the department of jute in Rangpur and Nilphamari, said traders are less interested in jute this year as only 90 licenses have been renewed out of 112 in Nilphamari and the situation is almost same in Rangpur and other northern districts.
Bipod Kumar Kundu, a big jute trader who regularly supplies the product to exporters, usually purchases at least 1 lakh maunds of jute each season but this year he bought less than 2,000 maunds.
"The Russia-Ukraine war adds another problem alongside the inferior quality of jute as import orders from foreign buyers is dull," Kundu said.
While visiting different jute markets in Rangpur, this correspondent found that most farmers are peddling low-quality jute that buyers are uninterested to purchase.
In Kathalbari haat under Kurigram sadar upazila, it was found that low-quality jute is being sold for about Tk 2,600 per maund while the same amount of a slightly better quality is going for Tk 2,800.
Tamiz Uddin, a farmer who brought several maunds of jute to the haat, said prices of the golden fibre ranged from Tk 3,200 to Tk 3,500 per maund last year.
"I cultivated jute on three bighas of land and the field was healthy but after cutting the plants, there was no water in the canals for retting," said Ektadul Haque, a trader at Shyampur haat in Badarganj upazila of Rangpur.
"So, as their quality became low, buyers are offering prices with which I cannot manage my production cost," he added.
Farmers Abdul Hye and Abul Sheikh, who brought jute to Nababganj haat in Jaldhaka upazila of Nilphamari, said the price of each maund of jute should be Tk 4,000 if the quality is good.
Shah Alam, additional director of the Department of Agricultural Extension (DAE) in Rangpur, suggested farmers adopt the ribbon retting process for retting jute.
The process includes separating jute barks from matured plants through a special procedure and then leaving the barks to rot in a bucket or any pot with a little water to produce quality jute fibre.
However, most farmers are unwilling to adopt this process as it ruins the jute sticks, which can also be sold for a good price.
According to the Department of Jute in Rangpur, there are 19 small jute mills across five northern districts with 10 in Rangpur, 6 in Nilphamari and 1 each in Gaibandha, Kurigram and Lalmonirhat. Each mill has between 50 and 300 looms that employ 200 to 1,000 people in normal times.
The jute mills set up with loans from commercial banks bring hope of reviving the past glory of jute, which began its decline after the government had closed down country's largest mill -- Adamjee Jute Mills -- in 2002 while others under Bangladesh Jute Mills Corporation (BJMC) soon followed.
By purchasing old looms and related machineries from some closed nationalised jute mills while also importing some others, the small mills started operation with the jobless workers of closed BJMC mills. However, the local workforce gradually began replacing them.
And after suffering a significant setback in the coronavirus pandemic, these small jute mills have been hit by poor production and prices just when they were trying to rise back up.