Sewing thread: a new avenue of growth in textile
Hundreds of factories have sprung up in recent years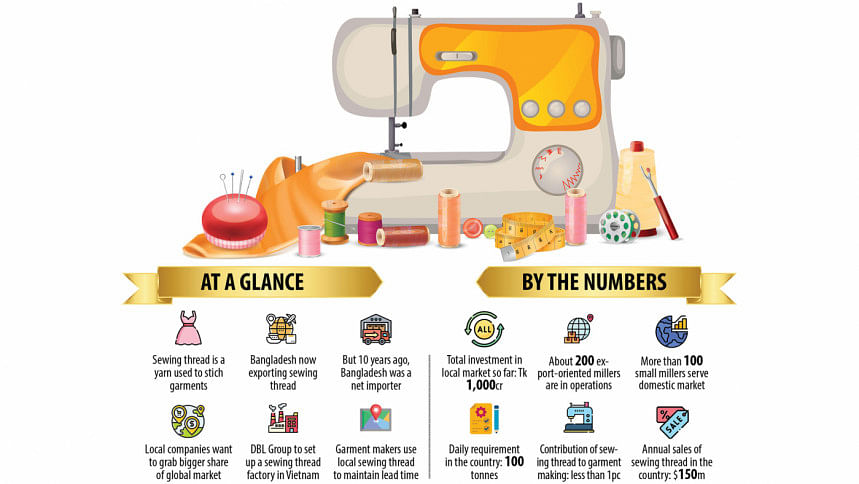 Hundreds of sewing thread manufacturing units have sprung up in Bangladesh in recent years, allowing the country to nearly attain self-sufficiency in the major garment accessory.
As a result, apparel manufacturers have been able to cut their over-reliance on the imported raw materials and maintain strict lead time.
Sewing thread is mainly used in stitching garment items. And 10 years ago, local garment manufacturers and exporters were fully dependent on imported sewing thread.
But now some of the major producers are even exporting the accessory after meeting local demand.
Currently, 20 local and multinational sewing thread mills produce more than 100 tonnes of the item a day.
Although the contribution of the sewing thread is less than 1 per cent to the total garment export of $36 billion, it is vital for manufacturing a finished garment item.
In the past decade, the sewing thread sector witnessed an investment worth Tk 1,000 crore, according to industry people.
Sanzi Textile Mills, located in Kalurghat of Chattogram, invested Tk 100 crore in 1995 to make sewing thread. Today, it produces 30 tonnes of thread per day.
"We are meeting the rising demand in the domestic and international markets," said Syed Nurul Islam, chairman of Well Group, the owning company of the textile company.
Islam plans to invest in another factory to produce leather sewing thread since the leather and leather goods industry is also growing in Bangladesh. Currently, almost all of the required leather sewing thread is imported.
"Leather sewing thread has a very bright future in Bangladesh because leather and leather goods industries are performing strongly," he said.
Sanzi Textile Mills' market share in the sewing thread segment is 30 per cent, raking in $20 million annually. It also ships more than $6 million worth of the accessory a year.
Islam puts the local sewing thread market at $150 million.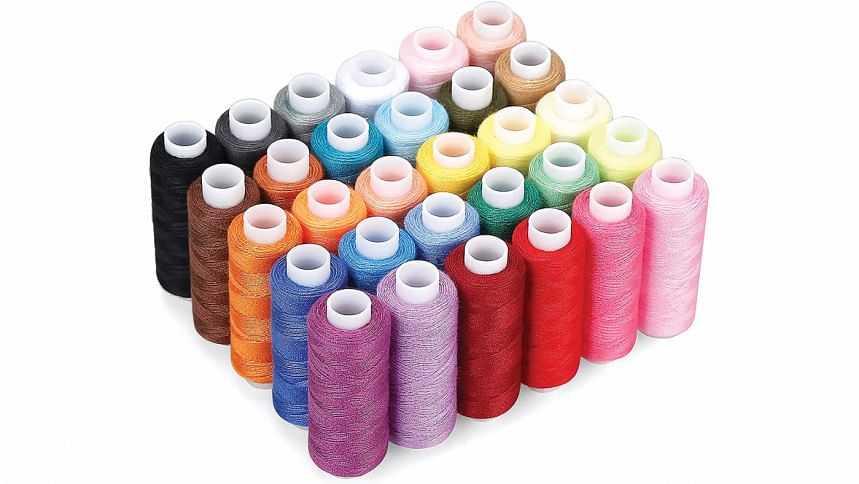 Previously, garment manufacturers relied on China and Hong Kong for sewing thread. Now, local manufacturers can supply 95 per cent of the accessory, while the rest is imported owing to the special requirement from international retailers and brands.
DBL Group, a garment exporter, invested Tk 200 crore in 2016 to set up Eco Threads & Yarns to make quality sewing thread. It produces 10 tonnes of sewing thread a day at its Kashimpur factory in Gazipur.
Of the produce, the company consumes 20 per cent and the rest 80 per cent is sold to other garment manufacturers, said MA Jabbar, managing director of the group.
DBL Group is eyeing expansion in the segment.
"I have a plan to set up a unit to produce sewing thread in Vietnam within two to three years as buyers are nominating our thread for their products due to its higher quality," Jabbar said.
Eco Threads & Yarns sells sewing thread worth $25 million annually at present and plans to double the sales by 2025.
"Even a few years ago, local garment manufacturers were mainly dependent on multinational companies to procure sewing thread, but now local companies are capable of producing internationally standard sewing thread," Jabbar said.
Although the country has become self-reliant on sewing thread, the associated raw materials need to be imported, according to Abdul Kader Khan, managing director of Khan Accessories and Packaging Ltd.
He invested Tk 7 crore to establish a sewing thread unit in Tongi a few years ago to produce 70 tonnes of thread a month.
Nearly 200 manufacturers are engaged in producing sewing thread for export-oriented garment factories, but few of them dominate the market, said Abul Quasem Haider, president of the Bangladesh Sewing Thread Manufacturers and Exporters Association.
Local manufacturers can supply more than 90 per cent of cotton-made sewing thread. But in the case of the synthetic-made thread, they can cater 70 per cent of the demand, and the remaining 30 per cent comes from imports, mainly from China.
More than 100 small and medium-sized mills serve the local sewing thread market.