Scrap vessel imports fall to four-year low
10,000 workers lose jobs in one year as a result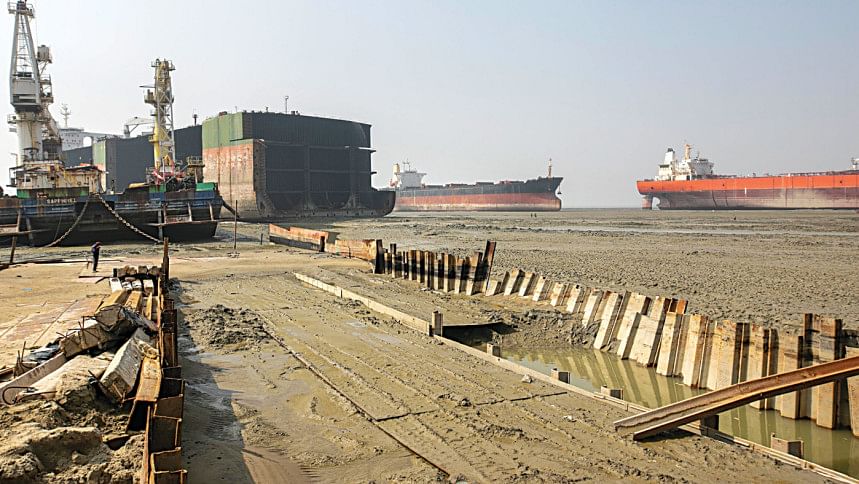 Scrap vessel imports by Bangladesh hit a four-year low in 2022 as banks in the country have become reluctant to open letters of credit amid the ongoing US dollar shortage, according to industry people.
Besides, scrap vessels have become costlier in the global market as US sanctions centring the Russia-Ukraine have halted imports from the region.
"So, that is why many local importers have imported less than before," said Taslim Uddin, proprietor of the KR Ship Recycling Yard in Sitakunda upazila of Chattogram.
A total of 151 scrap vessels were imported in 2022, down by about 27 per cent from 2019. Additionally, the total weight of the scrap vessels imported dipped by around 52 per cent at the same time, shows data from the Bangladesh Ship Breakers and Recyclers Association (BSBRA).
And although just 45 of the 158 shipbreaking yards in Chattogram are currently operational, Bangladesh topped the list of ship dismantling countries ahead of India and Pakistan in 2021, as per data from the NGO Shipbreaking Platform.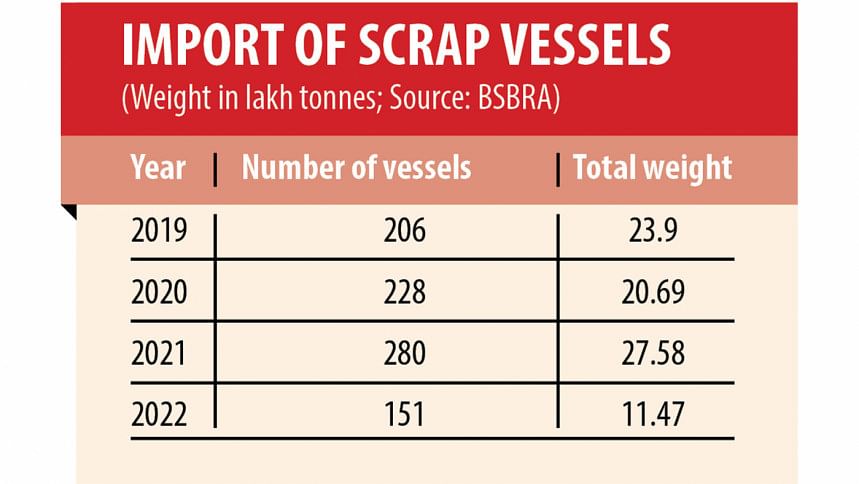 The platform's most recent data released on February 1 shows that 443 oceangoing commercial ships and offshore units were sold for scrapping in 2022.
Of these, 292 large tankers, bulkers, floating platforms, cargo and passenger ships ended up for dirty and dangerous breaking on the tidal beaches of Bangladesh, India and Pakistan.
It also said that at least 10 workers lost their lives while 33 others suffered injuries when breaking apart these vessels at Chattogram.
Meanwhile, local sources reported three deaths in Alang of India and three injuries in Gadani of Pakistan. Some of these accidents took place onboard vessels owned by well-known shipping companies, such as Berge Bulk, Sinokor and Winson Oil.
The NGO Shipbreaking Platform is a Belgium-based global coalition of organisations that works to reverse the environmental damage and human rights abuses caused by shipbreaking practices.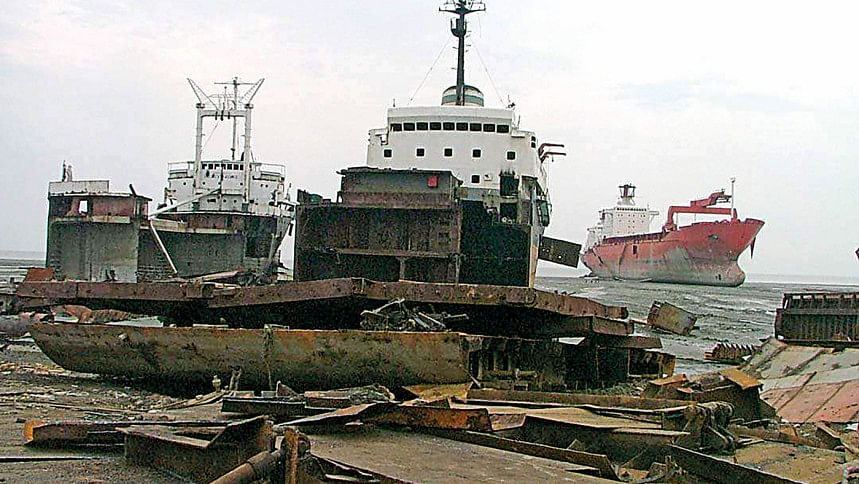 Local shipbreakers and recyclers said scrap from vessels is mainly used by steel re-rolling mills and shipbuilders that make barges.
About 70 per cent of the demand for scrap in Bangladesh is imported and rest is met from the local industry.
Philip Barua, head of brand and communication at GPH Ispat Bangladesh, said the scarcity of scrap amid the current economic situation has had an adverse effect on the market.
Many shipbreaking yards in the country are suffering losses this year as they had to count high costs for the hike in US dollar prices amid the depreciation of the taka, he added.
According to joint data from the BSBRA and Ship-breaking Workers' Trade Union Forum, the US dollar crunch has forced around 30 shipbreaking yards to close in the past one year, causing the loss of 10,000 jobs.
Chattogram has 185 listed ship breaking yards, but around 50 are operational during normal times. Of them, 30 yards are currently shuttered as scrap vessel imports decreased, BSBRA President Md Abu Taher told The Daily Star.
"The dollar crisis is the root cause of the shipbreaking industry's plight. We are unable to import scrap ships from the Russia belt due to the war," he said.
"Apart from this, due to the increase in freight charges, the number of scrap ships in the international market has decreased due to which the owners are not easily declaring ship abandonment," Taher added.
Tapan Dutta, convener of the Ship-breaking Workers' Trade Union Forum, said at least 10,000 workers in the sector have lost their employment as a result.
"Citing the slump in business, yard owners failed to pay many of their employees. All shipbreaking yards will shut down if this keeps on," he added.