Scanty rainfall affects jute retting
Lowers quality while fuelling production costs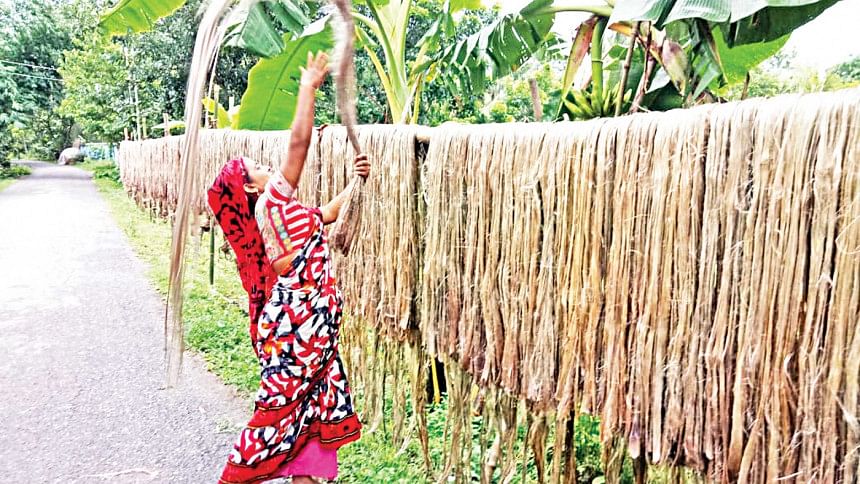 Growers are facing trouble in retting raw jute as a lack of rainfall has reduced the availability of natural waterbodies, affecting the quality of the eco-friendly fibre being produced, according to farmers.
In the face of a declining monsoon season, many producers are being forced to carry their harvested plants to other areas in hopes of finding suitable waterbodies.
A section of them are also having to use diesel engine pumps for retting jute, which increases their production cost on one hand and deteriorates the quality of the fibre on the other.
Under such circumstances, farmers are seeing a fall in profits.
"A lot of our jute became rotten before we could extract the fibres as there was no water to soak it in," said Sumon Mia, a jute grower of Muratia village under Saltha upazila of Faridpur, the biggest jute producing district.
He got a profit of Tk 15,000 from each bigha of land last year but this time around, the profit will not be more than Tk 5,000 per bigha.
In July, when farmers started harvesting the cash crop, the country saw 57.6 per cent less rainfall than the last 30-year average for that month and lowest in the last 41 years.
The average rainfall in June is 439.9 millimetres but this year, precipitation declined 3.6 per cent to 423.8 millimetres, according to the Bangladesh Meteorological Department.
Farmers across Bangladesh have grown jute on a total of 7.53 lakh hectares of land in the current harvesting season, according to data from the Department of Agricultural Extension. Last year, they sowed jute on 7.27 lakh hectares of land to bag 84.32 lakh bales of the fibre within, up 9 per cent year-on-year, according to the Bangladesh Bureau of Statistics.
In Faridpur, which accounts for 9 per cent of the total jute production, farmers cultivated the fibre on nearly 86,000 hectares. Of the total area, 80 per cent has already been harvested with raw jute currently selling for between Tk 3,000 and Tk 3,200 in local markets, which is the same price that it was last year.
Farmers say they are getting an average of about 15 maunds (one maund equals over 37 kilogrammes) of jute per bigha but still, the higher cultivation costs coupled with sparse rainfall has led to poor production.
Faruk Mollah, a jute grower of Boutipara village under Nagarkanda upazila, said they are being forced to use rickshaws and other light vehicles to transport their jute to other areas as they lack enough water to soak the stalks in their own locality.
He got 31 maunds of jute by investing Tk 95,000.
"I have sold raw jute worth Tk 55,000 so far and hope to earn Tk 60,000 more," he said, adding that his profits would be nearly half of the Tk 30,000 he got last year.
Many farmers could not even harvest all their plants due to the lack of water.
"I did not get high quality fibre for a crisis of water," said 40-year old farmer Abdul Gaffar Khan.
Prabir Saha, a raw jute trader at Faridpur, said the cost of production has increased for scanty rainfall. Besides, farmers are getting higher amounts of low-quality jute, which reduces profit.
"The raw fibre gets good colour if retted under enough water. So, low water levels mean deterioration of quality," he added.
In Pabna, another major jute producing district in the country's northwest, farmers are facing the same difficulties.
Take the case of Md Shohidul Islam Pramanik, a grower in Pabna sadar upazila, who is struggling to process his jute due to a lack of sufficient water, which in turn increases production costs.
"There is no water near the jute field for poor rain. After harvesting, I had to move the jute to Jhobjhobia beel, which is two kilometres away, requiring extra transportation cost," Pramanik said.
Md Torab Uddin Bishwas, another grower in Atghoria upazila of the district, said the number of jute farmers increased this year.
"But now, the bumper harvest has become a headache for them," he said.
"Due to the lack of sufficient water, I am unable to extract good quality fibre. There is a small canal with a little water that was earlier used by other farmers and now I am also bound to do the same," Bishwas added.
In addition, increased labour costs have pushed up production costs too, said Johirul Haque, a farmer in Mymensingh sadar upazila.
Arzu Rahman Bhuiyan, senior vice president of the Bangladesh Jute Association, said the amount of quality raw jute is likely to decline this season for the lack of adequate waterbodies in growing zones.
Abdul Barik Khan, secretary general of the Bangladesh Jute Mills Association, said yields of the natural fibre were good.
"But we are not getting quality raw jute at mills as the lack of rain affects retting," he said.
Raw jute is mainly supplied for export and makers of export-oriented jute goods.