RMG exports to Russia on decline
Exporters keep hopes up on alternative shipment, payment modes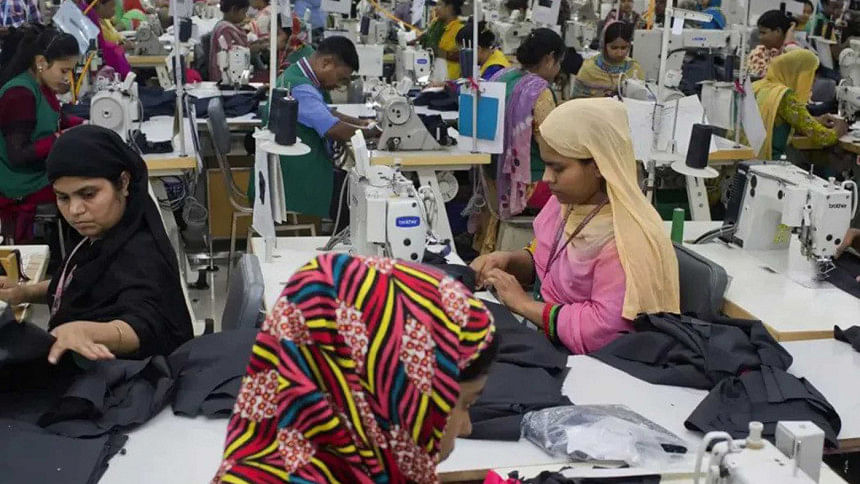 The ongoing Russia-Ukraine war has started to have a heavy impact on garment shipments to Russia as export earnings are declining significantly from this promising market for Bangladeshi apparel goods. 
In the July-February period, earnings from garment export to Russia stood at $482.23 million, meaning that the average monthly earning was $60.15 million in the first eight months of the current fiscal year.
However, the average monthly earning in the last three months between March and May from the Russian market declined significantly to $27.05 million, totalling $81.17million.
Although apparel shipment earnings during the July-May period showcased a 4.32 per cent year-on-year growth to $562.40 billion, the amount was mainly against garments shipped before the start of the war.
In the July-May period of last fiscal year, earnings from apparel shipments to the Russian market stood at $539.10 million, according to data from the Export Promotion Bureau (EPB).
Exporters said the shipments of garment items declined to Russia after the beginning of the war mainly for two important reasons.
Firstly, many goods-carrying ships were stuck in associated ports in the beginning of the war. Secondly, when the SWIFT ban against Russian banks came into effect, the local exporters were in a quagmire as to how they could receive payments.
As a result, they did not manufacture goods for future shipments, although work orders had been placed earlier.
So, garment export to Russia is going through a downward trend over the last three to four months.
However, the exporters are saying that shipments would rebound soon for the restoration of formal shipping channels and arrangements for local exporters to receive payments in Chinese currency.
The local exporters appreciated payments in Chinese currency as it is helping them continue business with Russia.
With the war running for the past five months, local garment exporters are still hopeful that shipments to Russia will rise because it had continued even during the war.
They are hopeful, going as far as even expecting the shipment figures to go up in the future as Russian retailers and brands have been placing work orders with Bangladeshi manufacturers while foreign retailers and brands had been leaving Russia for the SWIFT ban.
The local garment exporters said earnings from shipping apparel items to Russia was supposed to be grounded, as predicted by some people because of the outbreak of the Russia-Ukraine war that began on February 24 this year.
Still, they are capable of making earnings from the shipments to Russia although the growth is declining every month.
For instance, Rajiv Chowdhury, managing director of Fatullah-based Young 4 Ever Textile, said he was able to receive $5 lakh as export payment from his Russia buyer but through an alternative route from Turkey.
"Primarily with the breakout of the war, I was scared regarding the payment from the Russian buyer but finally the buyer paid me the amount from Turkey," he said.
Until now, the Russian buyers had been interested in placing work orders to his factory but Rajiv remains very cautious regarding buyers from this nation as the war was still going on.
With the SWIFT ban, many local garment exporters have been receiving payments through alternative channels such as in Chinese currency.
Chowdhury also said big buyers easily complete making payments through the alternative channels such as in Chinese currency but reaching shipments to the war zone had turned very risky.
He said every year he usually ships more than $1 million worth of knitwear items like t-shirts and polo shirts to Russia.
Shahidul Islam, managing director of Rupa Group, another exporter of knitwear items like sweaters, polo shirts and t shirts, has been very cautious in making shipments to Russia although he was determined to reach his goods in spite of the risks posed by the war.
Usually, he ships knitwear items worth $2 million in a year. But reaching this annual figure apparently seems impossible within the six months left of the current year because of a slowdown in exports for the war, he said.
Shipments to Russian markets will rebound for local garment exporters as this is a promising one, he said.
Mohammad Hatem, executive president of the Bangladesh Garment Manufacturers and Exporters Association, still sees Russia as a very promising export destination as Russian buyers were getting habituated to paying through alternative channels such as in Chinese currency.
Moreover, the old export shipment routes of Russia have also been restored. For instance, currently, the local garment exporters can ship goods through the ports in Finland, Belarus and Hamburg.
The only route closed until now for shipment of goods to Russia is through Poland, he said. "We see Russia as a boon in spite of the ban," he said.
"We are exporting in alternatively ways and receiving payments in alternative ways. Hope the export will rebound to Russia soon," said Faruque Hassan, president of the Bangladesh Garment Manufacturers and Exporters Association.
Few work orders were put on hold and deferred and now the business is being restored gradually, he said.