Recovery strong, but macro-economy under strain: analysts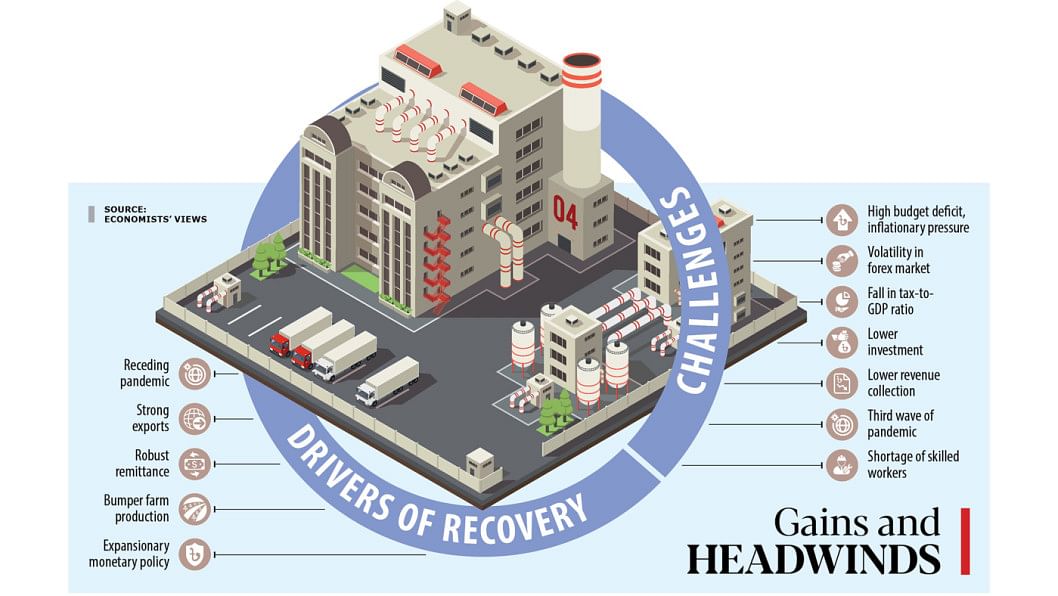 Bangladesh is staging a strong economic recovery from the coronavirus pandemic but the government should be cautious about tackling the pressures building up in some macro-economic indicators, said economists yesterday.  
The government needs to be careful about the indicators such as the balance of payments, budget financing, and inflation, said Ahsan H Mansur, executive director of the Policy Research Institute of Bangladesh (PRI).
"Otherwise, things can go out of control."
His comments came at a webinar styled "After the Pandemic Onslaught – Economy on Strong Recovery Path" organised by the PRI.
There is an emerging pressure involving the balance of payments as import growth has exceeded export growth amid slowdown in remittance inflows.
The current account balance is already in deficit by around $6 billion, so if the trend continues, it would be much higher, he said.
"How will it be funded?" asked Mansur.
Pressures are growing in the foreign exchange market. The unofficial kerb market is also up. But the Bangladesh Bank is responding slowly when it comes to devaluing the taka.
"The central bank needs to act faster to make the adjustment," said Mansur.
He also pointed to the tax-to-GDP ratio, which fell to a historic low of 7.7 per cent last year. "But lower revenue collection will not help since demand for education, health, and infrastructure has grown tremendously."
On the expenditure side, subsidy bills have surged. As a result, an additional Tk 70,000 crore will be needed beyond the budgetary plan.
Another challenge for the country is the entire annual development programme is being funded by borrowing, either through domestic loans or external loans.
"You can borrow 50 to 60 per cent but not more than that," said Mansur.
Inflation is rising.
General inflation rose to a 14-month high of 6.05 per cent in December last year, with non-food inflation reaching 7 per cent, a six-year high, and food-inflation to 5.46 per cent, the highest in six months.
"It is a difficult to curb inflation in an economic reality when global inflation is also going up," said the former official of the International Monetary Fund.
"Inflation may go up during economic recovery but we have to cautious so that it doesn't spiral beyond the tolerable level," said Monzur Hossain, research director of the Bangladesh Institute of Development Studies.
He said investment had not reached the pre-pandemic level, but the positive thing was both export and import were rising.
"If investors' confidence receives a boost, the recovery will continue. However, as the third wave is knocking on the door, the government needs to be cautious."
He called for overcoming the shortage in revenue collection. Otherwise, budget implementation would be hurt.
Zaidi Sattar, chairman of the PRI, said post-pandemic recovery was strong and Bangladesh was poised to return to its pre-pandemic growth trajectory.
"But we have to go a long way. The journey has just begun."
Sayema Haque Bidisha, research director of the South Asian Network on Economic Modelling, credited the agricultural sector and people's tendency to make a comeback on their own for the economy's revival.
However, not all sectors have turned around at the same pace, so the sectors that have been recovering slowly should be prioritised, she said, citing the examples of transportation, tourism and construction sectors.
During the pandemic, human capital development process has also been hit hard. So, the government should think about how the loss can be reversed, said Prof Bidisha.
Mansur added: "Omicron has already arrived and it is going to spread. But we should not panic. Rather, we need to strengthen our social safety net and health care systems."
"We don't want any lockdown or severe measures. As we don't want to hurt the economy any longer, we have to be cautiously optimistic as pressures are building up."
Due to lower revenue collection, financing government expenditure would be challenging as it went up multiple times during the pandemic, according to Rizwan Rahman, president of the Dhaka Chamber of Commerce & Industry.
He said cottage, micro, small and medium enterprises (CMSMEs) needed collateral-free loans to revive.
Some Tk 40,000 crore was allocated for CMSMEs but only Tk 15,000 crore has been distributed so far. 
Rahman said the Bangladesh Bank's expansionary monetary policy helped the private sector rebound.
"But, there should be continuous monitoring in the areas of the foreign exchange rate, the inflation rate, and foreign direct investment flow. Economic diplomacy needs to be strengthened. Accountability is necessary."
Improvement in the coronavirus situation in the western world, which is Bangladesh's export market, was one of the factors that helped the country make a quick recovery, said Md Fazlul Hoque, a former president of the Bangladesh Knitwear Manufacturers & Exporters Association.
He said orders flocked to Bangladesh because of the US-China trade war and lengthy coronavirus lockdown in Vietnam.
"Most importantly, Bangladesh has been able to prove its mettle during the peak of the pandemic. It has given extra confidence to buyers. So, our factories are flooded with orders, but it will not continue forever."
Hoque cited the shortage of skilled workers and the higher production costs as the challenges facing the apparel industry.
"There is 20 to 30 per cent workers shortage, so policy support is needed to train people."
Production cost has risen by around 30 per cent whereas only 20 per cent can be offset by the higher price of products, he added.
Naser Ezaz Bijoy, president of the Foreign Investors' Chamber Of Commerce & Industry, said footwear, light engineering, health care, and agriculture sectors have the leeway to grow further.
There are challenges in the horizon as the third wave is coming, he said.
"Tax collection needs to be focused. In order to ensure inclusive growth, we need to focus on the SME sector because it is still struggling."
"We also need to focus on business climate, diversification, digitalisation, productivity, and technology."
Speaking as the chief guest, Planning Minister MA Mannan, slammed the terms "paradox" or "magic" that are used to describe the country's stellar economic development.
"When we use these words to measure our economic success, we insult our hardworking people. People have put in a lot of efforts for our country. We used our agricultural sector successfully during the pandemic," he said.
Faruque Hassan, president of the Bangladesh Garment Manufacturers and Exporters Association, Muhammad Abdul Mazid, a former chairman of the National Board of Revenue, and Waseqa Ayesha Khan, planning affairs secretary of the Bangladesh Awami League, also spoke.