Realtors hope for good response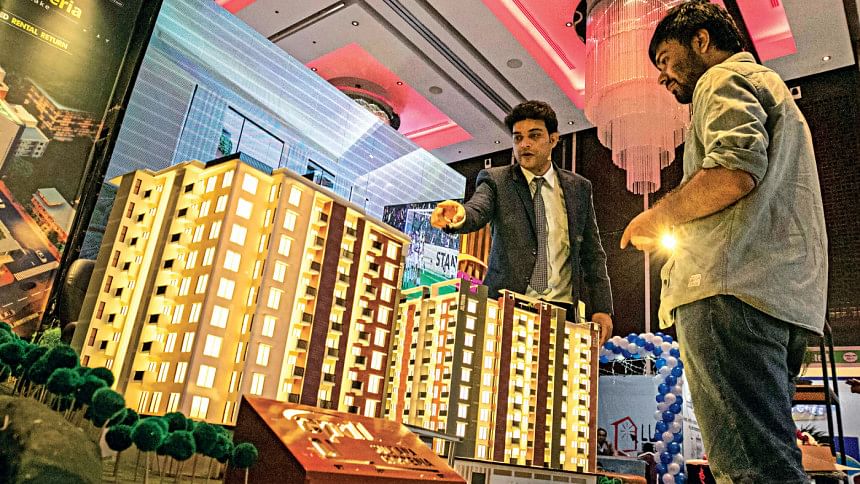 Real estate companies are hoping for a good response from buyers at a four-day housing fair that kicked off in Chattogram yesterday as apartment sales in the port city gained momentum in line with the waning of the coronavirus pandemic.
The local real estate industry is witnessing a boom in sales for the first time in several years as the demand for apartments in Chattogram rose following Bangladesh's recent return to economic normalcy, according to industry insiders.
Besides, recent policy support measures such as a reduction in registration costs and interest rate imposed on home loans, and allowing the use of untaxed income for purchasing property has fuelled the demand for housing solutions.
In addition, long stays at home amid recurring nationwide lockdowns aimed at curbing the spread of Covid-19 influenced many affluent individuals to purchase their own apartments, they said.
However, realtors have expressed concerns over the increasing price of various construction materials, such as iron rods, as it may soon have a negative impact on the industry.
The fair, styled "REHAB Chattogram Fair 2021", was organised by the Real Estate and Housing Association of Bangladesh (REHAB) at Radisson Blu Chattogram Bay View.
Nasrul Hamid, state minister for power, energy and mineral resources, inaugurated the event with REHAB President Shamsul Alamin Kajal in the chair.
Rejaul Karim Chowdhury, mayor of Chattogram City Corporation, attended the opening ceremony as a special guest.
A total of 46 firms from Dhaka and Chattogram, including eight firms dealing in construction materials and six financial institutions, set up 71 stalls in the fair.
The 32 participating real estate firms are displaying a number of their ongoing projects, with a total of around 800 residential apartments on offer, said the REHAB officials.
A total of 83 Chattogram-based real estate firms are REHAB members.
Realtors said the demand for ready apartments in the port city has increased ever since economic activities in the country bounced back.
Seeing the increase in demand, many firms which do not have apartments ready for sale have taken on new projects.
Md Abdul Kauiam Chowdhury, chairman of the REHAB's Chattogram Regional Committee, said the domestic real estate sector was gradually coming out from a bad phase thanks to some policy support.
He informed that the government recently reduced the registration cost in the industry by 2 per cent while the central bank last month issued a notification to provide home loans of up to a maximum of Tk 2 crore for the purchase of flats against the earlier limit of Tk 1.20 crore.
"These steps are obviously positive for the sector," Chowdhury added.
The CPDL, a leading local real estate and construction company, has completed 34 projects in Chattogram so far while another 22 are ongoing.
Iftekhar Hosen, president of the CPDL, told The Daily Star that the firm's sales increased by 50 per cent this year compared to that in 2020.
The firm already sold around 90 residential and commercial properties as of October.
"Comparatively cheaper apartments ranging from Tk 60 lakh to Tk 70 lakh have the most demand but renowned realtors cannot satisfy such requirements considering the high cost of land and increasing price of construction materials," he said.
Hosen went on to say that the demand for large apartments that come with facilities such as gyms, playgrounds and community halls is rising while stay-at-home measures to prevent Covid-19 made people realise the benefits of these amenities.
As such, many affluent people who already own 1,800 square feet or 2,000 square feet apartments are showing interest to trade off their homes for more spacious flats ranging from 2,500 square feet to 3,000 square feet.
Accordingly, many firms have started constructing condominiums.
After completing two condominiums in Chattogram, the CPDL has now started another project called Sultana Gardenia in the port city's Devpahar area targeting upper middle-class families.
Equity Properties Management recently started its second condominium project near Agrabad commercial area on a 45-katha plot, offering 148 apartments.
Equity is offering a 10 per cent discount on its flats at the fair.