Rains, floods batter Boro cultivation
Farmers expect lower yields as a result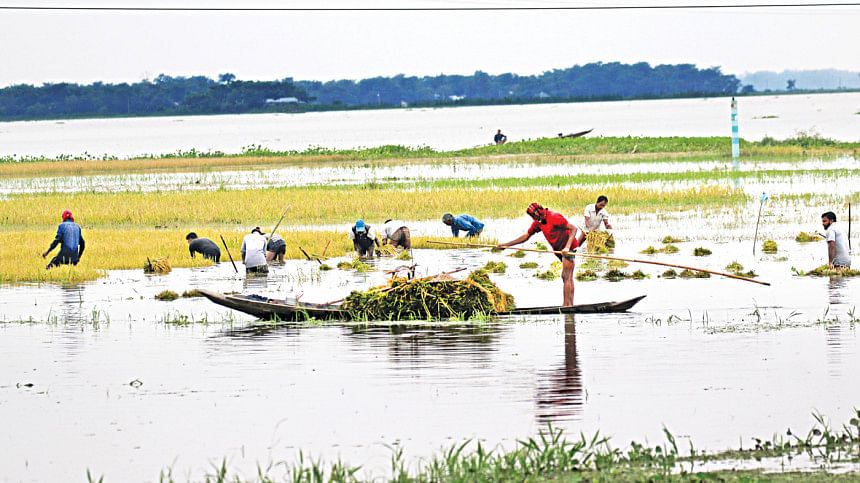 Production of the staple food grain has been affected at a time when people, especially those in lower-income groups, are fighting the spiralling prices of rice
Natural calamities, including the recent flash floods in haor areas caused by heavy rain amid cyclone Ashani, have damaged the production of 78,987 tonnes of boro rice this season, according to the Department of Agricultural Extension (DAE).
As per DAE estimates, farmers have cultivated Boro paddy on 49.63 lakh hectares of land this year.
Of this amount, 19,722 hectares of the crop, which accounts for roughly 55 per cent of the country's annual rice production, have been affected by natural calamities. As such, about 0.4 per cent of the total cultivation has been ruined.
Some 18,176 hectares of the paddy fields were affected by rain and overflowing waterbodies, damaging the production of 72,157 tonnes of rice. Water flowing downstream from hills alone damaged nearly 1,544 hectares of paddy, destroying the production of 6,608 tonnes of rice.
Besides, heavy winds damaged 52 hectares of the crop, from which 222 tonnes of rice were supposed to be produced, DAE data showed.
After excluding the total damage, the agriculture ministry estimates a total production of 21,157,863 tonnes of paddy this season, up from 20,885,263 tonnes last year.
The production of the staple food grain has been affected at a time when people, especially those in lower-income and marginal groups, are struggling to afford the spiralling prices of rice despite it being the peak harvest season.
The spike only adds to the woes of consumers, including the middle-class, who are suffering from higher inflation.
Overall inflation reached a 17-month high in March earlier this year amid rising food prices, including that of edible oil and flour.
Finer quality versions of the grain that are mostly consumed by middle-and-upper-income groups was being sold at between Tk 1,100 and Tk 1,150 per maund (37 kilogrammes) yesterday, which is 10 per cent higher than what it was three weeks back, according to millers and traders.
As flash floods in haor areas, heavy rainfall and winds have affected the crop, farmers fear that this year's yields will be low.
However, as per DAE estimates, the yield of Boro paddy will be 4.2 tonnes per hectare.
Md Mazaharun Islam, a farmer in Jamalpur, said he cultivated paddy on two acres of land but almost 25 per cent of his crop was damaged by heavy rain.
However, many farmers say the extent of the damage in terms of yield loss is much higher.
"This season, the yield of Boro paddy will be much lower than that of the previous year," said Amzad Hossain, a farmer in Bogura.
"Due to bad weather, immature paddy had to be harvested and for the same reason, a portion of it was damaged as the crop could not dry up in time," Hossain said, adding that the situation is similar for almost every farmer.
Apart from that, the paddy seedlings to be planted in the next Aus season have also been affected by the hostile weather, according to various farmers.
Mohammad Jahangir Alam, director of the Institute of Agribusiness and Development Studies at Bangladesh Agricultural University, said if the data is correct, then the total loss will be less than 80, 000 tonnes.
"This amount is not too much in terms of quantity but considering the current global scenario, especially in the face of Covid-19 and Russia's war on Ukraine, the loss of 80,000 tonnes is significant," Alam said.
"So, the government should take some measures to minimize the losses," he said, adding that the authorities have already taken many measures to this effect.
ABOUT 80PC OF BORO HARVESTED
Meanwhile, the harvesting of more than 80 per cent of the Boro paddy grown across the country has already been completed despite the bad weather, showed DAE data.
However, farmers in haor areas have already completed 100 per cent of the reaping on 452,138 hectares of Boro paddy while 93 per cent of the harvesting in non-haor areas on 498,180 hectares of land has already ended as well.
According to the DAE, the rest of the harvesting will be complete by June 15.