"Stop war, stop politics with food"
PM at World Food Forum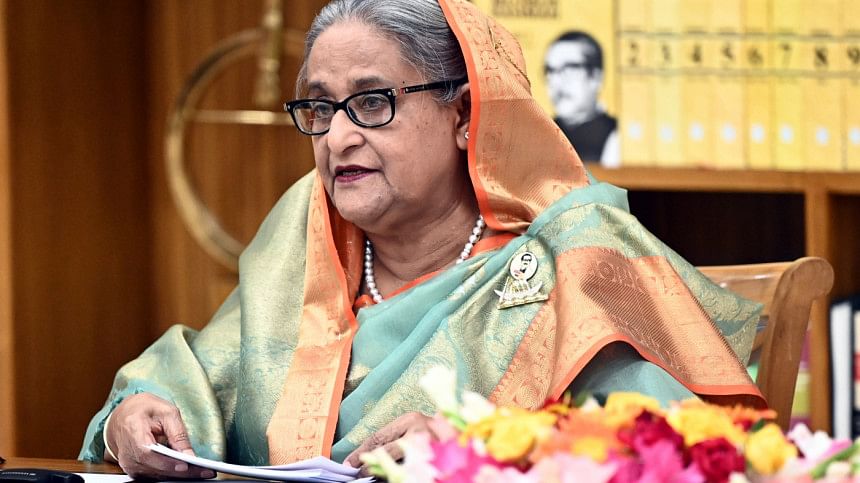 Prime Minister Sheikh Hasina today (October 17, 2022) once again called for stopping the Russia-Ukraine war blaming the conflict for disrupting the global food supplies leading to increased cost of food.
She made the fervent appeal in a keynote speech at the five-day World Food Forum 2022 at the headquarters of the Food and Agriculture Organization (FAO) in Rome, Italy. The theme of this year's WFF (October 17-21) is "Healthy Diets, Healthy Planet." 
Speaking virtually from her official residence Gono Bhaban, Hasina said that more than 800 million people or 10 percent of the world's population are estimated to regularly go to bed hungry.
"Things have now become worse with the Ukraine war, and subsequent sanctions and counter-sanctions, which have disrupted global food supplies and raised the cost of food," she said.
She said that she had repeatedly appealed to the international community to stop war, stop politics with food, and stop wastage of food.
"If, on the other hand, a fraction of the money invested on manufacturing weapons was spent on food production and distribution, no one would go hungry in this world," she said.
"Instead, please ensure food supply to areas of food shortage, and famine. As human beings, we must believe that everyone has a right to survive with food and have a decent life," she said.
She stated that "In real sense, there is no dearth of food on our planet. The scarcity is simply manmade".
She alleged that politics and business interests with food, challenges of climate change, and pest and disease attacks are all putting pressure on the planet's agri-food systems.
She mentioned that this deprivation is most unfortunate in the world of abundant resources which is boosted by remarkable contributions of science and technology. 
Talking about the agricultural development of Bangladesh, the prime minister said that after the assassination of the Father of the Nation Bangabandhu Sheikh Mujibur Rahman, the agricultural programmes and all other development initiatives that he had taken came to a halt. Thereafter, a couple of decades followed without progress.
She mentioned that coming to power in 1996 she, following the footstep of Bangabandhu, immediately began short, medium and long term plans of Bangladesh's overall development, and particularly agriculture as food self-sufficiency came first before all other necessities.
She recalled that while she assumed office, there was a 4 million metric tonnes of rice shortage, and when she left office at the end of her first tenure, there was a surplus of 2.6 million metric tonnes of rice.
"In my present tenure, we have again made remarkable progress in rice production. Total rice production was increased to 38 million metric tonnes last year from 28.9 million metric tonnes in 2008. It was possible due to our pragmatic policies, robust incentives and importantly, our hard working farmers."
She mentioned that the government policies included mechanization and new technologies for increasing food production; giving agricultural appliances to farmers at subsidized rate up to 50 to 70 percent.
Thereby, she said, from 2010 to 2021, more than 71,000 agricultural machineries were provided to them. "We made further provision for 51,000 more by 2025."
Moreover, Sheikh Hasina said that during her second tenure from 2009 to 2014, Agricultural Inputs Assistance Cards were given to 20 million farmers with individual bank accounts.
These cardholders are given loans directly in their bank accounts for crop production and subsidy for agricultural inputs. Also, the central bank adopted an agricultural and rural credit policy for investment in agriculture.
"Thus, in the period 2020-2021, over USD 2 billion was provided as loan to 2.25 million small and marginal farmers."
Despite this, Hasina said, Bangladesh's agricultural sector is challenged by climate change and natural calamities. 
"Bangladesh, after all, is one of the most climate vulnerable countries in the world. And, climate change is a major threat to sustainable agriculture. Yet Bangladesh and her resilient people have continued to move ahead tirelessly to attain self-sufficiency in all spheres of life."
She said that along with agricultural products, Bangladesh has also succeeded in increasing production of vegetables, fish, and other agro-based products, most of which are exported. 
She said that Bangladesh is today ranked 2nd in jute and fresh water fish production; 3rd in rice and vegetable; 4th in tea production; and 1st among eleven hilsa fish producing countries.
She also mentioned that Bangladesh will be one of the 20 countries showcasing at tomorrow's Investment Forum. 
"We shall present attractive investment opportunities in key areas, including value chains for Bangladesh. We shall also focus on the growth potential of our agricultural sector and highlight other business opportunities."
Notably, she said, Bangladesh is now an attractive destination for foreign direct investment. 
"Our policies are liberal and laws conducive to investment. This includes fiscal policies related to FDI, tax benefits, incentives for exports, and other inputs as technology and competitive labor."
She also said that Bangladesh has good potentials for agro-processing industries.
"I would especially like to invite foreign investors to invest in this agro-sector," she said.