Publishers to set higher prices at Ekushey book fair
They blame rising production costs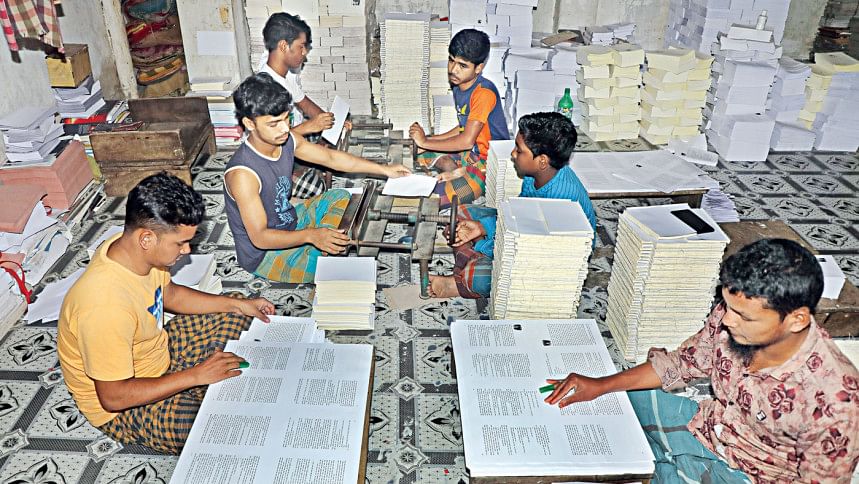 Publishers are gearing up for the upcoming Ekushey book fair despite multipronged challenges as a sense of festivity surrounding the monthlong book fair has returned for the first time in three years.
Since 2020, the national event held in February each year has been marred by poor sales amid the economic uncertainly brought on by Covid-19.
And while these trepidations have long past, books will be at least 20 to 30 per cent costlier this year due to the skyrocketing price of paper, according to various publishers.
However, publishers are implementing cost optimisation and lower profit margins so that book prices are lower than what they could be considering how the cost of both 100-gramme and 80-gramme offset paper roughly doubled over the past year.
Many publishers, especially those who sell non-educational books, were hit hard by the pandemic as sales had taken a nosedive in the face of decreased demand for non-essentials at the time.
Besides, low sales in the last three editions of the book fair, the peak sales season for publishers, exacerbated their financial woes to the point that many struggled to survive.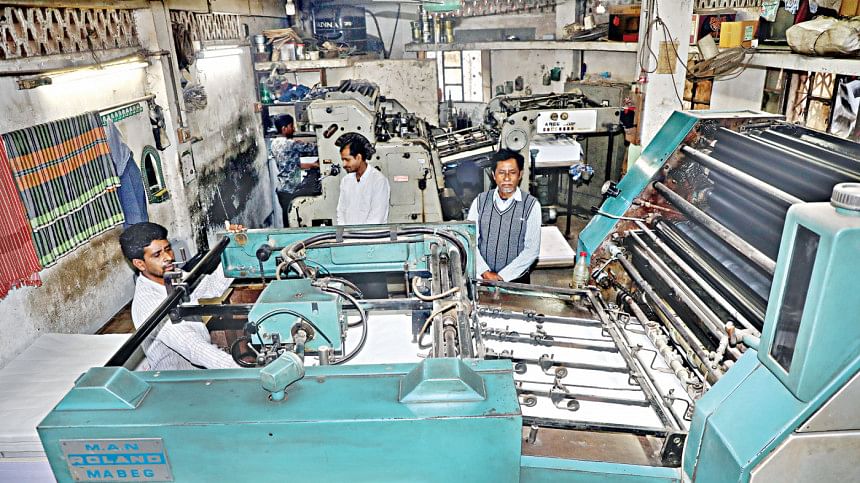 "The last three years has been a tough time for us but still, we are trying to set book prices in a way that will not put pressure on customers," said Dipankar Das, the owner of Baatighar, a major publisher of non-educational books.
Das is planning to introduce 45 new books at 30 per cent higher prices at the fair.
"We put emphasis on quality books and will print large volumes," he said while explaining their strategy to combat the high price of raw materials.
As usual, Bangla Academy, the organiser of the fair, decided to hold this year's Boi Mela from February 1. The annual event is the largest gathering of readers, writers and publishers in the country.
The 2022 edition was held between February 15 to March 28 with strict Covid-19 restrictions in place as the country was coming off a fresh lockdown in the first two weeks of February that year.
In 2021, the fair started late on March 18 and ended two days early on April 12 as the government had imposed another countrywide lockdown.
"My hope is that following three years of downturn, this will be a successful fair and our preparation is running on full throttle," said Zakir Hussain, the manager of Prothoma.
The higher cost of paper, ink, electricity, transport and labour have increased the overall production cost by about 40 to 45 per cent this year.
"Still, we have reduced the profit margin significantly to attract customers as most people only buy books after fulfilling basic needs," he added.
Prothoma will introduce 70 books for the fair, down from 97 books in the 2019 edition.
Asked about why there are less books on offer, Hussain pointed to the lack of good manuscripts, prominent writers and topic diversity.
"We have to maintain our standard," he said.
Farid Ahmed, proprietor of Somoy Prokashon, said the price of every product has increased due to global crises.
"So, slightly higher book prices will not bother people much but the rise in production cost will reduce our profit margin as the prices were increased relatively less in comparison," he added.
Mahrukh Mohiuddin, managing director of University Press Limited, said the main challenge is to optimise costs as the printing cost is higher than ever.
"We haven't got any government support to face this crisis. Ultimately, customers will have to bear the additional cost, which is unethical. But there is no way to get back the investment without raising prices," she added.
Mohiuddin then said that with the economy being battered by different crises, their main target at the moment is to simply reach the breakeven point.
Arifur Rahman Nayeem, the publisher of Oitijjhya, said they are bringing about 200 new books to the fair.
This is the highest number of books to be introduced by Oitijjhya in a single fair in the 22 years since its inception.
"No matter what the challenges are, we will have a great book fair this year," he added.