People of 'Mehndi Gram' earning big from henna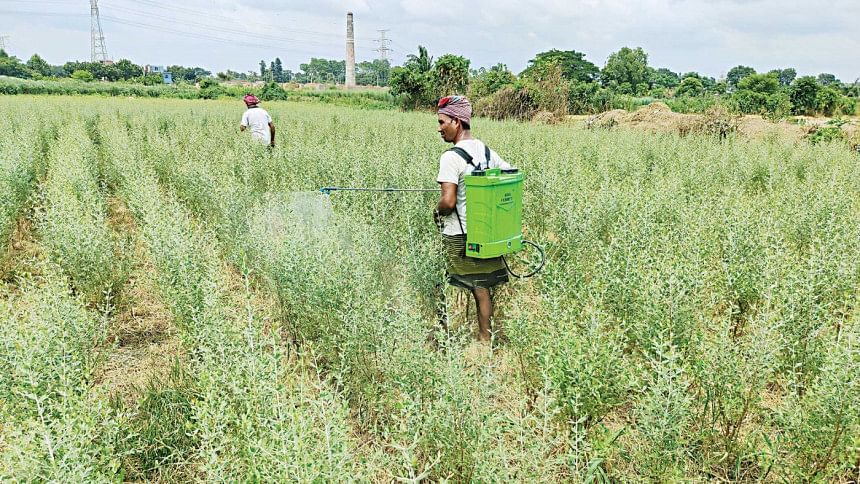 Henna cultivation is more profitable than traditional crops as the demand in markets in Dhaka is increasing day by day.
The Salmashi village in Savar is popularly known as "Mehndi Gram" as most farmers in the area cultivate henna trees on a commercial basis to provide for their families.
During a recent visit to the village, this correspondent found local farmers either preparing henna leaves for sale or tending to the fields themselves.
Henna grower Payar Ali said nearly 50 farmers in the village collectively cultivate the plant on about 200 bighas.
Ali himself has been cultivating henna for the last 15 years on five bighas of land, where 4,500 to 5,000 saplings can be planted on each bigha.
The seedlings take about seven to eight years to mature before the leaves can be harvested around five times a year.
"I rent my land for Tk 15,000 per bigha and regularly make 100 bundles of henna leaves for sale at Rayer Bazaar in Dhaka. The bundles sell for between Tk 30 and Tk 80 apiece," Ali said.
"Last year I earned about Tk 2 lakh, excluding expenses, as market prices were good while fertiliser and pesticide costs were low.
There won't be as much profit this year as the situation is reversed," he added.
Swapan Ali, another farmer of the village who cultivates henna on 10 bighas of land, said rather than selling his leaves at the market, he sells it directly to wholesalers from the field.
So far this year, he has sold henna leaves from his land three times and made a good profit.
Asked whether he might expand cultivation considering his success, Swapan said overall production in the region is actually decreasing day by day.
"Once upon a time, henna was cultivated in our neighbouring village of Kalatia but due to increasing urbanisation, it is no longer cultivated there," he said.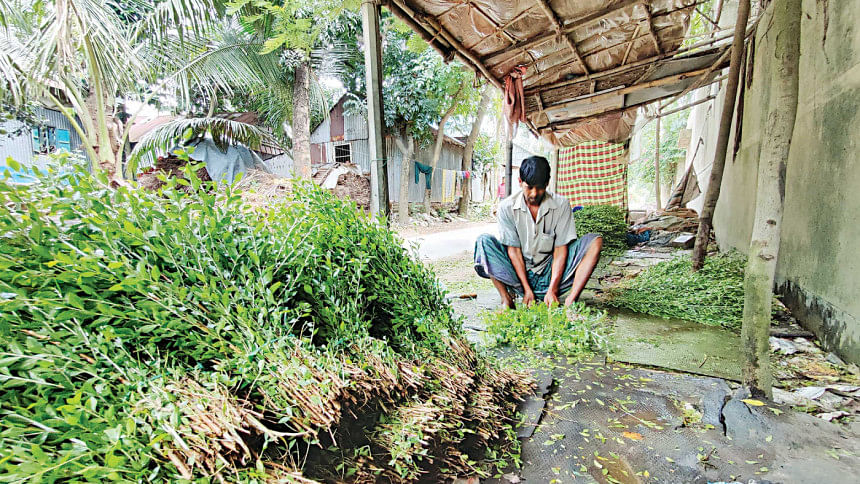 "Cultivation in our village is decreasing also due to the higher cost of labour, fertiliser, pesticides and land rent."
"So, it is not possible to increase henna cultivation. Our village may now be known as 'Mehndi Gram' but we might eventually lose this title," Swapan added.
Abdul Ali, a henna trader, said he buys the leaves from contracted farmers to sell it at the Karwan Bazar wholesale market in Dhaka.
"I have purchased one acre of henna plant this season for Tk 80,000 in hopes of earning TK 40,000 after paying costs," he added.
Jalal Miah, who purchases henna leaves from the Rayer Bazar wholesale market and sells it on a van beside his vegetable business, said he usually gets five bundles of henna leaves for Tk 250 to Tk 350 taka and sells for Tk 700 to Tk 750.
"I can sell more leaves before occasions such as Eid and earn more money from it," he added.
Contacted, Upazila Agriculture Officer Najiat Ahmed said that according to their information on henna cultivation, the plant is grown on about 10 hectares of land in Savar.
"Henna cultivation is more profitable than traditional farming as the demand in markets in Dhaka is increasing day by day," Ahmed said.
"The people of Salmashi area have been cultivating henna for a long time and earning good profit. We provide training on how to cultivate henna and make it more profitable," she added.