Padma Bridge breathes hope into southern farmers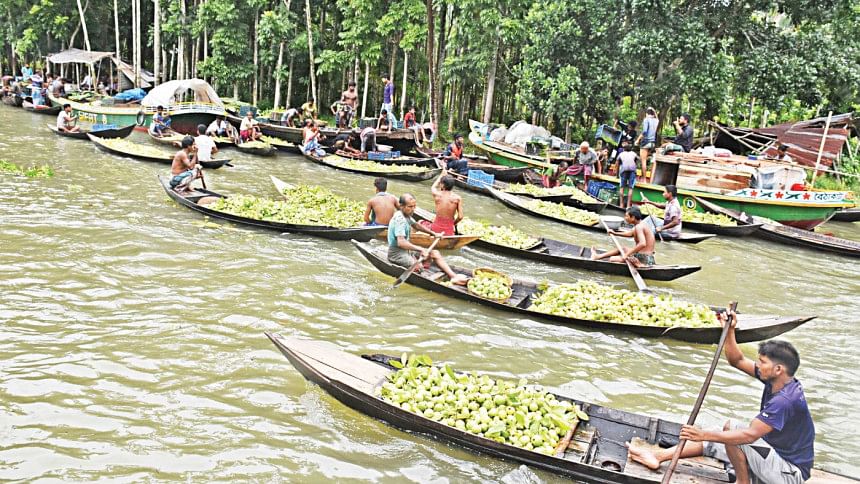 Farmers and traders of agricultural products in Barishal, Jhalakathi and Pirojpur are counting the days until June 25, when Prime Minister Sheikh Hasina will officially open Padma Bridge, as the resulting increase in connectivity will ensure better prices for their produce.
"The wholesale price of guava was Tk 10 to Tk 15 per kilogramme (kg) at the beginning of last season but we are hoping for better prices this year as the opening of Padma Bridge means we can pick fresh fruits and have them sent to markets in Dhaka by 10:00am every day," said Niranjan Halder, a guava farmer.
Similarly, the roughly 20,000 farmers in Barishal, Jhalakathi and Pirojpur who grow guavas, hog plums, lemons, and an assortment of vegetables believe that Padma Bridge will lead them into a new frontier.
Farmers have been growing a variety of guava native to the Barishal region for the last 200 years in Nesarabad upazila of Pirojpur district, Jhalakathi and Banaripara of Barishal district, according to the Department of Agricultural Extension (DAE).
Although the region produces more than 200,000 metric tonnes of guava each year, farmers have yet to get fair prices during the peak harvesting season due to a supply glut caused by slow movement of the fruit.
As a result, guava prices even come down from Tk 5 per kg to as low as Tk 1-2 per kg at times.
Hog plum cultivation takes up most of the farmland in Barishal with more than 27,000 metric tonnes of the fruit being produced from about 21,000 hectares of land in the region this year.
But in order to sell their hog plums, guava and vegetables, local traders and farmers set up floating huts in the wide areas of various waterways, including those in the Bhimruli, Kuriana, Atghar, Zindakathi and Alangkarkathi areas.
"Many tourists come to see these," said Mithu Haldar, chairman of the Kuriana Union Parishad of Nesarabad upazila in Pirojpur.
He went on to say that with the completion of Padma Bridge, more people would be encouraged to visit the area thanks to the reduced travel time.
Humayun, a farmer from Jhalakathi sadar upazila, said growers like him finally have hope for fair prices this year.
"Trucks will be able to come day-in and day-out after sending agricultural goods to Dhaka so it will be possible to send trucks from here every morning," he added.
Shubh Jeet Haldar, a wholesaler of the Bhimruli floating market, said he bought at least 3 tonnes of guava from the market and sent it to warehouses in Dhaka last year, but could not get a fair price.
In addition to guava, the country's southern region is also the largest supplier of watermelon.
And although watermelon is cultivated in all districts of Barishal, Patuakhali district is the highest producer as it alone accounts for one-third of the watermelons grown throughout the country.
DAE officials in Barishal have confirmed that the region produces 80 per cent of the country's watermelons.
Summer watermelon has been planted on 36,624 hectares of land across Bangladesh this year with a production target of 19.25 lakh tonnes.
However, Barishal alone contributed 24,008 hectares with a yield target of 1,224,524 tonnes already having been achieved.
Shekhar Kumar Sikder, a wholesaler in the Kuriana area of Nesarabad upazila, said wholesalers in Dhaka will be able to buy agricultural products directly from them once Padma Bridge opens.
"So, farmers in the area will finally get fair prices," he added.
Padma Bridge will also bring changes to the vast water areas in the region.
Sumon Saha, a trawler boatman in Pirojpur, said they will get more tourists in the waterways after the bridge opens.
"We used to get a lot of benefits from tourism in the past. At the time, at least 10,000 people with 200 trawlers roamed the waterways every day. But this time the number is expected to double because of Padma Bridge," he added.
As such, authorities of the Baudir Hotel in Kuriana and Jayita Hotel in Jhalakathi sadar upazila are expecting higher profits from increased tourism.
Ridayeshwar Dutta, additional director of the Barishal DAE, said he believes Padma Bridge will play a unique role in creating a good market for local agricultural products.
Similarly, adding value to these agricultural products locally is also creating the potential for new industrialisation.
Besides, Padma Bridge will also ensure that it takes less time and ice to transport hilsa fish and these benefits will soon reach consumers as well, said Nirab Hossain Tutul, president of the Barishal Fish Farmers Association.
The same goes for hilsa traders of Kuakata and Patharghata, he added.
Likewise, about five lakh fishermen in the southern region are waiting for the easy transport of hilsa and other fish through Padma Bridge.
Anisur Rahman Talukder, director of the Department of Fisheries in Barishal, said the potential for hilsa production across the country this year is six lakh tonnes, of which more than 60 per cent will come from Barishal.
"Due to the Padma Bridge, hilsa traders will get at least 20 to 30 per cent higher prices. All in all, this benefit will spread thousands of crores of taka in the fisheries sector," he added.