Now onion price on the rise
Price up by Tk 10 per kg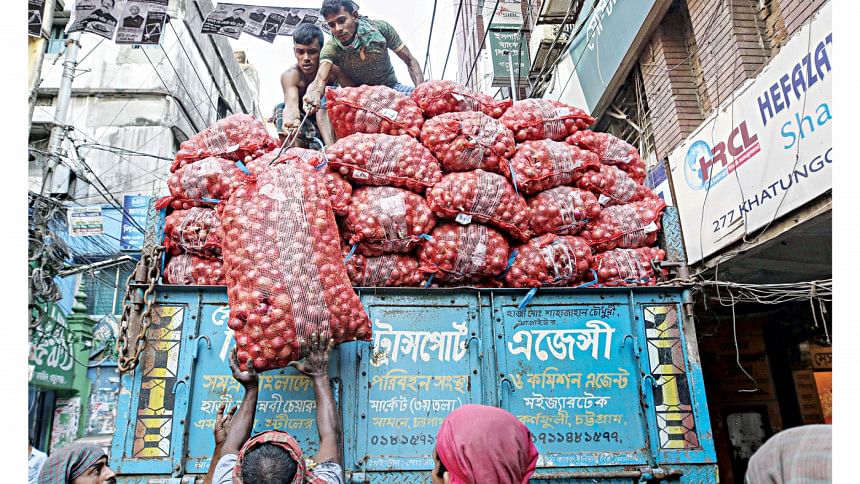 Onion prices have gone up in both wholesale and retail markets in Bangladesh in the span of a week owing to the higher cost of imported varieties of the kitchen staple.
This will pile more pressure on consumers, whose purchasing power has witnessed significant erosion in the past one year, who have seen record prices of green chilies in the last two weeks.   
The price of the local variety of onions has increased by Tk 10 per kilogramme and that of the imported variety has gone up by Tk 5.
According to the state-run Trading Corporation of Bangladesh (TCB), the local variety of onions is currently retailing at Tk 70 to Tk 80 a kg, up from Tk 65 to Tk 70 a week ago.
The price was Tk 90 to Tk 100 a month ago.
Imported onions were sold at Tk 40 to Tk 50 yesterday, which was Tk 35 to Tk 45 a week earlier and Tk 40 to Tk 48 a month ago.
Traders say the price of onions has increased in the domestic market due to the hike in the prices of imported onions from India, which accounts for a major portion of Bangladesh's imports of the bulb.  
The annual demand for onion in Bangladesh is about 25 lakh tonnes.
Onion production stood at about 34 lakh tonnes this year, but the country still needs to import 6 lakh to 7 lakh tonnes since a significant portion of the item is wasted due to a lack of storage facilities, according to the agriculture ministry.
Both production and quality of onion have suffered due to heavy rains in India, which has led to a price hike in the market in the neighbouring country, traders added.
According to the Department of Consumer Affairs of India, onions were sold at 25 rupees per kg on July 4, up 25 per cent from 20 rupees a month ago.
Imported onions sold at Tk 37 to Tk 40 per kg at the wholesale level yesterday and it was Tk 35 to Tk 36 per kg one month back, said Mohammad Majed, a wholesaler in Dhaka's Shyambazar.
Imported onions cost Tk 25 to Tk 30 per kg 10 days ago, he said.
In the wholesale market yesterday, the price of local onions was Tk 60 to Tk 65 per kg. It was down from Tk 90 to Tk 95 a month ago, Majed said.
Dipankar Ghosh, organising secretary of the Clearing and Forwarding Agents Association in Bhomra, which borders India, said the prices of locally grown onions, which crossed Tk 100 a kg, declined after imports.
But the fall had not been as much as was expected because of a hike in the prices of the bulb in India, he said.
The agent added the costly US dollar has been another factor behind the higher price of onions.
"Although there is no problem in opening letters of credit, importers have to pay more."
On June 5, the agriculture ministry allowed the import of onion after its price rose up to Tk 100 per kg in the retail market. Within a week, the price had come down to Tk 75 to Tk 80.
Some 1.47 lakh tonnes of onions have been brought in against import permits for 9.25 lakh tonnes, said an agricultural ministry official on Tuesday.