Narsingdi's clout as industrial hub grows
Thanks to improved connectivity with Dhaka, lower land prices and labour costs
New industries are being set up in Narsingdi as the district's road connectivity with the capital has seen a remarkable improvement in recent years, businessmen say.
Thanks to the improvement of road infrastructure, travelling time between Dhaka and Narsingdi has gone down significantly, accelerating rapid industrialisation.
Earlier, the travelling time to Dhaka from Narsingdi, just 57 kilometres off the capital city, was two and a half hours to three hours. It now takes less than one and a half hours thanks to a 300-foot highway in Dhaka's Kuril area.
"Lower land prices and labour costs in Narsingdi compared to those in the capital are major reasons," Momen Mollah, president of the Narsingdi Chamber of Commerce & Industry, told The Daily Star recently.
The number of textile mills, electronic products and food items manufacturing industries and power looms is increasing in the district.
Besides, Madhabdi and Narsingdi sadar, hubs for textile industries, are close to the industrial belt of Narayanganj, so industrialisation is accelerating in its adjoining areas, Momen added.
Some 448 businesspersons secured registration as general and associate members from the district chamber in 2021 and 2022. The number of people registered with the trade body is already around 200 in the first three months of 2023.
The chamber has about 5,000 members.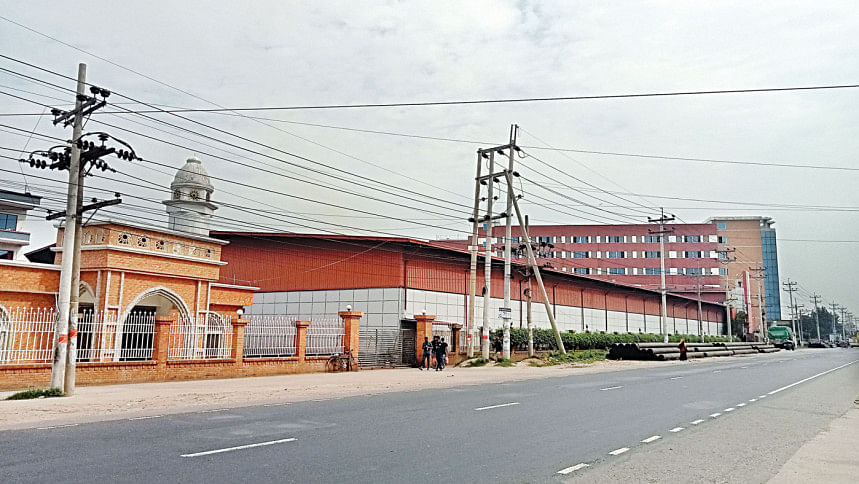 Industries that export products, import raw materials and seek loans from banks and other financial institutions need to obtain registration from the trade body.
Officials of the Department of Environment in Narsingdi said 69 factories received the agency's approval in 2020. The number rose to 103 in 2021 and 128 last year. Similarly, 347 factories had their registration renewed in 2022.
According to Bangladesh Handloom Education & Training Institute, Narsingdi, the district has 26,693 handlooms and power looms, employing 7,247 people.
Md Moniruzzaman Bhuiyan, general secretary of the Shekherchar-Baburhat Traders Association, says there are around 5,000 clothing traders in Shekherchar and Baburhat markets, meeting the country's 80 per cent domestic demand for clothes.
These markets trade clothing items worth Tk 450 crore to Tk 500 crore every week, he said.
"As travelling to Narsingdi from various key cities, including Sylhet, Chattogram and Dhaka is easy, businessmen are showing a growing interest in setting up factories in the district."
Abdullah Al Mamun, chief executive officer of Abed Textile Processing Mills Ltd in Narsingdi, says due to the improvement of communication with Dhaka, many factories have been set up in Narsingdi in the last five years.
He said once the ongoing project aimed at turning the two-lane Dhaka-Sylhet Highway into a four-lane highway with service lanes on both sides is completed, the people of Narsingdi will see the setting up of more industries.
"We also need gas at reduced prices. Then industries will show more interest in making investments."
Anisur Rahman Bhuiyan, a businessman, says katan sari is produced in Mirpur and its finishing used to be performed in Narayanganj.
"But due to the improvement in communication in the last five years, the finishing task is being done in Narsingdi."
He said small businessmen are investing more in the handloom sector.
Riding on the development of infrastructure and facilities by the Bangladesh Small and Cottage Industries Corporation (BSCIC), more industries are being established in the industrial estate to manufacture yarn, plastic, food and electronic items.
In 1986, the BSCIC allotted 95 plots to 35 businesses. Products such as towels, textiles, medicines and baby foods are produced in the factories located in the estate. Collectively, they employ around 6,000 people.
Owing to the growing demand, the BSCIC has completed an extension project located over 30 acres of land in the Syednagar area of Shibpur upazila of the district.
The new facility consists of 157 plots, said Aminul Islam, the project's director.
"As the connectivity with the capital has improved, Narsingdi has turned into a better destination for business people."