Most MFS operators struggle in a booming market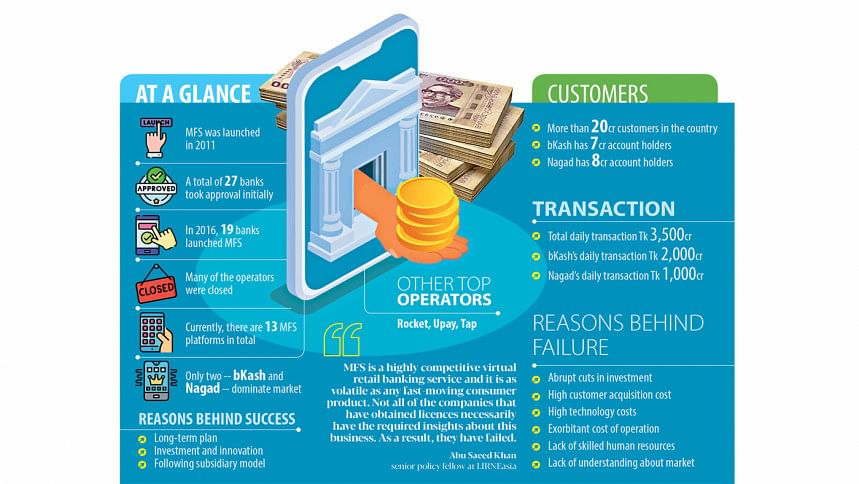 In 2011 when mobile financial service (MFS) was introduced in Bangladesh, 27 banks took the approval from the central bank as many had correctly predicted an impending boom in mobile banking amid rising usage of cell phones. 
Not all licencees saw the light of the day and 19 firms rolled out the service by 2016. Of them, 13 entities currently exist in a market that witnesses more than Tk 3,500 crore worth of transactions every day and the amount is only rising.
Dutch-Bangla Bank Ltd pioneered the country's first MFS operation in March 2011 by introducing DBBL Mobile, which was later rebranded Rocket.
bKash, a subsidiary of Brac Bank, followed suit three months later.
Currently, bKash, Nagad -- an MFS wing of Bangladesh Post Office that made a foray into the industry in 2019 -- and Rocket control more than 80 percent of the market in terms of subscribers, which numbered 20.4 crore in May.
One of the MFS operators that saw early demise was Standard Bank's Spot Cash.
"We couldn't attract enough customers in the beginning, so we didn't go ahead," said Md Rabiul Hasan, an official of the private commercial lender.
For Spot Cash, high operating expenses, driven by escalated customer acquisition costs and the high price of software, were the main factor for its closure. 
Since the MFS was almost inactive for some years, the Bangladesh Bank instructed it to close down last year.
MYCash, owned by Mercantile Bank, has been operational for more than six years but is yet to establish a vibrant presence.
Mati Ul Hasan, additional managing director of the bank, said: "It is true that MYCash is going slowly, but we have almost reached break-even."
Not only MYCash, other MFS operators except bKash, Nagad and Rocket, have not thrived due mainly to higher expenditures.
Hasan said leading MFS providers such as bKash and Nagad have been able to widen their footprint by way of appointing agents, which costs exorbitantly.
"If we want to appoint agents, our service will incur losses. MYCash has a specific group of clients and they are always using our service."
Meghna Bank was awarded the licence in 2016 and its brand name was Tap & Pay. Recently, the bank changed the name to "MeghnaPay" as part of the rebranding.
Sohail RK Hussain, managing director of the bank, says the bank had been operating the MFS through a third party and it did not run it properly.
The bank has cancelled the agreement with the third party.
Currently, Meghna Bank runs the service on its own and plans to make it profitable. It signed a deal with mobile phone operator Grameenphone to settle cash-out and cash-in services.
"Distribution channel is very important for the success of MFS, so we have a plan to roll out the same cash-out and cash-in points like those of bKash and Nagad."
MeghnaPay has 5 lakh clients.
A senior official of the BB's payments system department says subsidiary-based MFS providers are doing well than those being offered as a product of a bank.
He cited the example of Upay of UCB Fintech Company Ltd and Trust Axiata pay: tap of Trust Axiata Digital Ltd.
TeleCash is an MFS product of Southeast Bank and now the bank wants to form a subsidiary to run it. The bank has already sent a proposal to the BB to this effect, said an official.
Presently, bKash and Nagad dominate the sector with more than 75 percent market share between them in terms of customers. In terms of transactions, the share stands at over 85 percent.
Experts and industry insiders say the reluctance to invest, a lack of skilled workforce and the dominance of two to three players have been standing in the way of other operators.
"The main problem is that banks have been uninterested in investing substantially. They want quick returns, but you can't make a profit overnight in the MFS market," said an expert, who worked at multiple MFS companies, wishing anonymity.
"Boards of banks consist of owners or shareholders who lack the patience needed to ensure long-term returns."
An official of Upay, seeking anonymity, alleges that market leaders often use their power to restrict the access for other operators in the retail channel.
"As a result, smaller operators often find it difficult to place their marketing materials at retail points. This is not only affecting the business of other operators but also preventing customers from getting better services at lower prices," he said.
Md Mezbaul Haque, executive director of the central bank's payment systems department, however, says market leaders are not violating any rules.
He said many companies have made their foray into the market but they have not been able to tap the potential. "The companies that have failed to make their app popular closed."
According to the central banker, despite the discontinuation of some operators, the overall market has grown exponentially over the decade.
"Companies that have scaled up their operations to meet the needs of customers, introduced user-friendly services and invested in technologies fared well. And tech-based businesses need commitment to long-term business."
Md Sohel, a stationery shop owner in the capital's Farmgate area and an agent of bKash, Nagad and Rocket, says none has ever told him to highlight their presence and discontinue the service of other MFS platforms.
An agent of Upay, bKash and Nagad in Mirpur says it offers services of the platforms with higher demand.
Shah Alam, who serves as an agent of Nagad, Rocket and bKash in the Tejturi Bazar area, also expressed the same sentiment. 
Fardous Al Banzer Gorkey, an MFS agent in Panchagarh, said apart from bKash and Nagad, some platforms initially showed interest in the business and made some investments.
"Over the years, however, they did not focus on the business and ultimately failed to make any mark."
He said bKash has got the first-mover advantage and continued a steady presence at the retail level. Nagad also has an intention to grow.
Abu Saeed Khan, a senior policy fellow at LIRNEasia, a Colombo-based think-tank, identifies the inability of the entities to understand the market for their failure to succeed.
"MFS is a highly competitive virtual retail banking service and it is as volatile as any fast-moving consumer product. Not all of the companies that have obtained licences have the required insights about this business. As a result, they have failed."