Mobile subscriber numbers up in Feb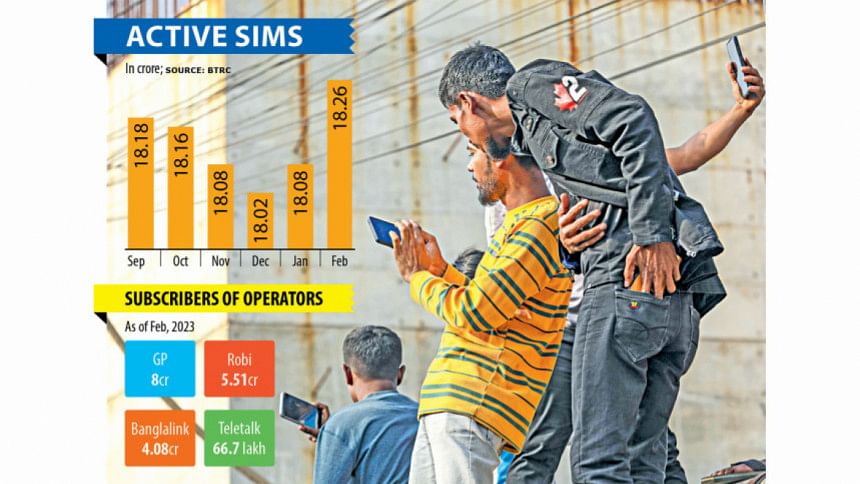 The number of mobile subscribers in Bangladesh continued to grow for a second month in February on earlier falling for several months, with all but Teletalk displaying a solid performance.   
The operators gained about 18 lakh customers in February, taking the total to 18.26 crore, according to Bangladesh Telecommunication Regulatory Commission (BTRC).
The robust growth is expected to give a breath of fresh air to the country's telecom sector as operators lost about 3.5 million customers in the latter half of last year.
Third-placed operator Banglalink continued to be the top performer in customer acquisition securing 7.1 lakh new customers while Grameenphone added 5.8 lakh and Robi Axiata 5.3 lakh.
Banglalink, which crossed a milestone of four crore subscribers in January, had 4.08 crore customers at the end of February.
On a year-on-year basis, the number of customers of the operator grew by 8.35 per cent, the highest among the operators, in February.
"We attribute this uptick in customer preferences to our ongoing investment in network expansion, enabling our customers to experience Ookla certified fastest 4G while utilising our innovative and quality digital services," said Taimur Rahman, chief corporate and regulatory affairs officer.
As per Ookla's Speedtest Intelligence report, Banglalink delivered the fastest average download speed among the top local mobile network operators with 19 Mbps in the fourth quarter of 2022.
It recently completed the deployment of 4,000 base transceiver stations, taking its total to more than 14,500. The expansion resulted in a roughly 40 per cent expansion of Banglalink's total coverage.
With 5.8 lakh new customers in February, top operator Grameenphone took its total number of customers to almost 8 crore.
Although it failed to attract a large pool of customers after a sales ban on its SIMs was lifted in early January, the good performance in January is a sign of relief for the operator.
Earlier on June 29, the telecom regulator banned Grameenphone's SIM sales until it "improves its quality of service, including bringing down the call drop rate". The ban was eventually lifted on January 2.
During the six-month ban period, it lost almost 5 million customers, taking a toll in the country's total mobile subscriber base and undermining the government's digital connectivity ambition.
Khairul Basher, head of communications at Grameenphone, attributed the gain to its drive towards connecting towers via optical fibre cables, saying it delivers customers with more quality services.
According to him, its optical fibre connectivity was at over 35 per cent, up from 17 per cent a year ago.
Basher said Grameenphone has added an additional 2,000 towers, bringing its total to over 20,000, which is the highest among all operators. Additionally, the company deployed additional spectrum last year, he said.
"The company has recently been recognised for consistent quality by different global platforms, which is the outcome of relentless efforts to meet customer expectations by improving network quality,"
Therefore, the latest customer demand is a testimony of customers' trust in the brand, its simplified products, services, and 4G experience throughout the country," he added.
With new 5.3 lakh customers, second largest operator Robi's subscriber numbers stood at 5.51 lakh in February.
"In last of couple of months, we have optimised our network capacity as well as redesigned spectrum allocation for enhancing quality of services," Shahed Alam, chief corporate and regulatory officer at Robi Axiata Ltd.
State-owned Teletalk lost about 10,000 customers in February, taking its customer numbers to 66.7 lakh.