Mobile makers in battle for survival
Seek long-term policy support as they suffer from LC opening crisis, sales drop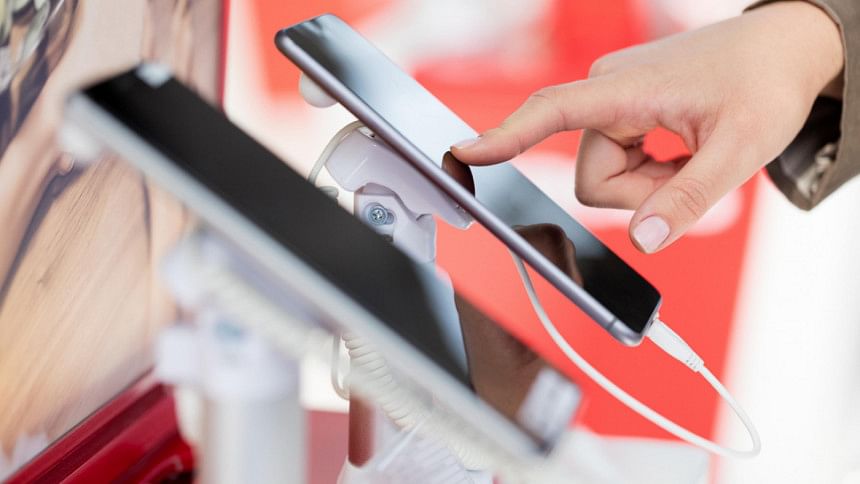 The country's mobile manufacturing industry is fighting a battle for survival due to difficulties in opening adequate letters of credit (LCs), a massive drop in sales and expansion of the grey market, said a leader of the industry's association.
"There was a spate of blows in 2022 for the industry," Rizwanul Haque, vice president of the Mobile Phone Industry Owners' Association of Bangladesh, told The Daily Star in an interview.
"Insufficient dollars made it difficult to open adequate LCs, leading to a curb in manufacturing," he said.
"Mobile sales have dropped drastically due to the economic downturn for people. Handset sales dropped by over 40 per cent year-on-year in the first quarter of 2023," he said.
These two reasons have turned handsets costlier and the grey market has seen a massive growth in market share from 20 per cent to 50 per cent in recent times, he said.
"Grey market operators do not need to open an LC and they are not affected by the dollar shortage as they can conduct transactions through hundi," said Haque.
Furthermore, a 5 per cent VAT imposed at the sales stage since the beginning of the current fiscal year has exacerbated the crisis, he said.
"There is a minimum of three sales stages in Bangladesh—factory to distributor, distributor to retailer, and retailer to customers. So, the 5 per cent VAT on sales ultimately stands at over 15 per cent," he said.
In Bangladesh, local handset production has made impressive strides in recent years, aided by the government's huge tax benefits unveiled in fiscal year 2017-18.
Since then, 15 plants have been set up, creating jobs for around 15,000 people.
But the problems started to pop up since the second quarter of last year as sales started to fall drastically, said Haque.
Prior to the current fiscal year that began on July 1, 2022, there was about a 58 per cent tax on smartphone imports, whereas the tax on locally assembled and manufactured handsets was about 15 per cent to 20 per cent.
But now it stands at about 30 per cent to 35 per cent because of the VAT on sales stages, he added.
"This is particularly responsible for the expansion of the grey market. As the grey market does not have to pay taxes, they are now more inspired. Ultimately, the government is losing a huge amount of revenue," he said.
The industry is now just five years old and the pandemic laid waste to two years, he said.
"An industry cannot be self-reliant in just three years. We need at least 10 years to become a mature one," he said.
He said VAT and customs duty could be increased from next fiscal year, as per information available to him.
"How will you survive if the VAT and duties are increased?" said Haque, also CEO of ISMARTU Technology BD, which manufactures TECNO, itel, and Infinix-branded mobile phones.
He said the local industry would be able to meet 100 per cent of the local demand in 5 years and the government should continue to provide the incentives for another five years so that the local plants can make exports.
As the 15 companies have invested heavily, their survival and employment generation are threatened by the downturns, he said.
"We are not seeing any future. At present, we are struggling, and if we can not see the future, how can you make more investment?" questioned Haque.
He urged the government to have a long-term progressive manufacturing policy in place for the industry, with specific time-bound targets such as the establishment of backward linkage industry, value addition, etc.
If the government thinks that it will not be able to decrease the tax, it must take steps to eliminate the grey market by introducing National Equipment Identity Register (NEIR), he said.
All global handset brands, except iPhone, have set up manufacturing plants in Bangladesh, affirming Bangladesh's potential to become a global manufacturing hub, he said.
Many brands are shifting their manufacturing plants from China, which dominates the global mobile manufacturing industry with a 67 per cent share, due to factors including a rising cost of labour, he said.
"It creates a huge opportunity for us as we have the capability of manufacturing global-standard devices, but we do not have any handset export policy through which we could have availed some rebates," said Haque.
"However, under the current rules, the value addition target is set at 30 per cent, which is impossible for us as of now," he added.
"Even India could not increase value addition by such an extent in the last 15 years to 20 years. So, we need more time," he said.
"What we have now is cheap labour. We can utilise it to attract factories from China. Later, we can increase value addition step by step," he added.