Making packaging materials: Akij Group's Tk 1,000cr investment at risk
MD blames misuse of bonded warehouse facility and lack of tax protection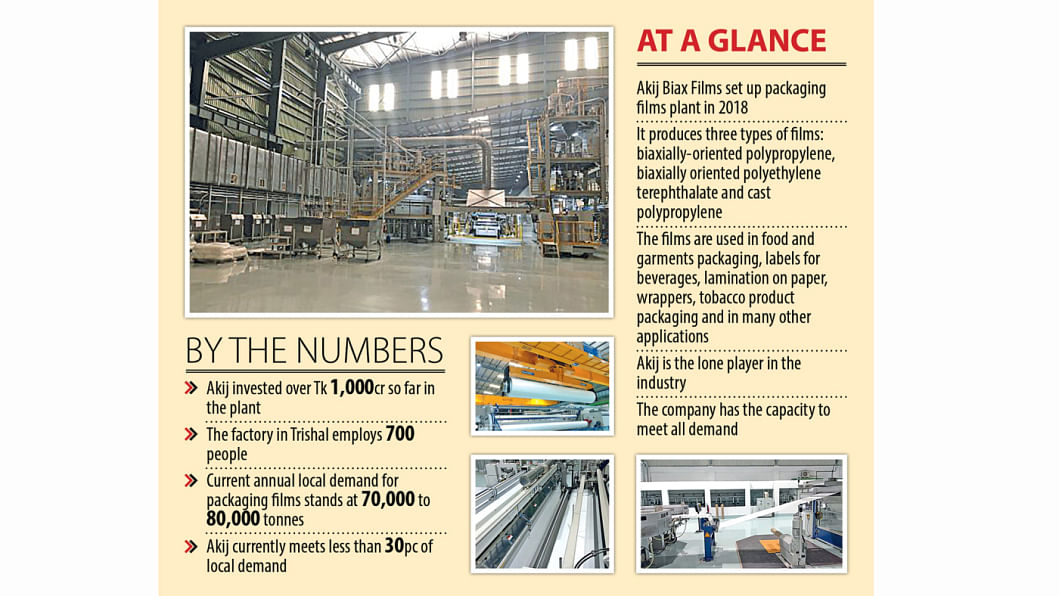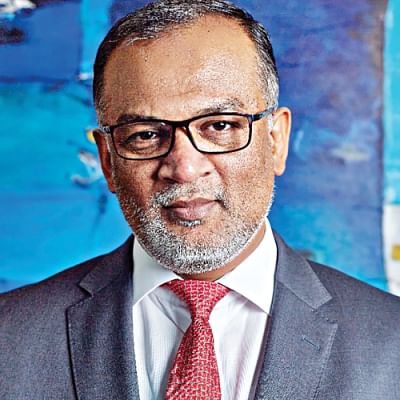 With the aim of catering to the growing local market and diversifying the country's export basket, Akij Group invested more than Tk 1,000 crore in setting up a plant to produce films for packages.
But the conglomerate has landed in hot water as it is incurring losses due to what SK Bashir Uddin, managing director of Akij Group said the misuse of the bonded warehouse facility and a lack of tax protection.
Through Akij Biax Films Ltd (ABFL), the group produces films for both single-layer unprinted flexible packaging and multilayer printed flexible packaging.
These films are used in food and garments packaging, labels for beverages, lamination on paper, wrappers, tobacco product packaging and in many other applications.
"Now we are trying to sustain the business somehow. But it has resulted in negative financials for us. This is very sad for local investors," said Bashir Uddin.
Akij Group is one of the largest business groups in Bangladesh with diverse interests in textiles, cement, ceramics, printing, packaging, pharmaceuticals, tobacco, food, beverage and consumer products.
According to Bashir, the local annual demand for biaxially-oriented polypropylene (BOPP), biaxially-oriented polyethylene terephthalate (BOPET) and cast polypropylene (CPP) -- all produced by Akij Group—stands at 70,000 tonnes to 80,000 tonnes.
Although it has the capacity to meet the entire domestic demand, the conglomerate currently manufactures about 25,000 tonnes. Of the volume, it exports about 10,000 tonnes and the rest is supplied to the domestic market.
"We have the capacity to meet the total demand in the local market, but it is highly dominated by imports due to a lack of proper tax protection and the illegal use of the bonded facility," Bashir said.
He said the local market is now flooded with films that have been brought into Bangladesh for the export-oriented industry. But, a section of importers supplies them to the local market illegally.
Besides, printing businesses that are the customers of ABFL have to pay only 10 per cent taxes to import the films that the Akij Group's subsidiary can produce.
"But if you import printed materials, you will have to pay about 70 per cent tax to support local printing businesses. Thus, the country is protecting printing businesses, not the local film producer," the entrepreneur said.
"The difference is disproportionate. For a local and new industry to survive after investing more than Tk 1,000 crore with only 10 per cent tax protection is simply not possible."
In the industry, there are giant players in India and China and they are certainly 10 per cent more efficient than Bangladesh, he pointed out.
"We are a new company. But we have a high-interest rate and a higher depreciation. So, we are unable to compete. We are being beaten by the misuse of the bonded warehouse facility and tax regulations."
"Now, the survival of our company is at great risk."
"We are the first company to have introduced the product. But we don't need 70 per cent protection, but we can demand a 25 per cent protection."
In Bangladesh, flexible packaging started in the late 1980s, mostly for powdered milk packaging and the demand was met by imports.
Soon, the demand started to boom with snacks, food and biscuits packaging beginning with printed flexible packaging using polypropylene materials. In order to meet the demand, some flexible printing businesses were set up.
In the late 1990s, a small polypropylene films factory was set up with a second-hand machine. But it couldn't ensure high-quality standards for food packaging, so it did not survive, Bashir recalled.
Since Akij Group has had a paper printing business since 1970, it helped when it planned to make a foray into the market.
Subsequently, ABFL started commercial operations in 2018 with an investment of about Tk 450 crore. Thanks to gradual improvement over time, it has turned itself into a company with an investment of more than Tk 1,000 crore.
With a view to producing the best quality films, it set up a modern factory in Trishal with all-European machinery. It is run by international professionals and has 700 employees.
For BOPP and BOPET production, ABFL has chosen Bruckner Maschinebau (Germany), the largest manufacturer of film stretching equipment in the world.
ABFL can produce 2,500 tonnes of BOPP films and 3,000 tonnes of BOPET films per month.
This year, the company added another CPP line. At its peak, it can produce 600 tonnes per month.
ABFL has put in place in-house research and development facilities with the help of experienced professionals.
It currently exports films to 22 countries, including the UK, India, France, Saudi Arabia, Italy, Brazil, Spain, Nigeria, Egypt, the UAE, Qatar, Ukraine, and Sri Lanka.
ABFL has achieved the Food Safety System Certificate, the ISO 9001 certificate and the Good Manufacturing Practice certificate.
The annual turnover of ABFL is insignificant compared to the combined turnover of industries that consume packaging materials for their finished goods.
The country's lone producer of BOPP, BOPET and CCP films accounts for less than 30 per cent of the total local requirement, but still paid more than Tk 100 crore in the form of duty and taxes at the import stage of raw materials in the last financial year.
A 100 per cent VAT-compliant company, ABFL raised more than Tk 60 crore as value-added taxes from its customers, according to the company.
"The government can create the opportunity to generate at least six times more revenue by stopping the unethical use of the bonded warehouse facility," Bashir added.