Litchi growers, traders eye better profit this time
Litchi growers and traders in northern districts such as Dinajpur are expecting good profits this season following two years of pandemic-induced losses as they are getting better prices for their produce with the market having gained momentum over the past two weeks.
However, traders and farmers say production was largely hampered by bad climate conditions early this season.
"We suffered massive losses in the two last seasons for a lack of wholesale buyers amid the non-availability of transportation for the lockdown during the Covid-19 pandemic in 2020 and 2021," said Razeur Rahman Biplob, a litchi trader at Gor-e-Shahid Moydan, the largest litchi market in Dinajpur town.
Litchi, one of the most popular seasonal fruits in the country, started arriving in the markets a couple of weeks ago and although the supply was initially inadequate considering the demand, it saw a sharp increase in last couple of days, traders said.
Every year, a litchi market is set up in the Kalitola area under ​​Dinajpur municipality. But ever since the outbreak of Covid-19 in 2020, the market has been relocated to the Gor-e-Shahid Moydan.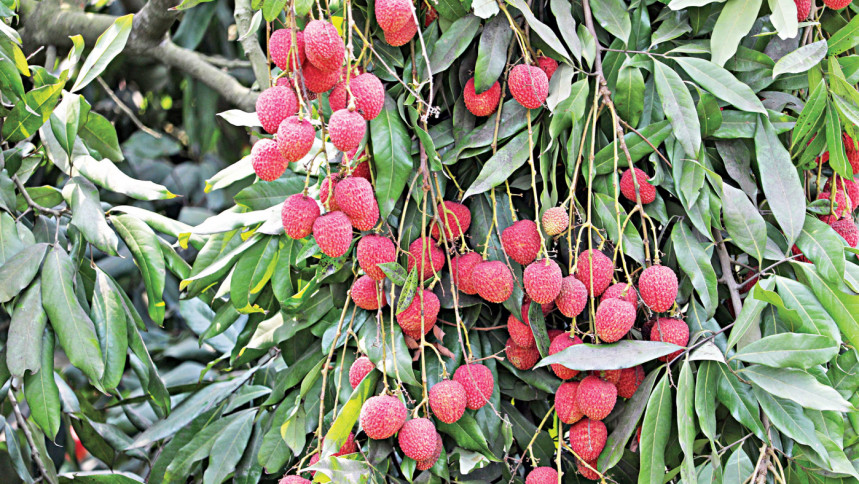 The market, considered the largest litchi market in the country, has been set up there this year as well but the fruit is traditionally sold all over the district, they added.
Litchi growers bring their produce to the market every morning as buyers from across the country come daily to purchase the fruit for their respective districts.
This market lasts for one-and-a-half months depending on supply of the seasonal fruit.
During a visit to the market last Tuesday, this correspondent found that two varieties of litchi -- Bombay and Madrazi -- are dominating sales with massive supply.
On the other hand, the supply of other varieties, including Bedana, China-3, Kathali and Hariya, were comparatively thin considering previous seasons.
Traders said the current prices of the Madrazi and Bombay varieties are affordable but Bedana litchis are being sold at Tk 1,200 per 100-piece bundle while the same amount cost Tk 800 just a few days ago.
The price of Bedana litchis, which are highly demanded for their unique taste, is unusually high this year as supply has decreased, they added.
Meanwhile, Madrazi and Bombay litchis are being sold for between Tk 250 and Tk 350 per 100-piece bundle while the same amount cost Tk 170 to Tk 250 last year.
China-3 litchis, another popular variety, is being sold at Tk 1,400 to Tk 1,600 per 100-piece bundle depending on the size and taste of the fruit.
Other varieties, including China-1, China-2 and Kathali, are currently available in the markets for Tk 500 to Tk 550 for each 100-piece bunch.
According to the Department of Agricultural Extension (DAE), litchi is grown in almost all districts. However, due to favourable climate and soil conditions, northern districts like Dinajpur, Rajshahi, Pabna, Rangpur, Thakurgaon and Panchagarh alongside other regions in the southern belt like Jessore, Kushtia and Satkhira are the main producers.
Officials of the Rangpur DAE say they expect a production of around 48,000 tonnes of litchi from 9,196 hectares of land across eight districts in the Dinajpur and Rangpur regions.
Of the total land cultivated, Dinajpur alone accounts for about 5,500 hectares.
Litchis are more or less produced in all 13 upazilas of the district, where around 45,00 tonnes of the fruit were produced last season and 42,500 tonnes the year before.
According to information available on the web portal for Dinajpur, 39 per cent of the litchis produced are the Bombay variety, 30 per cent are Madrazi, 5 per cent are Bedana, 25 per cent are China variations and 1 per cent are other varieties.
Litchi trees start blooming at the end of February and the time between flowering and budding is very important as yields are dependent on the care given in this duration.
Ziaur Rahman a litchi grower of Mashimpur village under Dinajpur sadar upazila, said production of Bedana litchis dropped largely this year due to the bad climate.
"The season will not be as profitable as farmers expected but still, it is a boon for traders," he added.
Rezaul Islam, a litchi farmer of Biral upazila, said production would drop by 30 per cent this year due to fluctuating temperatures, untimely fog and sporadic rains during the flowering season.
Anwarul Islam, the owner of a litchi orchard in Madhabbati village of Biral upazila, said he usually gets around 10,000 pieces of the fruit from each of his 57 plants.
This year though, yields have seemingly fallen by up to 30 per cent, he added.
Khaledur Rahman, additional deputy director of the Dinajpur DAE, said around 4,000 small and large litchi orchards covering 5,000 hectares of land in the district produce at least 30,000 tonnes of the fruit each year.
"However, the adverse weather conditions expectedly had some effect on production," he added.
Local litchi traders expect business of around Tk 500 crore to Tk 550 crore this year.
A large number of people, most from poorer communities in the region, also earn hefty sums during the litchi season by crafting bamboo baskets used to ship the fruit.
Trader Shafiqul Islam said he sells around 1,000 to 1,200 pieces of these baskets every day at the litchi market at a cost of between Tk 70 and Tk 400 depending on size.
Almost 95 per cent of the orchard owners lease out their plants to traders.
For example, owner Rafiqul Islam Babu leased out his 100-tree orchard on an acre of land in Moheshpur village of Biral upazila to Md Azizul Islam for two years at a cost of Tk 10 lakh.
Islam said maintaining an orchard has become much costlier for people like him in recent years. He needs to spray pesticides about 18 to 20 times a year with each round costing him Tk 5,000.
There are other maintenance costs as well, including that of fertilizers and irrigation.
The harvesting process has also become more costly as labourers now charge Tk 200 for plucking 1,000 litchis.
"Alongside the lease cost, there are around Tk 3 lakh worth of additional expenses," he added.