Towards organic litchi
Pheromone traps show hope for pesticide-free litchies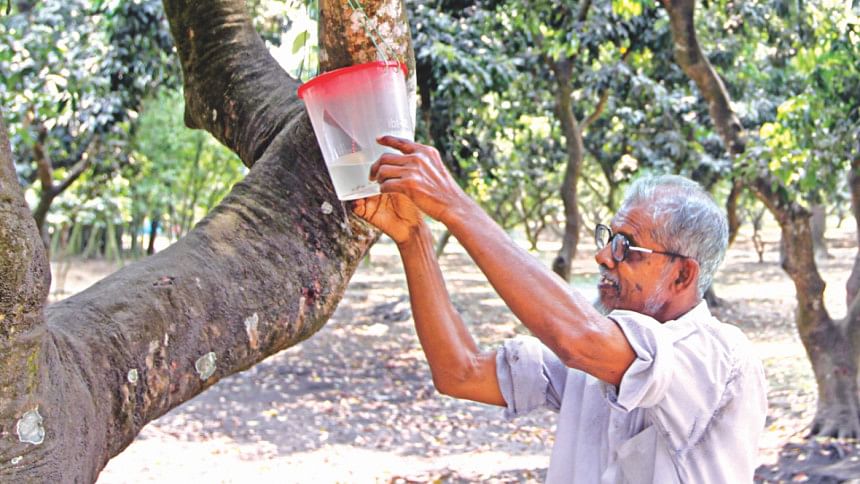 Pheromone traps installed on litchi trees could get rid of the worries lovers of this seasonal fruit have each time they peel off the juicy fruits and gulp them.
Growers in Dinajpur, renowned for their extraordinary litchis, routinely spray pesticides in their orchards to protect litchis from pests. And they are not known for following best practices while spraying.
More often then not, they heavily spray the trees with pesticides and sometimes at more frequent intervals than required.
At least 23 children have died in Dinajpur since 2012 after having litchis that had been sprayed with pesticides.
This summer the district's agriculture extension workers, however, applied another way of controlling pests and the farmers' tendency to use pesticides excessively.
In a small first step, the Department of Agricultural Extension (DAE) in Dinajpur hung 100 pheromone traps on 100 litchi trees in Mashimpur of Dinajpur sadar and Robipur in Biral upazila.
The trap is a small pheromone capsule in a plastic bottle half-filled with water. But it works wonders. Male insects swarm to the bottle and drown.
Growers, who used to heavily spray pesticides in their litchi orchards, now need only this capsule that has the female sex hormones of insects.
The DAE officials hoped that this technology would radically change the use of pesticides in Dinajpur's litchi orchards, thereby drastically reducing the risks posed to local children, who sometimes consume fruits that had fallen to the ground. 
According to the officials of the horticulture department in Dinajpur, litchi is being produced on 4,733 hectares of land in the district this year.
Of all the areas, litchis grown in orchards in the Biral and Dinajpur sadar upazilas are famous for their mouth-watering taste, colour and size.
 Deputy Director of Dinajpur DAE Golam Mostafa said, "We have taken the initiative to install pheromone traps on a trial basis. We installed 50 traps on 50 litchi trees in Mashimpur and 50 traps in Robipur village in Biral."    
He said each trap costs farmers only Tk 30.
If this trial goes well this season then more and more litchi growers would be encouraged to adopt the trap, hoped the DAE official. 
Mashimpur's Amin Uddin installed 19 traps on his 19 litchi trees this year. Amin has been involved in litchi production since 1972 and said he is getting positive results from the traps.  
The traps were installed soon after flowering began and he has not sprayed any pesticides since.
"In previous years, I had to spray pesticides at least four times for controlling pests after the flowering began. And each spray would have cost me Tk 700, which is now saved," said Amin.
He wants his peers to follow him.
He said when he used to spray pesticides, people would have difficulty breathing or just walking through the orchard.
During a recent visit to his orchard, this correspondent found the traps full of pests.
Amin was seen cleaning those.
"In the last one month I spent only Tk 3 on detergent for washing the traps," said Amin, adding that he is expecting a good yield this year if there was no natural catastrophe.