Life insurance penetration halves in a decade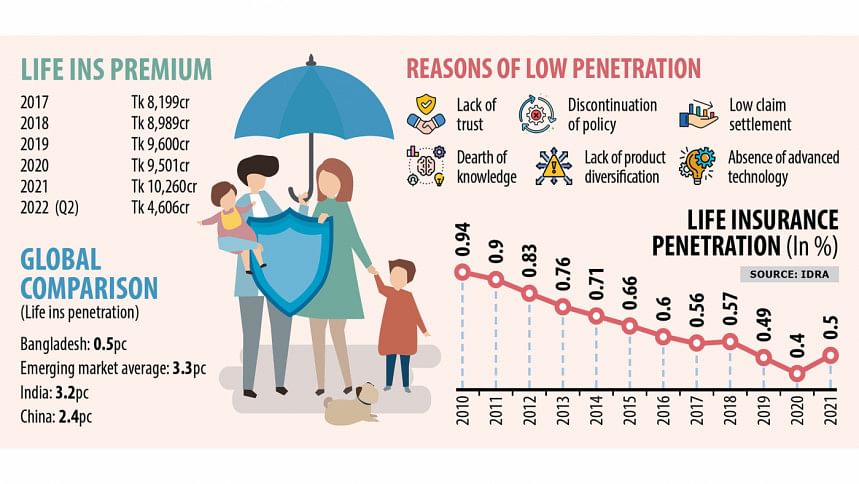 Anwar Hossen, who holds an MBA, works for a private firm and draws a monthly salary of more than Tk 60,000. But he has not purchased any life insurance policy although private sector employees in Bangladesh are not entitled to any pension support and his four-member family will be in trouble if he faces any untimely death. 
The reason is he has heard that many people don't receive the proceeds of the policy from insurance companies, so he has no trust in the insurance sector.
He is just one of the crores of people, educated and uneducated, in Bangladesh who don't have faith in insurers. As a result, life insurance penetration is very low.
In fact, life insurance penetration has almost halved in the last one decade although the sector boasts 35 life insurance and 46 non-life insurance companies.
In 2021, life insurance penetration, measured as the ratio of gross written premium to GDP, was 0.5 per cent, way lower than 0.94 per cent in 2010, according to data from the Insurance Development and Regulatory Authority (IDRA).
It means that most Bangladeshis are uninsured and the insurance premium is not rising in keeping with the economy, which has clocked more than 6 per cent growth in the last decade on average.
Insurance provides protection against financial loss and insurance coverage against the loss acts as an insulator, particularly during crisis periods.
But a majority of people in Bangladesh remain outside the insurance coverage mainly due to lower savings rates and a lack of financial literacy, said the central bank in a report last week.
"A key reason for the low penetration is the discontinuation of policies," said SM Ibrahim Hossain, director of the Bangladesh Insurance Academy.
The number of policyholders has been hovering around 1.75 crore for the last few of years. A 2017 World Bank document put the number at 1.71 crore for 2014, citing data from the International Monetary Fund. 
This is because the number of new policies purchased every year usually equals the number of policies discontinued, Ibrahim said.
"Some policyholders do not continue premium payments after a few months or years owing to a lack of awareness and lower attention from agents after a year. So, premium income grows at a pace lower than the GDP growth rate."
The first-year lapse rate for private insurers was 60-70 per cent a few years back, according to the IDRA.
Ibrahim also blamed the low investment return in the insurance sector and a lack of product diversification as major reasons for the lower penetration.
Ala Ahmad, chief executive officer of MetLife Bangladesh, the only foreign insurance company in the country, says the penetration of life insurance is declining as many policyholders do not continue paying premiums after buying policies.
"This can be improved by better need-based selling, informing people of the benefits of insurance, and making premium payment, claims or maturity settlement simple, hassle-free, timely and transparent."
In 2020, life insurance premiums dropped by more than 1 per cent to Tk 9,501 crore compared to the previous year. It rose around 8 per cent to Tk 10,260 crore in 2021, IDRA data showed.
Life insurance maintained more than two-thirds of the total gross premium and approximately three-fourths of total assets in the insurance sector, according to the central bank's Financial Stability Report 2021.
"There is a lack of confidence among the common people about insurance companies because many insurers do not settle claims properly," said Jalalul Azim, managing director of Pragati Life Insurance.
Overall, life insurance companies' claims settlement ratio decreased to 68.79 per cent in 2021 from 88.32 per cent in 2020, which would not be encouraging for life insurance policyholders, the BB said.
There has not been much product diversification in the sector, said Azim, adding that the coverage of life insurance needs to go up.
"Had the government made insurance compulsory for all, the scenario of penetration would have been different."
The World Bank document also cited that most insurance products that were available in Bangladesh suffered a lack of quality with regard to price and coverage.
Azim adds that many government companies are still out of insurance coverage and the government has many properties that are not insured as well.
Nasir Uddin Ahmed, first vice-president of the Bangladesh Insurance Association, says the people of Bangladesh still consider life insurance as a savings tool.
"But the savings tendency has slowed in the last few years. As a result, premium income did not rise at a faster clip."
The insurance density ratio, which refers to the average per capita spending on gross insurance premiums, however, increased to Tk 885 in 2021 from Tk 600 in 2013, the BB report showed.
Bangladesh's life insurance penetration is well behind the emerging market average of 3.3 per cent. In 2020, India's life insurance penetration was 3.2 per cent while it was 2.4 per cent in China.
Joy Shaha, a Bangladeshi who lives in Canada, says a resident in the North American country can't think of passing a day without having an insurance policy.
"It gives me mental peace because I don't have to worry about myself or my family if I face any disaster," said the 35-year-old.
"Actually, none can live a day without an insurance policy in Canada and insurance-related documents are required for every sphere of our lives."
IDRA Chairman Mohammad Jainul Bari says some insurers lag behind claim settlements so people's confidence in the sector has remained low.
"We are working on it. We have already sat with insurers that are struggling to maintain good governance, settle claims and maintain financial strength."
"We are working so that the public's trust level in the insurance sector grows. We are focusing on raising awareness," he said, adding that the IDRA has set up a hotline where customers can lodge complaints.