Learn online to earn online
Training on freelancing can create jobs for underprivileged women: study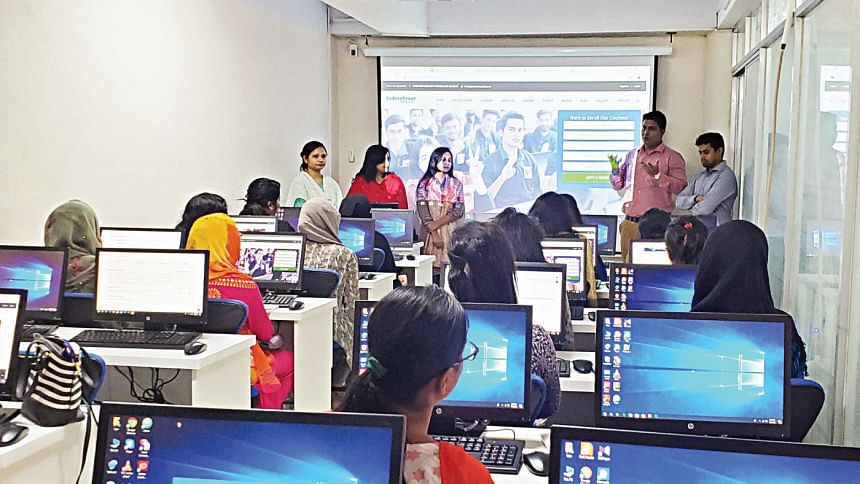 Training for online freelancers could have a significantly positive impact on the employment and income of underprivileged women, according to a recent study by the Brac Institute of Governance Development (BIGD).
It was also found that success in freelancing may be hindered by steep competition in the online marketplace and resulting loss of confidence, and time constraints in learning and building their portfolio due to household responsibilities.
These findings were announced through a workshop at the BRAC Centre Inn auditorium, where government officials, trainees and implementers came together to discuss ways to develop an inclusive and sustainable ecosystem for female freelancers in Bangladesh.
The study evaluated the impact of a freelancer training programme conducted by CodersTrust Bangladesh (CTBD) for women aged between 18 and 35.
The programme, titled "Women's Skills Development for Freelancing Marketplaces (WSDFM)", aims to develop 1,000 young underprivileged women into freelancers by providing them free training on different ICT-related skills and building their confidence through post-training technical mentorship and career advising.
The WSDFM was funded by the Dutch Foundation.
After receiving training, 71 per cent of the women in the targeted demographic successfully started their career as a freelancer in multiple marketplaces and local enterprises.
The sample of the study of the BIGD consisted of 900 women with similar qualifications, where half received training and the rest did not.
Women who received training had a 28 per cent higher employment rate and a 53 per cent increase in monthly income from both freelancing and non-freelancing sources compared to women in the control group who were not trained.
However, constraints such as lack of family support, access to digital devices and connectivity, language barriers, and lack of time drove many women to drop out of the training programme.
The study found that only 55 per cent of the women enrolled for training took at least half of all classes, 25 per cent took all classes and 24 per cent took no classes.
As per the study, the training's impact was stronger for women who took a greater number of classes.
About 42 per cent of the participants who took over half of the classes were employed while only 12 per cent of the non-participants got jobs.
The study said there were significant positive impacts of the training on independent decision-making and freedom to work outside the city or country of residence.
However, 24 per cent of the women got training and 12 per cent of the women who did not said family members accompany them when going out.
There was a large positive impact on employment, income and freelancing activities, especially on those taking more classes, the findings said.
Bangladesh ranks 141st out of 153 countries in terms of economic participation and opportunity, according to a World Economic Forum Report from 2020.
Increased labour market participation of women can play a pivotal role in mitigating this situation, and a potential pathway through which women can be introduced into the labour market is online freelancing, where Bangladesh already has a strong base, the participants of the workshop said.
"If you want to earn online, you must learn online," said Ataul Gani Osmani, country director of the CTBD.
Lopita Huq, a research fellow of the BIGD, said the pros and cons need to be weighted before involving local women in online freelancing.
Imran Matin, executive director of the BIGD, said unemployed educated youths are the prime concern for the country.
However, the digital economy has emerged as a promising sector for them to get work and earn money.
"There is a lot of work going on now on creating earning opportunities for educated youths but it is yet to be determined which model will genuinely reap the maximum benefit," he said.
"Digital earning opportunities have become a game changer especially for women as they are now able to work from home," he added.
Matin went on to say the main challenge for women to be skilled and equipped for such jobs is access to finance.
"Long-term micro-financing for them could play a pivotal role for greater inclusion of women in the IT-based freelancing opportunity."
He also stressed on ensuring proper channels for women to get their earnings.