Land ports in Mymensingh set to become fully operational
Could change economic scenario in the region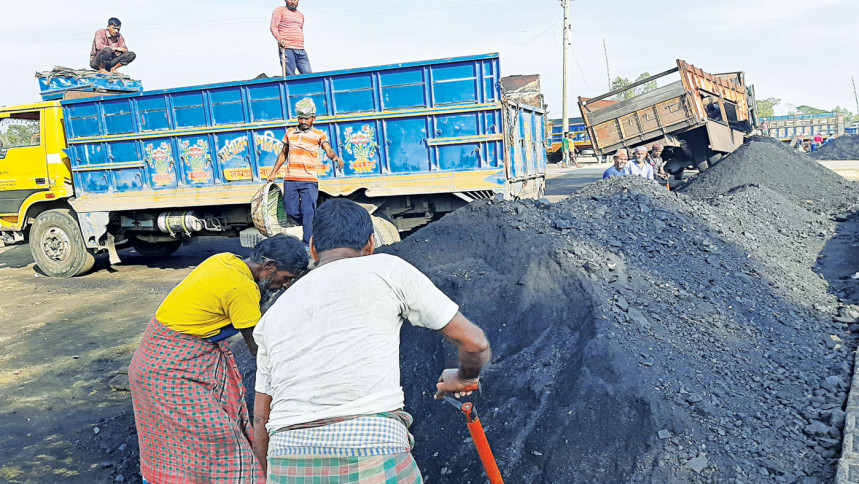 The Gubrakura and Karaitali land ports in Haluaghat upazila of Mymensingh that connect Bangladesh with India are yet to become fully operational despite being opened about 10 years ago.
However, the authorities say they hope the port-related development works will end by April this year, enabling the two customs stations to facilitate bilateral trade.
"We will inaugurate the ports by May-June," said Md Alamgir, chairman of the Bangladesh Land Port Authority.
Former Shipping Minister Shajahan Khan officially opened the land ports on September 15, 2012.
Since the 1990s, Gubrakura and Karaitali have been considered as land customs stations for the sole purpose of importing coal and stone from India, local businessmen said.
But the land ports, located 57 kilometres from Mymensingh town, have huge potential to boost economic activities in the region, they added.
According to a revenue official, traders have so far imported more than 100,000 tonnes of coal through the ports since December last year, earning the government around Tk 22.50 crore.
Development work on the two customs stations involving more than Tk 67 crore was initiated in July 2018 with a scheduled completion date of June 2020. However, the ongoing coronavirus pandemic forced the authorities to extend the project duration by two years to June 2022.
Local traders have long been urging for the development of sufficient infrastructure, such as wide roads, warehouses, yards, weighbridges, and administrative buildings at the land ports to boost trade.
This includes building a four-lane highway from the land ports to Mymensingh to ensure quick and easy transport of both import and export items.
If the land port becomes fully functional, the government and the people, especially in this area, would be benefited as economic activities will see a boost, creating more jobs in the process, traders said.
Some 300 regular importers are currently engaged in importing coal through the Karaitali and Gubrakura land ports.
"If operations begin in full swing, we will be able to import not only coal and stone, but also limestone, chemical fertilisers, fruits, spices, china clay, timber, mustard, rice, and so on," said Ashoke Sarker Apu, secretary of the Haluaghat Exporters and Importers Group.
Besides, the completed ports would facilitate the export of garments, cement, melamine, ceramics, cosmetics, juice, frozen and dry fish, and other packaged food items to India and Bhutan as well, he added.
"For a while now, local traders have been clamouring for immigration and export facilities at the ports, which, if introduced, would increase the government's revenue manifold," said Shahidul Islam, a coal trader.
Traders also demanded direct bus services from Dhaka to Guwahati in India's Assam to make it easier to visit the region and other connecting states, such as Meghalaya and Tripura.
Md Sajedul Karim, superintendent of customs, VAT and excise for the Mymensingh Circle-2, says if bilateral trade is boosted through the ports, there would be huge scope for the government to earn more revenue throughout the year.