Insurance claim settlement far below average
It was less than 70% in 2022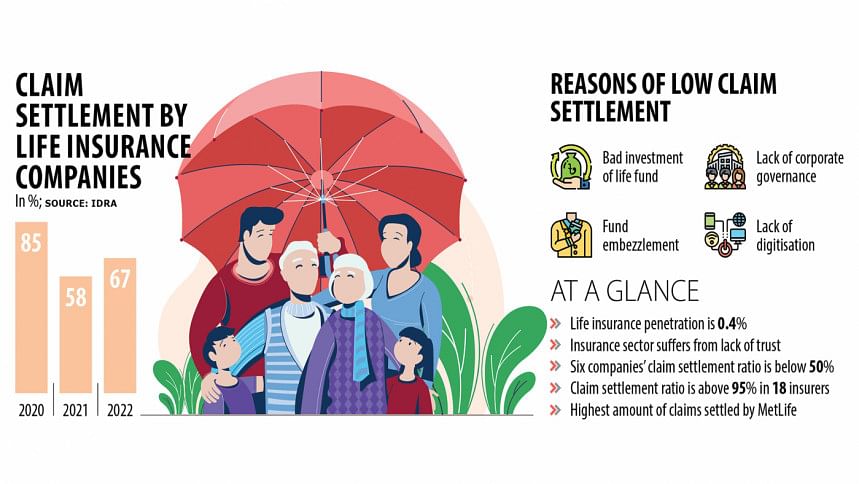 Claim settlement in the insurance sector in Bangladesh stood at 67 percent in 2022, highlighting bad investments and non-compliance that prevented insurers from attaining a higher ratio, data from the regulator showed.
Last year, 35 life insurance companies settled 66.97 percent of claims, meaning around 33 percent of claims made by the clients remained unsettled, according to the Insurance Development & Regulatory Authority (Idra).
Though the claim settlement ratio improved in 2022 compared to 2021, it was much lower than that of 2020.
The ratio plunged to 57.84 percent owing to the impacts of the coronavirus pandemic. It was 85.08 percent in 2020. The ratio averaged more than 80 per cent in the decade to 2021.
An insurance claim is a formal request by a policyholder to an insurance company for coverage or compensation for a covered loss or policy event.
"The entire financial sector is witnessing a confidence crisis due to a lack of good governance," said AB Mirza Azizul Islam, a finance adviser to a former caretaker government.
He said most banks and insurance companies that were approved on political consideration lack good governance.
"Banks are facing a confidence crisis due to huge non-performing loans while insurance companies are witnessing the same problem due to the low claim settlement ratio."
Idra data showed that four insurance companies had a claim settlement ratio of less than 40 percent last year.
Baira Life Insurance's settlement ratio stood at 1.83 percent, the lowest among the insurers.
Fareast Islami life insurance, Sunflower Life Insurance, and Golden Life Insurance logged a ratio of 21 percent, 24 percent, and 37 percent respectively.
Prof Md Main Uddin, a former chairman of the Department of Banking and Insurance at the University of Dhaka, said had insurance companies invested in good securities using life funds, there would not have been any delay in settling claims.
"The main reason for the low claim settlements is bad investments and non-compliance. The Idra should take measures and legal actions against the insurers that failed to settle claims despite having sufficient funds."
In addition, the Idra should work to minimise the risky investments made by insurers, he said.
Sheikh Kabir Hossain, president of the Bangladesh Insurance Association (BIA), said several companies are currently unable to settle claims due to bad investment and non-compliance.
"The Idra and the BIA are working on how to increase the rate of settlement."
The association has asked companies to settle claims as soon as policies mature, he said.
Hossain, also the chairman of Sonar Bangla Insurance, thinks the Idra has instructed insurance companies to digitalise their operations. "Once that happens, this will improve the situation."
He said the claim settlement ratio is much better now than in the past thanks to a number of steps taken by the Idra.
"If Idra's monitoring becomes robust and digitalisation completes, the rate of claim settlement will increase further."
Seventeen companies' claim settlement ratio was more than 95 percent. Of them, nine companies settled claims worth less than Tk 100 crore.
There were eight companies whose claim settlement ratio was above 95 per cent and settled claims worth more than Tk 100 crore. They are Guardian Life Insurance, Meghna Life Insurance, MetLife Bangladesh, Popular Life Insurance, Pragati Life Insurance, Prime Islami Life Insurance, Sandhani Life Insurance, and Rupali Life Insurance.
Ala Ahmad, chief executive officer of MetLife Bangladesh, the lone foreign insurance company in the country, says when customers purchase policies, they expect to see their claims settled without any hassle or delay.
"But if insurers can't meet this expectation, it creates mistrust between policyholders and the insurance industry."
MetLife Bangladesh settled 92.28 percent of its total claims in 2020, 95.38 percent in 2021 and 96.02 percent in 2022.
Ahmad said MetLife has always put special emphasis on making customers' claim experiences smooth and satisfactory. "Over the years, we have invested in technology and people to modernise the claims settlement process."
"As a result, our customers can apply for claim settlement online from anywhere in Bangladesh and receive funds in just three to five working days. We have completely eliminated the necessity to come to our offices to submit paper documents needed to initiate a claim settlement process."
Ahmad said his company has strong customer fund management and investment practices, which help maintain a strong financial position to settle claims without any difficulty.
Another element MetLife is focusing on is quality sales.
"This is because when we understand the needs and prevailing situations of our customers, we can suggest the most appropriate products to them," said Ahmad.
"When insurance policies are sold with a proper understanding of customer needs and situations, the process of claims settlement can be smooth and without any surprises for customers."
Sadman Tanvir, head of marketing at Guardian life insurance, said if a company settles claims and provides services properly to policyholders, it is good for both insurers and customers.
Guardian's claim settlement was 96.85 percent, 97.36 percent and 98.31 percent in 2020, 2021 and 2022, respectively.
Tanvir says his company settles claims within three to five days of the expiration of a policy.
He added that sometimes policyholders can't submit papers on time. "In such cases, settlement takes time."
Azizul Islam urged the regulator to find out why insurance companies are failing to settle claims properly.
"The directors of the insurance companies should be brought under the scanner to figure out whether they were responsible for bad investments."
If needed, the regulator should force insurance companies to sell their assets and pay back people's money, added Islam, also a former chairman of the Bangladesh Securities and Exchange Commission.