Inequality contradicts 'high' per capita income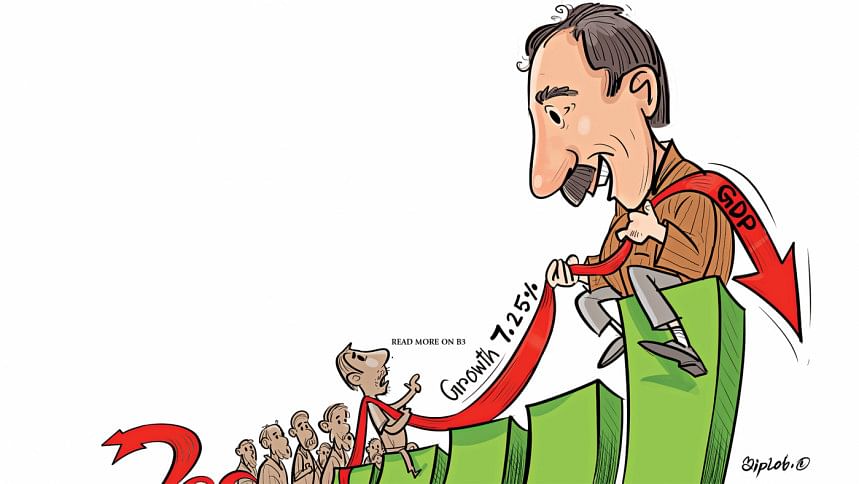 "Per capita income is the income that is not seen by mass people but built on a few people."
A satirical outburst of anguish rather than a terminology, this comment was left by a reader in The Daily Star's Facebook page yesterday on a news post which stated that provisional per capita income of Bangladesh had gone up 9 per cent to $2,824 in 2021-22.
Soon after the news was published, most readers started to repeatedly point out in the social media platform that this per capita income was in no way a reflection of their earnings.
Planning Minister MA Mannan said people were making purchases on a large scale in rural areas, which means that incomes had gone up for all.
It may be by a low percentage or high, but their income rose surely, he said while addressing a press briefing after a meeting of the Executive Committee of the National Economic Council.
Shamsul Alam, state minister for planning, echoed him, saying long queues were commonplace at supermarket checkouts nowadays.
The village markets are no exception. Moreover, inflation is higher in rural areas because demand and buying power are high in those areas.
Wages also rose in the villages and even workers are scarcely available, he added.
While the government is resting on its laurels, people are seeing it as a mockery of their woes.
So, the question that naturally comes into mind is: why does such discrepancy prevail?
According to economists, the figure of the per capita income does not depict the real scenario afflicting the masses, with society plagued with high disparity and high prices.
As per the latest Household Income and Expenditure Survey (HIES) of the Bangladesh Bureau of Statistics (BBS), the country's Gini coefficient, which is the economic measure of equality, stood at 0.482 in 2016, up from 0.458 in 2010.
The Gini coefficient is measured on a scale of 0 to 1; the closer it is to 1, the higher the inequality in society.
Now, the Gini coefficient of Bangladesh is at an all-time high, which means that inequality in society is also at an all-time high.
Debapriya Bhattacharya, distinguished fellow of the Centre for Policy Dialogue, identified some flaws in the estimation of per capita income and GDP growth rate.
"First, there is an estimation problem. High estimates of GDP growth rate and per capita income are not supported by the real figures on the correlates and proxy indicators," said Bhattacharya.
Such correlates include poor implementation of annual development programme, weak off-take of private sector credit, sluggish import of capital goods and raw materials, tepid growth of energy use and so on, he said.
"Moreover, the data set usually used for deriving the GDP growth estimate relates to at best the first six months of the fiscal year. Whereas we know that since February 2021 Bangladesh economy has been facing a number of challenges which may affect the GDP growth rate."
Second, there is a distributional flaw, said Bhattacharya. There are reasons to believe that asset and income inequality has further exacerbated in Bangladesh during the pandemic period. In that case, a huge section of the society will not be able to identify themselves with the estimated per capita income figure for 2021-22.
"Indeed, the estimated GDP figure for Bangladesh is now more than twice the LDC graduation threshold. As we campaign for continued access to LDC related preference and privileges, the international development partners point out that we should not be needing these in post-graduation phase with such high per capita income."
This implies that high per capita income estimates may penalise Bangladesh. It will be particularly sad if these figures are not robust, he added.
The per capita income is found based on the average income of all people of Bangladesh, said Prof Anu Muhammad, former chairman of the economics department at Jahangirnagar University.
It does not reflect the real scenario of the masses, especially due to the fact that there prevails huge disparity among them, he said.
The per capita income of a country or income per person is calculated by adding the income from all domestic sectors – including agriculture, manufacturing and services – and remittance sent by Bangladeshi expatriates and then dividing that total by the population.
As the Bangladesh economy suffers from a huge income inequality, the per capita income is rising in spite of the erosion of mass people's real income for higher prices.
When people struggling to cope with rising market prices see higher income disclosures by the government in newspapers, they take it to be a "brutish joke".
The total income in the country is rising due to the accumulation of assets within a small fraction of the people, he added.
Rise of per capita income does not mean rise of income of all people at the same ratio and "this is why we don't see the per capita income as the lone indicator of development", said Sadiq Ahmed, vice chairman of Policy Research Institute (PRI).
"As income inequality rises and inflation levels go higher, many people fail to find a match between themselves and the higher per capita income," he said.
Higher inflation adversely affects peoples' real income, he said.
The Consumer Price Index stood at 6.22 per cent in March, up from 6.17 per cent a month ago, according to the Bangladesh Bureau of Statistics (BBS). This is the highest since October 2020.
Food inflation rose 12 basis points to 6.34 per cent, the BBS data shows.
Actually, benefits of the GDP growth underwent an unequal distribution due to the pandemic, he said.
Much of incomes of many people had been lost while that of some grew and it is not occurring only in Bangladesh but also in the global arena too, Ahmed added.
So, the government should focus on better income distribution and social safety net expenditure, he recommended.