Import thru ctg port: What are the products with highest import costs?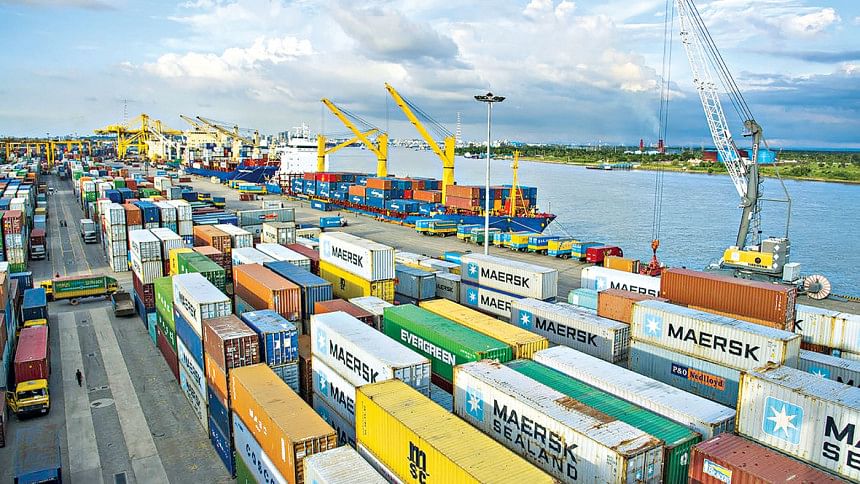 Bangladesh spent the highest, over Tk 10,000 crore, behind the import of each of nine products in fiscal year (FY) 2022-23 although some 4,788 types of goods enter through the Chattogram port.
The nine are cotton, diesel, scrap metal, furnace oil, palm oil, soybean, cement clinker, wheat and crude edible oil.
Such amounts were spent behind six products in the previous FY of 2021-22 whereas only two in FY 2013-14.
For the last 10 years, it had been mainly cotton, which is the garment industry's raw material, and diesel, a fuel necessary for the generation of electricity.
Cement clinker, wheat and crude edible oil made it to the top expenditure list in FY 2022-23 while the rest in FY 2021-22.
Although liquefied natural gas (LNG) had been on the list in FY 2019-20 and 2020-21, it dropped out in the last two years.
All in all, 88.52 million tonnes of different types goods were imported through the Chattogram port in fiscal year 2022-23 at a total cost of Tk 4.62 lakh crore.
Out of this, the nine accounted for 37 million tonnes worth Tk 1.61 lakh crore. That means about 33 percent of the total import expenditure was behind the nine.
Traders said such amounts were being spent to bring over an increasing variety of goods for price hikes in the global market, increasing local demand, high dependence on imports and a decrease in the value of the taka against the dollar.
"Bangladesh is dependent on the import of almost all these products,"Moinul Islam, a former professor of economics at the University of Chattogram, told The Daily Star.
"Production of wheat in our country is close to 15 percent of the total demand…although mustard seed is produced in the country and can act as an alternative to palm or soybean oil, it can meet very little demand," he said.
"We have not been able to increase renewable energy generation capacity to 1,000 megawatts. As a result, most of the demand for electricity have to be met through fuel oil imports. So, most of the money is spent in this sector," he said.
"Considering all these, our expenditure behind these goods will continue to increase in the future," he added.
Analysing the past 10 years' data of Chattogram Custom House revealed that Tk 10,000 crore was spent behind the import of only two types of goods for the first five years from FY 2013-14.
Then in FY 2019-20 it was four and FY 2020-21 five.
According to the data, some of the highest amounts were spent behind importing cotton in the last 10 years.
About 14.21 lakh tonnes worth Tk 40,082 crore was imported in the last FY of 2022-23 whereas 15.09 lakh tonnes worth Tk 31,195 crore in FY 2021-22.
"The climate of our country is not suitable for cotton cultivation. As a result, 100 percent of the country's demand for cotton has to be met through import," said Syed Nazrul Islam, first vice president of the Bangladesh Garment Manufacturers and Exporters Association.
After cotton, diesel followed suit.
About 45.55 lakh tonnes worth Tk 27,380 crore were imported in FY 2022-23 whereas 34.46 lakh tonnes worth Tk 14,392 crore in FY 2021-22.
"A large part of our import expenditure is spent on fuel oil. Focus on renewable energy was needed to reduce fuel oil import costs. But it was not seen in the last decade," said Moinul Islam.
"If you pay attention now, it will take five to six years to have an effect. As a result, there is no opportunity to reduce import costs in this sector very soon," he added.
Meanwhile, Tk 20,689 crore was spent importing 42 lakh tonnes of scrap metal in FY 2022-23, Tk 15,921 crore for 33.43 lakh tonnes of furnace oil, Tk 14,027 crore for 12.7 lakh tonnes of palm oil and Tk 11,304 crore for 17.7 million tonnes of cement clinker.
Besides, Tk 11,099 crore was spent importing wheat, Tk 1,11,090 crore soybean and Tk 10,011 crore crude edible oil.
"About 80-85 percent of the country's wheat and edible oil needs are met with imports. Being an essential product, it is in high demand all over the world," said Abul Bashar Chowdhury, chairman of BSM Group, one of the importers of food products.
"The cost of imports has also increased as the prices of these products in the international market has been on an upward trend for the last few years," he said.
He said wheat cultivation started in Bangladesh around the 1990s. Earlier there was not much wheat cultivation. Farmers are more interested in paddy production than wheat as wheat is more affected by rains than paddy, he said.
Moreover, if wheat cultivation increases, rice cultivation will decrease as both are produced in the same season, he pointed out.
Old ships and scrap iron have to be imported to meet the demand for steel in the country's infrastructure sector, said Jasim Uddin, director (sales and marketing) of Kabir Steel Re-Rolling Mills (KSRM) Group of Industries.
"100 percent of the country's steel raw material is import dependent," he said.
Cement manufacturers also said the same thing. They said all kinds of raw materials, including clinker, have to be imported.