How a youth popularised tech among ethnic groups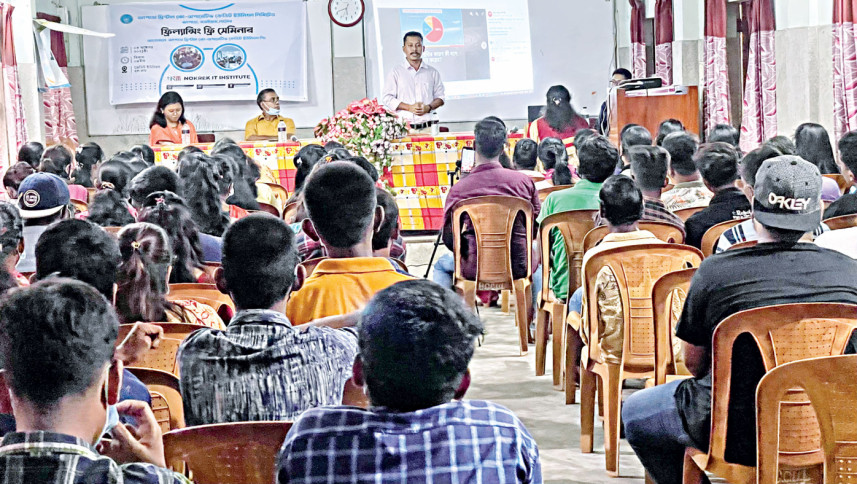 From the middle of 2017 to the end of 2019, he earned about $11,000 by working in freelance markets. He has some fixed clients, including the US air force
"Man is the maker of his own fate" is an old verse that rings true for Subir Nokrek, whose diligence, courage, and indelible passion for entrepreneurship helped him become the architect of not only his own destiny, but also that of others.
Hailing from an ethnic group of Garo people in a remote village located deep in the forest of Madhupur upazila, where internet speed is agonisingly slow, Nokrek is now a top freelancer.
And aside from serving global clients with tech solutions, he has been training indigenous people to help them become independent breadwinners.
After completing his graduation from a university in Dhaka, he worked on a Japanese project that was cancelled abruptly after the Holey Artisan attack. He then got back to his village in mid-2016 to do farming.
However, his family members wanted him to be a civil service cadre and forced him to go back to Dhaka.
"But I had the resolution to do something that brings fruits to society," Nokrek said.
In a quest to explore something new, he got enrolled at the government's Learning and Earning Development Project, which trains people to earn from the internet.
In addition to the government course, the youth was also admitted to three other courses where freelancing skills were taught.
"I started to get work from freelancing marketplaces within two months of that," he said.
After getting numerous freelance jobs, Nokrek began training other youths so that they could work for him. As a result, the Nokrek IT Institute was established.
From the middle of 2017 to the end of 2019, he earned about $11,000 by working in freelance markets. He has some fixed clients, including the US air force.
"However, people who become skilled after taking training from me no longer work for me as they start their own ventures in freelance markets," Nokrek said.
"I take it positively though as I think skilled and capable people should start their own enterprise instead of working for others," he added.
Nokrek began by giving students, teachers and people of various other professions in his village an impression about freelancing.
He told stories from his own experience and also explained how to make money by learning how to use modern technology.
Nokrek then started to provide free training and lectures in seminars at nearby villages.
"I have trained 5,000 young people so far," he said.
He went on to say that his efforts to mobilise the youth to learn the required technology to earn money was met with resistance from village establishments, which blamed him for "trying to deceive the youth.
"But after some people who trained under me started earning money, training requests were coming from different villages, even those in other districts," he said.
As a part of his efforts to do something for the youth of 45 small ethnicities across the country, Nokrek has trained the youth of Garo, Chakma, Marma, Thanchangya, Santal, Rajbangshi, Barman, Koch, Orao, Tripura, Pankho, Rakhine, Khasi, Hajong, Bam and Mro.
Currently, Nokrek IT Institute has branches in Kanchijhuli in Mymensingh, Fulbaria in Gazipur, Nandina in Jamalpur and Baridhara in Dhaka, where 30 people work.
There are no employees in the institute, everyone is a team member here," he said.
After taking training from Nokrek IT, many youths of Madhupur are now earning handsome amounts of money working remotely.
Jess Meer of Gaira already earned $1,000 developing android apps. Richard Dopho of Beduria village earns about $800 per month and Pranjal Nakrek of Gachbari village earns over $1,000 dollar per month as freelancers.
According to Nokrek, the main problem for freelancers in villages of Madhupur is access to the internet.
However, after a newspaper published a story about Nokrek's activities, the internet problem in Gaira was solved partially.
Amber IT has set up about six kilometres of fibre optic cable to launch a high-speed broadband internet connection in Gaira village as a part of its social responsibility.
Aminul Hakim, managing director of the company, said when he saw the mention of low internet in the newspaper report, he thought it was his responsibility to provide internet to Nokrek, who helps youths learn how to use the internet for a positive change.
"Currently a 100Mbps connection has been given and we will develop some internet hotspots for youths," Hakim added.
Yasir Azman, chief executive officer of Grameenphone, recently visited Madhupur's Gaira village and inaugurated a makeshift tower there.
As a result, Grameenphone's 4G speed internet is available in many areas and the villagers are also getting the network inside their houses, Nokrek said.
However, he went on to say that many villages of Madhupur, such as Jangalia, Magontinagar and Beribaid, are still deprived of internet.
Subir said Telecom Minister Mustafa Jabbar has already spoken to him and assured him of more towers for ensuring faster internet.