Gig workers underpaid
Study says they toil in dangerous condition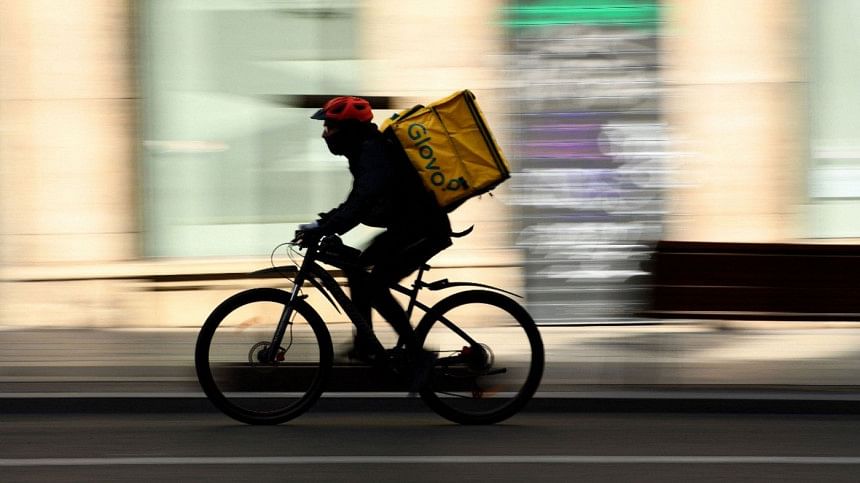 Workers at ride-sharing and food delivery platforms in Bangladesh often work in dangerous condition and face high levels of insecurity and their income falls short of the living wage threshold, found a new study.
The report was launched yesterday virtually by the Fairwork Bangladesh, a collaboration between Dhaka-based DataSense and the Oxford Internet Institute under the University of Oxford.
It said the ride-sharing and food delivery platforms overwhelmingly lack policies to guarantee and protect workers' rights, and that the growth of the platform model risks institutionalising a sub-tier of rights below those of employees.
Bangladesh's platform-based gig economy, which refers to a free market system where short-term and flexible work is prevalent, got its start in 2016, with the arrival of Uber. Since then, many new platforms have emerged in the market, with the major industries being ride-sharing (Uber and Pathao), transportation (Truck Lagbe), delivery (Foodpanda and Paperfly), and domestic work (Hello Task).
While the "contract workers" model remains dominant in Bangladesh, one exception is Lily, a ride-sharing platform, which ensures a minimum wage to its workers through a formal employment contract.
The study found that there are incidents of net income deficit: 16 out of 103 ride-sharing workers interviewed were working for a loss due to work-related costs, high platform fees, and the cut taken by intermediaries.
These workers continue to work for various platforms to generate everyday cash flow, making the debt trap deeper.
Ninety-two out of 103 gig workers interviewed feared for their safety and security while on the job.
Four platforms (Truck Lagbe, Foodpanda, Pathao, and Lily) said they were developing an insurance policy for their workers, though only two could provide evidence of ongoing efforts in practice, according to the report.
Fairwork evaluates the working conditions of digital platforms and ranks them on how well they do.
It used five principles — fair pay, fair conditions, fair contracts, fair management and fair representation— that digital platforms should comply with in order to be considered to be offering fair work.
At the virtual launch, the first phase of the "Fairwork Bangladesh Ratings 2021" was also unveiled.
Out of 10, Food Panda, Lily, Pathao, and Pathao Food scored one, while Car Bangla, HungryNaki, Obhai, Shohoz Foods, Truck Lagbe, and Uber scored zero, according to the study.
Despite the constitutional provisions, insecurity and lack of formal recognition and rights are neither novel nor unique to the platform economy. The country is yet to define, recognise, and protect workers across the entire informal sector, it said.
"The adoption and normalisation of more robust rights, safety and protections, including recognition of platform workers under the Labour Act, will be an important starting point to make the gig economy fairer and more sustainable for everyone."