Foreign banks see spike in deposits
Many savers ditch local lenders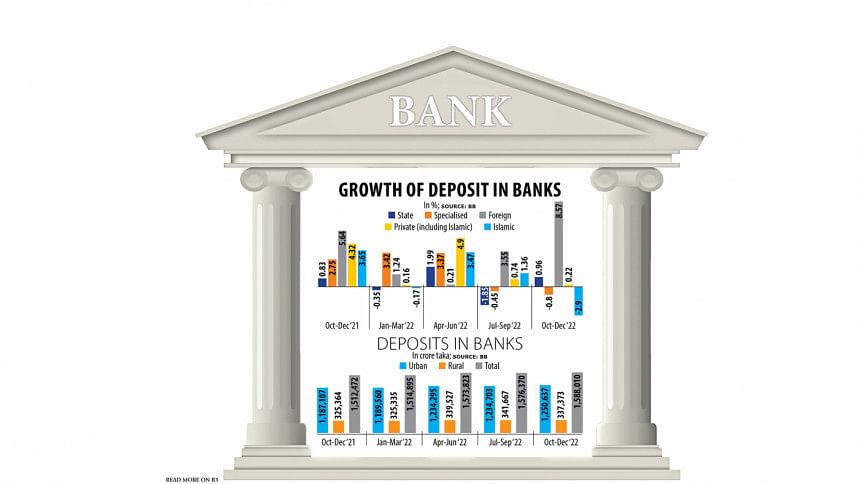 Foreign banks operating in Bangladesh registered an 8.57 per cent growth in deposits in the October-December quarter of 2022, the highest since 2018, as many savers shifted their funds from local banks amid a confidence crisis. 
Nine multinational lenders logged Tk 73,980 crore in deposits in the fourth quarter, up from Tk 68,143 crore in the third quarter, according to the Quarterly Scheduled Banks Statistics released by the Bangladesh Bank yesterday.
On a year-on-year basis, the banks recorded a 14 per cent growth in deposits even though several well-known multinational banks offer lower interest rates on deposits compared to their local competitors.
"Due to the perceived high-risk around a few local banks and financial institutions, cautious savers preferred to park their deposits with foreign banks despite lower returns," said Mamun Rashid, a former CEO of Citibank, NA Bangladesh.
State-owned commercial banks logged the second-highest growth in deposit collection followed by private banks.
Government-owned banks witnessed their deposit grow by 0.96 per cent year-on-year to Tk 401,032 crore in the October-December quarter. Private banks, including Islamic ones, saw money parked by savers grow 0.22 per cent.
Islamic banks lost Tk 11,426 crore in deposits as a section of savers withdrew funds amid a confidence erosion in the wake of allegations of loan irregularities in some shariah-based banks, according to the October-December quarterly report on Islamic banking of the central bank.
Overall, deposits rose 0.74 per cent to Tk 15,88,010 crore in the fourth quarter of 2022 compared to the third quarter when it stood at Tk 15,76,370 crore.
The growth of deposits, however, slowed to 5 per cent at the end of December, way lower than 9.6 per cent a year ago, BB data showed.
According to Syed Mahbubur Rahman, managing director of Mutual Trust Bank, multiple factors affected the deposit growth last year.
"Many people did not have enough liquidity owing to the higher inflation. It affected their scope to save. Besides, a section of people looked for investment opportunities outside banks as the interest rates on deposits were below the rate of inflation," he said.
Inflation rose 8.78 per cent in February, breaking a five-month declining trend.
It surged to a 10-year high of 9.52 per cent in August, driven by higher commodity prices in the global markets owing to the Russian-Ukraine war.
The weighted average interest rate on deposits was 4.24 per cent in the three months to December, slightly up from 4.06 per cent from a year earlier. 
In an emailed reply to The Daily Star, Citibank in Dhaka said Citi with its client base of large multinationals and top-tier local corporates, attracts solution-based deposits and, consequently, manages significant client deposits.
"With our unique global footprint across 95 countries, we are also the sole banker to many of our clients. This has helped attract as well as build up a strong deposit base over time."
Shah Md Ahsan Habib, a professor at the Bangladesh Institute of Bank Management, says there has been an erosion of confidence among a section of savers to some extent.
"But this should not be linked with the deposit growth in foreign banks. It may be that the overall portfolio of some international banks has increased, not all foreign banks," he said, adding that people also don't have much confidence in some foreign banks as well.
Regarding the deposit growth in the state-run banks, Prof Habib said, "People's trust in state agencies deepens when uncertainty develops in other areas."