Unsold potatoes from last year: Farmers, traders counting losses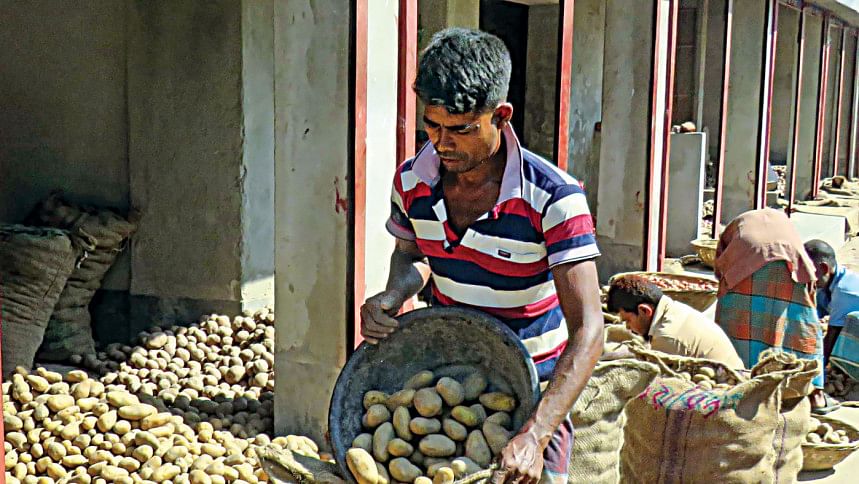 Md Shafiqul Islam, a potato trader in Dinajpur, kept around 2,000 bags of potatoes in cold storage this year in hopes of recovering his losses from the previous season.
However, he now finds himself deeper in the hole as current market prices for the spud have dipped below the previous levels.
So, he has registered losses of Tk 7 lakh so far this season while it was Tk 4 lakh in 2021.
As prices have been low for the past two years, wholesalers are having to sell the tuber at Tk 17-18 per kilogramme (kg), according to Shafiqul and traders like him in the Railbazarhat area in Dinajpur town.
Shafiqul collected Astrid potatoes from farmers in Dinajpur and its neighbouring districts for Tk 16 per kg between April and May this year.
He stored 2,000 bags of the crop at a local cold storage that charged him Tk 270 for each 50kg bag.
Considering all other expenses, such as transport and labour costs, Shafiqul would need to sell the potatoes for Tk 21 per kg in order to break even.
Besides, excess supply is making it difficult to offload his remaining 700 bags before fresh potatoes hit markets in December when customers will likely prefer the new variety over those collected previously.
Sumon Islam, another wholesaler in the same market, stored around 3,000 bags of potatoes this year, including the Granola, Dimond, Holland and Astrid varieties.
"I have suffered losses of Tk 10 lakh so far and still have around 1,000 bags of potato in cold storage," he said.
Sumon was forced to take loans to stay in the business after suffering losses of Tk 6 lakh last year.
"The loan has become a burden for me," he said.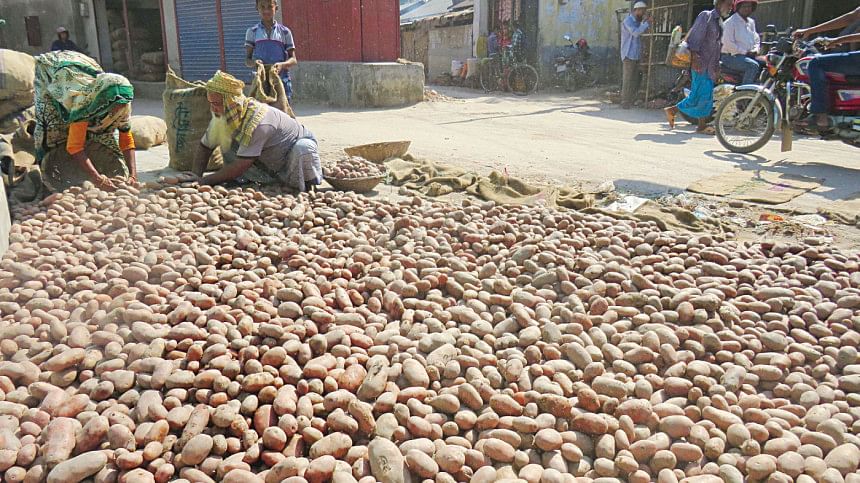 During a recent visit to various markets, this correspondent found that potatoes are retailing for between Tk 22 and Tk 25 per kg.
Potato farmers in Dinajpur are also suffering from poor prices as they were selling the crop for dirt cheap after harvesting the crop in January.
At the time, many farmers sold their produce for as low as Tk 6 per kg, which was far below the production cost.
And although prices saw a slight bump at the end of March, farmers like Azhar Ali of Mazadanga village under Dinajpur sadar upazila incurred losses of Tk 20,000 per bigha.
Azhar had cultivated potatoes on five bighas of land at the end of December last year.
Farmers in Dinajpur and other districts now say they will decrease cultivation from next season considering their sustained losses from the crop.
In addition, they are losing interest in the face of higher input costs this year.
"Fertiliser, pesticide, labour and transportation costs have been increased to an extent that it is unaffordable for many farmers," said Nur Alam, another farmer in Dinajpur sadar upazila.
As prices were low when the season began, many farmers and traders in Dinajpur, Rangpur, Thakurgaon, Panchagarh, Nilphamari and Joypurhat stored their potatoes in cold storage in hopes of earning better returns later in the year.
However, their decision has come back to haunt them as huge stockpiles remain still.
There are around 100 cold storages across eight districts in the Dinajpur and Rangpur regions with the capacity to store around 4 lakh tonnes of potato, of which around 40 per cent are still yet to be collected.
Similarly, there are 20 cold storages in Joypurhat but only 40 per cent of the potatoes stored have been collected so far.
Mozaffar Hossain, a farmer from Khetlal upazila of Joypurhat, said they usually start selling potatoes from cold storage when prices increase in August.
"But this hasn't happened in the last two years."
Biplob Kumar, manager of Ishrat Himagarh, a cold storage in Joypurhat, said his business is facing challenges due to rampant load-shedding.
"Large quantities of potatoes are rotting in many storages."
As per the Department of Agricultural Extension (DAE), potato production in the country has risen since the fiscal year of 2019-20, when 90 lakh tonnes of the crop were grown.
Overall cultivation surged to 1.13 crore tonnes the following next year while annual consumption stands at around 70 lakh. The country's 400 cold storages can accommodate around 30 lakh tonnes.
Farmers think exporting potatoes could be the solution, but experts remain sceptical.
"Exporting of potatoes is uncertain since it is produced all over the world," said Prodip Guha, director of the DAE in Dinajpur.
Still, Bangladesh ships potatoes to countries such as Nepal, Bhutan, Sri Lanka, and some Middle Eastern nations.