Elevated expressway to save time, cost
Say exporters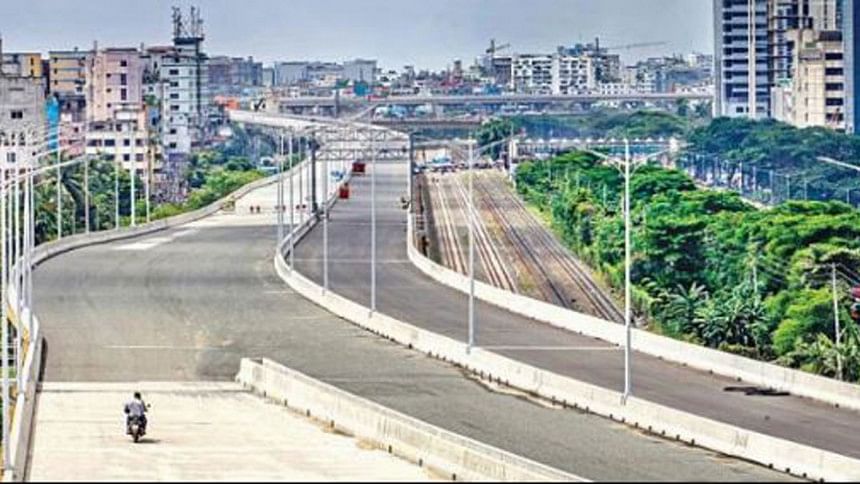 The opening of an elevated expressway in Dhaka yesterday will save time and money from now on, enabling businesses to enhance their competitiveness and boost exports, said exporters yesterday. 
The expressway, which signifies Bangladesh's entry to a new era, will also improve the country's image, with the economy growing by around 6 percent annually over the last two decades, they said.
"It will contribute a lot to the facelifting of the country," said Md Saiful Islam, president of the Metropolitan Chamber of Commerce and Industry, one of the country's leading chambers of commerce.
"Our competitiveness will increase while we will do better in the ease of doing business ranking," he said.
Prime Minister Sheikh Hasina inaugurated the 11.5-kilometre (km) Hazrat Shahjalal International Airport-Farmgate segment of the 19.73-km Dhaka Elevated Expressway, which is being built under public private partnership at nearly Tk 9,000 crore.
The expressway, which signifies Bangladesh's entry to a new era, will also improve the country's image, with the economy growing by around 6 percent annually over the last two decades, exporters said
A lot of time is wasted on the Dhaka's roads for traffic jam and fuel is burned and the opportunity cost of this is high, said Islam.
"So, we will save time and money. At the same, we will contribute to reducing global warming if we take into account the impact of metro rail," he said.
However, benefits from the partial opening of the expressway might be initially limited, added Islam, also managing director of Picard Bangladesh Ltd, a leading leather goods exporting firm in Ashulia, northwest of Dhaka.
Businesses will be able to reap the full benefit of the expressway once construction is complete, fully connecting the airport to Kutubkhali on the Dhaka-Chattogram highway, he said.
Construction of another expressway in Ashulia is going on at full speed, he said.
Running from Dhaka Export Processing Zone via Ashulia and Abdullahpur, the 20-km Dhaka Ashulia Elevated Expressway will connect to Dhaka Elevated Expressway near the airport. 
Its construction is scheduled to be completed in June 2026.
The partial opening of Dhaka Elevated Expressway will reduce pressure of vehicles around airport area, said Faruque Hassan, president of the Bangladesh Garment Manufacturers and Exporters Association.
Thus, it will contribute to easing of air shipment for garments, which accounts for roughly 85 percent of Bangladesh's $55 billion export earnings, he said.
"A lot of our exports is time bound, and on many occasions, we have to air-ship apparels on a lead time of a couple of hours," he said, adding that the expressway would reduce cost and time for air shipment.
Garment exporters now use a lot of locally available raw materials. Transportation time of both inputs and outputs will decline, he added.
"We have to burn lakhs of litres of fuel just because of traffic jam. This will reduce," he said, adding that pressure of vehicles on the road would ease once the Dhaka metro rail fully opened.
Also, opening of the third terminal of Hazrat Shahjalal International Airport will ease pressure of air cargo shipment, he said.
"So, overall image of the country will be brightened alongside saving time and cost when the whole expressway is done," he said.
It now takes more than two hours for a covered van that entered the capital at Jatrabari to go on and cross the airport, said Khairul Alam Suzan, vice president of Bangladesh Freight Forwarders Association.
But covered vans with goods cannot enter Dhaka city during the daytime. They have to sit idle for up to 12 hours outside the capital to enter the city at night, he said.
So, transporters moving goods to and from factories charge businesses the fare for 24 hours, he said.
But once fully completed, the elevated expressways will eliminate the wait. Covered vans will be able to operate more trips than what they run now, added Suzan.