E-commerce helps sapling business bloom
Two brothers in Gaibandha now exporting plants to Turkey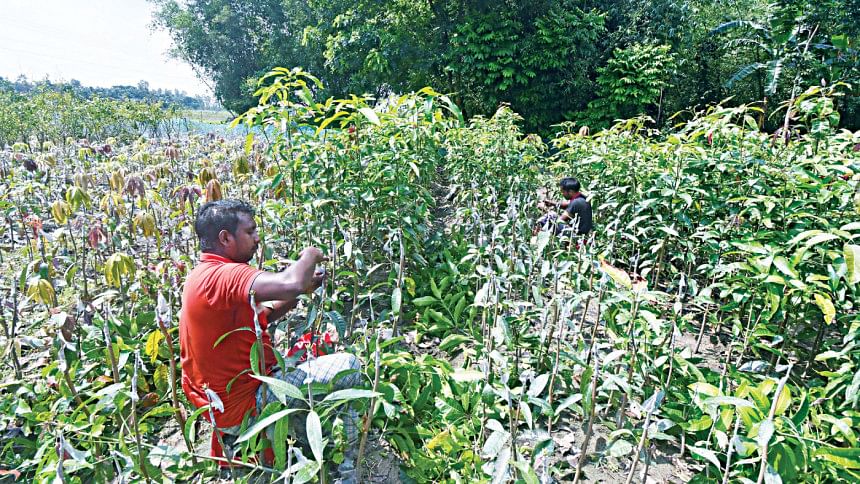 The locals of Kishamot Doshlia village under Gaibandha's Sadullapur upazila believe it is possible to earn a good amount of foreign currency by exporting different kinds of saplings to Turkey from the otherwise ordinary village.
And if the success of two bothers -- Abdur Rahim and Saiful Islam Kollol -- are anything to go by, then this dream could become a reality.
After setting up the Satvai Nursery in their village about four years ago, Rahim and Kollol have been exporting various saplings, of mostly fruit bearing trees, to Turkey through their online retail platform satvai.com.
Export orders from Turkey for a variety of saplings amounting to $15,202 were shipped in the first consignment on December 31, 2021, while another consignment of equal value departed for the same destination on June 15 this year, as per data from the Bogura Chamber of Commerce and Industry.
Both consignments comprised of about 466 litchi, 1,300 mango, 88 jackfruit, 45 java apple, 110 star anise, 206 phoenix palm, 102 Adenium, 40 rambutan, 50 sopheda, 49 wood-apple, 49 lotkon, 49 bilimbi, 102 Christmas, 53 simul and 100 bokul saplings.
The Nature Garden Flower Sale Centre in Alsancak, Turkey, imported these plants via Chittagong Port after ordering directly from satvai.com.
"Several other nurseries from Japan, Kenia and South Africa are now contacting us to buy saplings," Kollol said.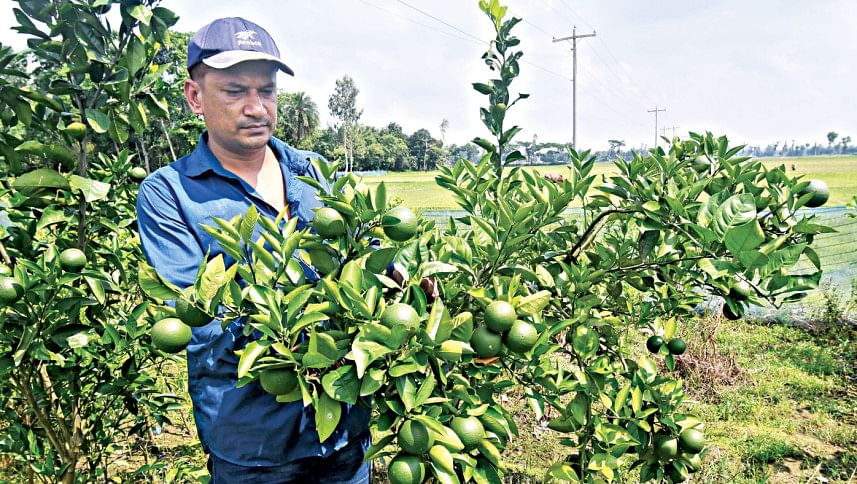 Satvai.com is the first online nursery retail outlet to start exporting plants from the northern district, according to officials of the Department of Agricultural Extension (DAE) in Gaibandha.
"I owned a grocery shop in Dhaka until it was demolished for a road extension project four years ago," Rahim said.
After remaining jobless for a few months, Rahim returned to Kishamot Doshlia village with his younger brother Kollol, who advised him to open a nursery on a small plot of land.
"After doing well in local markets, we expanded the nursery to about 20 bighas and now, our monthly sales are near Tk 2.5 to Tk 3 lakh, he added.
Asked about how he came up with the idea to establish a nursery and then market saplings online, Kollol pointed out that he left his job with the Bangladesh Airforce in early 2016 as he was always more interested in botany.
"We then started the nursery business at the end of 2017 and as the domestic e-commerce sector is growing fast, I decided to develop a website to showcase our plants," he said.
"Now we are delivering nearly 100 varieties of saplings to homes in almost every district and about 60 per cent for our sales come from online orders," Kollol added.
Asked how they got foreign buyers, Kollol said the Turkish nursery found them through the webpage before contacting them directly using Bangladesh's yellow pages.
"They are now our regular customer."
Kollol went on to say that it is not easy to export saplings to a foreign country as they could get damaged or wither during the transportation process.
"First you need the proper documents, such as a trade licence, and then you grow the plants as per the orders placed after securing permission from local DAE officials," he said.
"For export quality saplings, you need to grow it in cocopeat. Later, you need certificates issued by the plant quarantine wing of the DAE, after which can export the plants within next 15 days, Kollol added.
Regarding the challenges they face in this business, Kollol said it is a bit difficult at first if you do not have enough experience.
"When we got feedback on the first consignment, it was found that 10 per cent of plants were damaged by improper temperature settings in the air-conditioned containers. I had damaged another 35 per cent of the plants when we shifted it to cocopeat from soil ground."
"However, I reduced the amount of damaged plants to 6 per cent when I sent the second consignment, which returned 35 per cent higher profits than the domestic market," he added.
When contacted, Md Motiul Alam, agriculture officer of Sadullapur upazila, said Kollol and his brother are the first sapling growers in the northern district to start exporting plants to foreign countries.
"They have presented a huge opportunity for other plant growers to sell their plants through online platforms as well."
Once, entrepreneurs who made clothes and other goods became successful through e-commerce but Kollol and Rahim have set an example that it is an open platform for all, Alam added.
Asked why foreign countries would even consider importing plants from Bangladesh, the agriculture officer said the main reason is that like the country's garment products, even the plants here are cheap.
"It's a matter of pride that our Bangladeshi plants are reaching foreign soil and there is huge potential for more local growers to export their plants as demand is growing too," Alam said.