Digital sales take off as Eid nears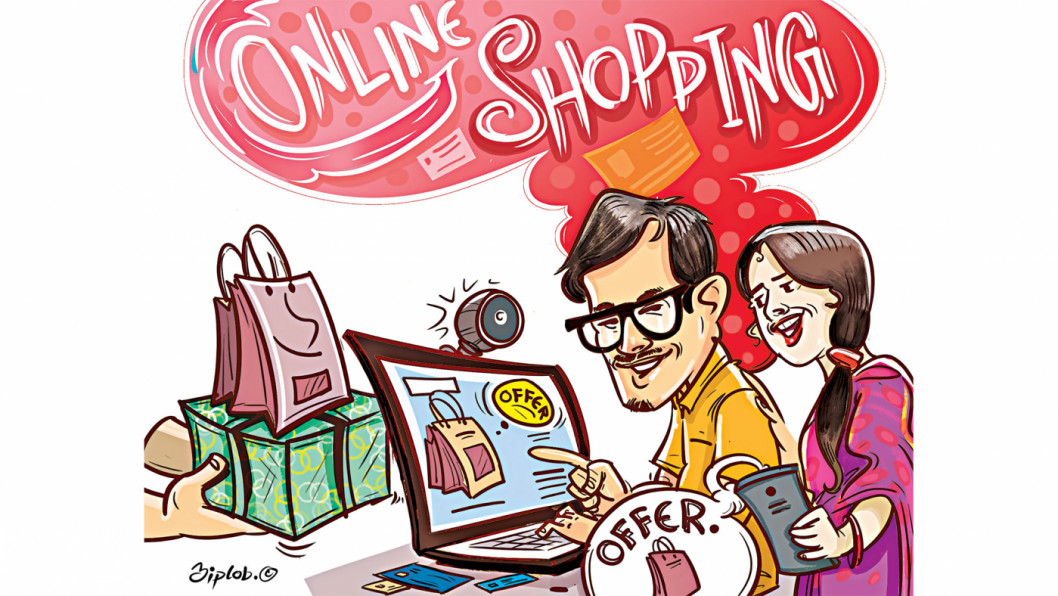 Sales on digital platforms have picked up in Bangladesh as people in droves are purchasing products online as part of their preparations to celebrate Eid-ul-Fitr.
Facebook-based businesses and the online platforms of brands are driving the sales growth of the digital commerce segment, while e-commerce firms have received lukewarm responses since customers' trust in the scam-hit e-commerce firms is yet to be restored.
Owners of F-commerce-based entities are receiving the same number of orders they got at the same time last year, industry people say.
For instance, the flow of the orders has surged a point for Farah's World that its owner Samia Farah was forced to stop receiving orders of custom-made dresses since the first day of Ramadan.
"I had thought online fashion would see a drop since the pandemic has petered out. But, to my surprise, the orders have almost returned to the same level as was in 2021 when the growth was tremendous."
Customers can still place orders for ready-to-wear and other products at Farah's World.
The top-selling items in the digital commerce sector this Eid are clothing items, cosmetics, leather products, and jewellery.
"Owing to the pandemic, customers were habituated with online purchases, and sales of this season have proved that they have not lost the habit despite the improvement in the pandemic situation," said Nasima Akter Nisha, president of the Women and e-Commerce Forum (WE).
"This is the most encouraging thing."
WE is a Facebook-based platform where more than 3 lakh women with different skills can put their products or services up for sale.
F-commerce has thrived in the last few years thanks to the huge size of the Facebook population in the country. With nearly 40 million users, Bangladesh is among the top 10 nations with Facebook users, according to industry people.
F-commerce has witnessed a rapid rise since the virus arrived on the shores of the country as people were forced to rely on communication technologies to work, communicate, study and find entertainment at home.
The massive loss of jobs owing to the lockdowns enforced to limit the spread of the virus also prompted many people to venture into digital space to make a living. They are selling fashion items, homemade food items, organic vegetables, fish, medicines, and so on.
In Bangladesh, there are about five lakh F-commerce entities, with women owning more than 60 per cent of them.
According to an analysis of Meta, the parent company of Facebook, more than 70 per cent of female-led Facebook businesses were set up in Bangladesh since the pandemic began.
Since 2021, 40 per cent of Facebook groups involving entrepreneurs have been set up by women, said the company in March.
"Women have taken up the helm of their families to overcome financial difficulties brought on by the pandemic," said Nisha.
There was apprehension that the women-led F-commerce entities wouldn't sustain once the pandemic recedes. But, most haven't abandoned their entrepreneurship endevours and are doing great in terms of sales this Eid season.
According to Nisha, the women entrepreneurs who sell products through the WE platform have already registered sales of more than Tk 6 crore in the first two weeks of Ramadan.
Salim Miah, the owner of Smart Dress Gallery, which has both an online platform and a physical store, said the stellar sales growth witnessed during the peak of the pandemic has slowed, but many customers still rely on online shopping.
Nazmun Nahar, the owner of Facebook-based jewellery house Rupanzel, said compared to normal times, online sales are a few times higher now.
"Many Bangladeshis who live abroad are placing orders with my platform."
According to top lifestyle retail chains, online sales surpassed expectations.
"Our online sales have grown several times compared to normal times and we have booked orders that are more than double our initial estimate," said Md Raihan Kabir, marketing head at lifestyle brand Yellow.
About 80 per cent of online sales for lifestyle items come from F-commerce.
E-commerce sector people say a host of scams involving the sectors that unfolded last year has crippled the growth of the sector.
Usually, e-commerce and Facebook-based traders see monthly transactions of Tk 500-550 crore. It rose to Tk 6,050 crore for 25 firms alone between March and June last year as they ran operations like the Ponzi scheme, according to a report of the Bangladesh Bank.
AKM Fahim Mashroor, chief executive officer of Bdjobs.com and AjkerDeal, said online-based businesses are struggling to gain customers' trust.
F-commerce entities have been able to shield themselves from the reputational damages caused by the irregularities as most customers either personally know the owners of Facebook-based firms or can see them live on the pages.
"E-commerce sales have increased during Ramadan compared to normal times. However, it has not met our expectations," said Asikul Alam Khan, CEO of PriyoShop.
Khan said although there are demands for gadgets and lifestyle items, most of the customers place orders mainly for groceries.
The annual market size of online-based platforms now stands at around Tk 7,000 crore, accounting for about 1 per cent of retail sales.