Default Loan recovery plunges
Borrowers struggle to pay back amid economic slowdown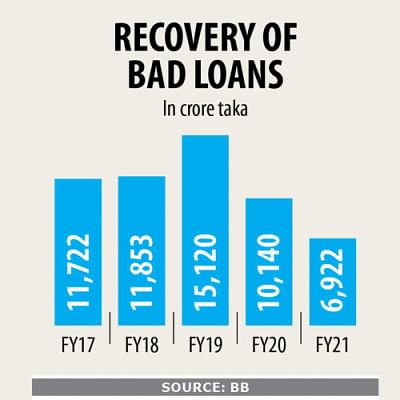 Default loans recovery in Bangladesh fell to at least a five-year low of Tk 6,922 crore in the last fiscal year as borrowers struggled to pay back amid the economic slowdown caused by the coronavirus pandemic.
The amount stood at Tk 10,140 crore in the fiscal year of 2019-20, data from the central bank showed.
Bankers say the loan moratorium, introduced by the central bank in April last year to counter the impacts of the pandemic on the economy, allowed borrowers to defer payments of installments, hitting the recovery of the default loans.
The loan recovery had nosedived to Tk 869 crore in April to June of 2020, the first quarter hit by the crisis in Bangladesh. This was the first time it had fallen below Tk 1,000 crore in a single quarter since at least FY17.
It recovered in the subsequent quarters before falling in the last quarter in FY21.
Banks collectively recouped Tk 1,795 crore in the last quarter of the last fiscal year, also down from Tk 1,904 crore in the third quarter.
Defaulters paid back Tk 280 crore to six state-run commercial banks in the fourth quarter, up from Tk 167 crore in the third quarter. They had Tk 43,450 crore in bad loans at the end of the last fiscal year.
Forty-one private commercial banks got back Tk 937 crore, versus Tk 642 crore in the third quarter, leaving them with Tk 45,010 crore in defaulted loans.
Defaulters of nine foreign commercial banks repaid Tk 46 crore in the quarter. It was Tk 26 crore in the January-March period. Their collective bad loans stood at Tk 2,281 crore at the end of FY21.
Three state-run specialised banks recovered Tk 531 crore, which was Tk 750 crore a quarter ago. Their bad loans totaled Tk 4,499 crore in FY21.
At the end of the fiscal year, classified loans in the banking sector stood at Tk 95,243 crore.
Zaid Bakht, a former research director of the Bangladesh Institute of Development Studies, said the default loan recovery was low because of the payment holiday.
"Now, the focus should be on getting back the loans. We will have to enhance our efforts to recover the loans. Otherwise, the financial performance of banks will deteriorate."
Agrani Bank, where Bakht is the chairman of the board, has undertaken a 100-day initiative to accelerate the recovery of the defaulted loans.
He says banks have to be supportive to clients as economic recovery is picking up the pace.
"If we remain conservative, the ongoing economic recovery will not gain the much-needed momentum."
Syed Mahbubur Rahman, managing director of Mutual Trust Bank, said: "Courts were closed for an extended period last year, so we could not initiate the legal process to realise the loans."
"We also could not maintain regular communication with the borrowers because of the pandemic."