Ctg port plagued by container, cargo congestion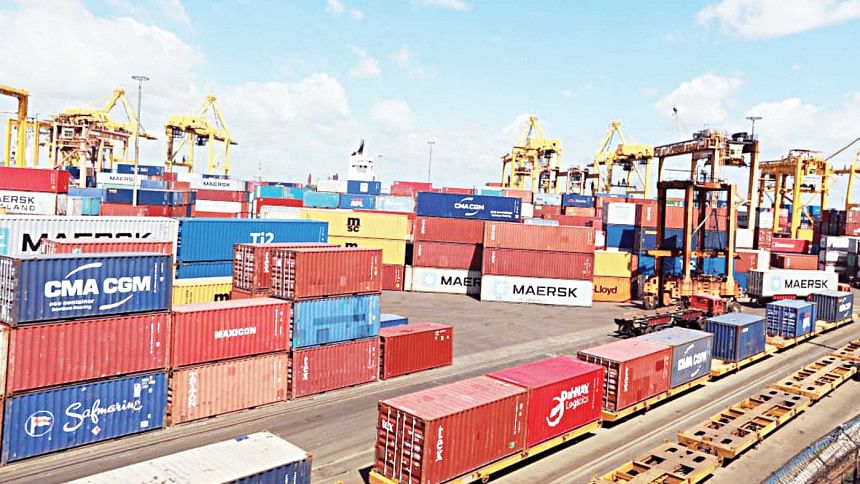 The Chattogram port is facing a fresh surge in both container and cargo congestion mainlydue to slow delivery of goods for ten days since the Eid vacation, disrupting scheduled departure and berthing of vessels.
Apart from the pile-up of import containers, the port's yards and sheds are also overcrowded with bulk cargo.
This has prompted the authority to threaten of raising the wharf rent fourfold from July 25 if importers do not speed up taking deliveries of bulk cargo.
Deliveries of both import-laden containers and bulk cargo has slowed down since the Eid-ul-Azha vacation last week.
It is causing overstays of vessels at jetties, which is leading to berthing delays for incoming vessels.
As of Wednesday, there were11 container vessels waiting for berthing at the outer anchorage.
The port last saw the usual pace of deliveries on July 7, the last working day before Eid, when 4,721 TEUs (twenty-foot equivalent units) of import-laden containers were delivered.
Though port operations, such as loading and unloading of containers and cargo, were suspended for only one shift on Eid day on July 10, deliveries started running slow since July 8 when the weekend started.
On the following 10 days till July 17, the average daily deliveries from the port stood at less than 2,000 TEUs. Usually, the figure stands at over 4,500 TEUs.
Due to such poor rate of deliveries, import containers are piling up at different yards.
The yards dedicated for storing full container loads (FCL), meaning shipments or cargo which required the full space of the container, are facing the worst scenario.
As of Tuesday morning, a total of 41,287 TEUs FCL containers were lying at those yards, exceeding their capacity of 40,368 TEUs.
The rate of deliveries, however, started improving since Monday and in last two days it crossed 4,000 TEUs.
But port users fear that the pace may decline again as there are weekends ahead. 
Such congestion is forcing longer stay of vessels at the jetties.
Geared vessels, meaning those having on-board cranes, usually leave jetties in three days completing discharging import-laden containers and loading export-laden and empty ones.
Gearless vessel, that do not have cranes on board, usually require 48 hours for the same job.
A geared container vessel, Maersk Hai Phong, berthed at GCB jetty No 10 on July 16 and was supposed to leave the port on Tuesday.
The departure scheduled was deferred to yesterday.
Its local agent doubt whether even that would be possible and presume it would be on July 21.
An official of the ship's local agent said space scarcity in the yards were forcing vessels to take an additional one or two days for completing loading and unloading.
In a similar situation, MV Cala Paguro, which got berthing on July 16, deferred its scheduled departure on Tuesday.
Another vessel, Maersk Nusantara, which got berthing on July 15 and was supposed to leave on Monday, had to stay a day more and left Tuesday due to delays in loading and unloading.
As vessels are not leaving jetties on time, vessels waiting for berthing are also facing delay.
Two vessels, OEL Colombo and BLPL Trust, which arrived at the outer anchorage on July 16 and July 17 respectively and were scheduled to get berthing on Tuesday, had to witness their schedule being cancelled.
Muntasir Rubayat, head of operations of GBX Logistics, the local agent of BLPL Trust, said the vessel had to wait a day and berthed yesterday.
He said if importers do not speed up taking deliveries, there would be a scarcity of space in the yards and until the delivery rate normalises, discharging goods from vessels would not turn smooth.
"The deliveries gained some pace from Tuesday but again it would decline on the incoming weekends on Friday and Saturday," he said.
Contacted, Chattogram Port Authority Secretary Md Omar Faruk said the situation has already started improving and the delivery rates would normalise within two or three days.