Credit growth slips to 14-month low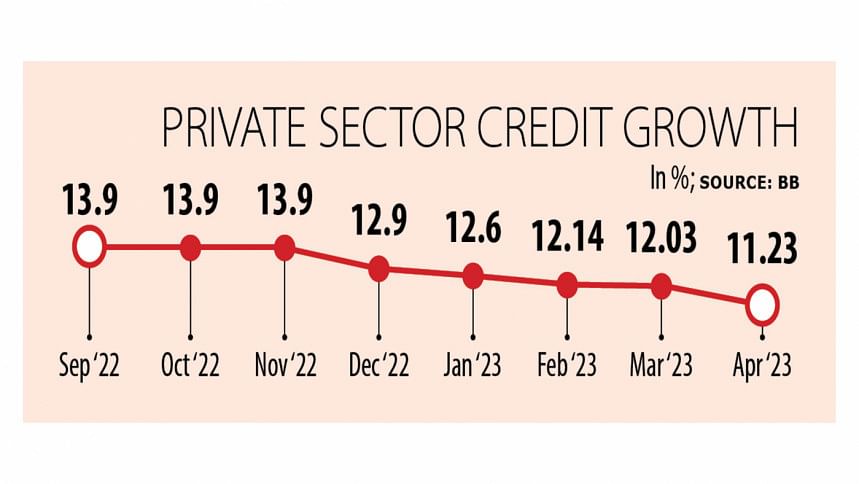 Private sector credit growth in Bangladesh dropped to a 14-month low of 11.23 per cent in April owing to weak credit demand amid the current business slowdown, official figures showed.  
This was the fifth consecutive monthly decline as businesses continue their "wait and see" approach because of the persisting uncertainty at home and abroad.
Banks' finance to the private sector stood at Tk 14,57,400 crore in April, data from the Bangladesh Bank showed.
Ahsan H Mansur, executive director of the Policy Research Institute of Bangladesh, warns that the private sector credit growth may decline further in the days to come as the deposit growth is on the decline.
The deposit growth slowed in the third and fourth quarters of 2022 compared to the second quarter.
Overall, the growth of deposits slowed to 5 per cent at the end of 2022, way lower than the 9.6 per cent recorded a year ago, BB data showed.
As of December, deposits totalled Tk 15,88,010 crore in the banking system.
"Banks can't disburse loans if they fail to mobilise deposits," said Mansur, also a former official of the International Monetary Fund.
"If the interest rate cap on loans is not removed, the deposit growth will not pick up."
In April 2020, the central bank imposed an interest rate cap of 9 per cent on loans with a view to giving a boost to credit growth. But it did not increase much, initially because of the slowdown induced by the coronavirus pandemic and the later by the Russia-Ukraine War.
If the credit growth continues to face such a slowdown, it will adversely affect the GDP growth, which has already been hit by a fall in demand at home and abroad owing to persistently high inflation.
Syed Mahbubur Rahman, managing director of Mutual Trust Bank, says many businesses are facing problems in opening LCs to set up new industrial units, expanding the existing ones, or buying inputs.
"This has put an adverse impact on the credit growth," he said, adding that inadequate supply electricity and gas is another reason for the downward trend of the credit growth.
Borrowing from external sources has also decreased, said Rahman.
Another managing director of a private bank says that the majority of shariah-based banks are unable to disburse funds as they are facing a liquidity crisis.
It came after savers withdrew deposits or refrained from making fresh savings after loan scams at some shariah-compliant lenders became known, eroding their liquidity base.
Some Islamic banks are now taking funds from the central bank to run their day-to-day banking operation. "But the scenario was completely different three to four years ago when they used to provide funds to cash-strapped lenders," the top banker said.
On top of that, many businesses are cautious when it comes to making investments as they fear that the political environment may deteriorate ahead of the general elections early next year, he said.
"So, the credit growth may not turn around immediately."
Private sector credit growth stood at 11.3 per cent, 8.6 per cent, 8.3 per cent, and 13.7 per cent in the last four fiscal years to 2021-22.