Bumper onion yields going bad for lack of storage
Bumper onion yields earlier this year gave farmers in northern parts of Bangladesh reason to cheer but the lack of adequate storage facilities has soured their prospects of profiting from the cash-crop as adverse weather conditions continue to wreak havoc on their produce, according to market players.
Md Kamruzzaman, a farmer and trader of Durgapur village in Pabna's Sujanagar upazila, cultivated onions on 82 bighas of land to produce more than 5,000 maunds of the crop.
He then kept about 3,000 maunds of onion in his homemade bamboo-loft storages in March with a view to selling them year-round. However, he is now worried about being able to save even half the crop.
"The scorching heat and untimely rains are causing rampant damage to the onions in my storages," Kamruzzaman said,
Farmers expect around 10 kilogrammes (kgs) of their onions will be damaged when kept in homemade storages but the prevailing bad weather has raised the margin to between 15-18 kgs this year, he added.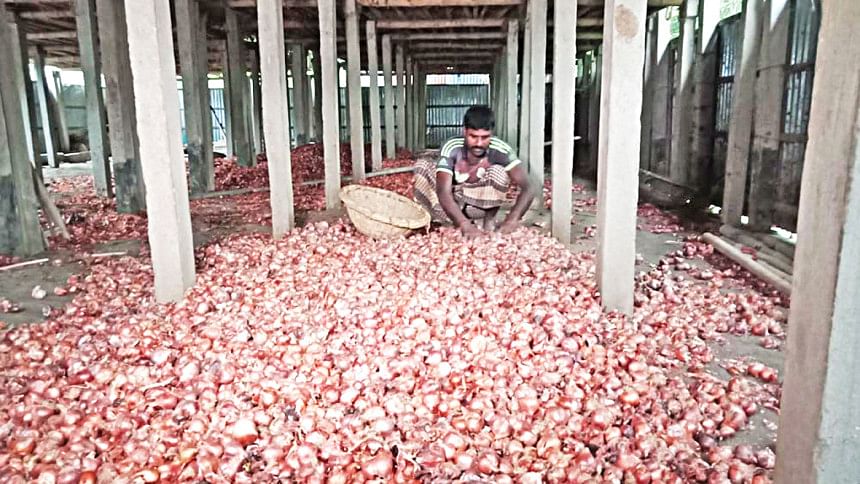 Md Chand Miah, another onion farmer from the same village, told The Daily Star that around 30 per cent of his produce has gone rotten and he is now concerned about recovering the production cost.
"It cost more than Tk 1,200 per maund to grow onions this year but the market price was Tk 800 to Tk 900 per maund during the harvesting period," he said.
"And even though each maund is currently selling for Tk 1,300, the damage to my crops means that I have to count losses of Tk 200 per maund," Miah added.
The onion farmer went on to say that farmers are forced to keep onions in homemade storages due to the lack of modern facilities in the region.
Besides, farmers cannot control the temperature and moisture levels inside a bamboo-loft and so, the stored onions are at risk of being destroyed as they remain at the weather's mercy, Miah said.
However, Shoilendronath Majumder, chief scientific officer of the Spice Research Center in Bogura, informed that there are no designated storage facilities available for onions as they have yet to refine the required technology.
He then said that a test cold storage is being built in Bogura at cost of Tk 4 crore.
"After establishing the storage, we will go for more research," Majumder added.
According to data from the Department of Agricultural Extension (DAE), more than 9 lakh tonnes of onions are damaged every year due to the poor preservation system, forcing the government to import roughly the same amount in order to meet domestic demand.
In 2020-21, onions were cultivated on a total of 2.53 lakh hectares of land to produce 33.562 tonnes of the kitchen staple.
"Of the amount produced that year, 8.5 lakh tonnes were damaged and we had to import around 8 lakh tonnes to make up for the dearth in supply," said Md Jahidul Amin, director of DAE's crop wing.
Onion imports usually take place during the harvesting season in early March to ensure that there is no supply crisis in local markets.
This year, onions were cultivated on 2.59 hectares of land to produced 36.4 lakh tonnes, of which approximately 10 lakh bulbs have been damaged.
"If we were able to reduce these losses, then we would be able to strengthen onion production," he said.
"So, we need specialised cold storages for onion as developing such facilities in Pabna, Faridpur and other cultivating areas would help save the crops and subsequently reduce imports."
Farmers say that another reason for their losses is the lack of proper planning as they fail to get their expected prices even though huge amounts of foreign exchange are spent on importing the bulbs every year.
"I produced over 6 maunds of onion this year but we did not sell them after harvesting considering the poor price," said Liton Mondol, another onion farmer.
As is the case with others, more 30 per cent of Mondol's stored onions have gone rotten and he is now worried about being able to sell the remaining portion in time.
In addition, it costs him an extra Tk 100 to Tk 150 in labour to pack one maund of fresh onions after separating them from the rotten ones in storage.
"So, it costs about Tk 1,250 to prepare each maund of onion but as market prices are the same. I have to face 20-25 per cent loss this year," Liton said, adding that similarly affected farmers are losing their interest in cultivating the crop.
However, the DAE's Majumder said farmers could develop sufficient storage systems by themselves.
"If the farmers set a temperature protection selling under the tin roof of the bamboo loft and store the onions 6 to 9 inches above the ground while ensuring sufficient air circulation, then the loss will be reduced," he said.
On the other hand, farmers claim they do not have enough space or funds to develop their homemade storages in this manner.
"Onion is one of the biggest cash crops for farmers but we are struggling to recover production costs," said Kamruzzaman of Durgapur village.
"At the moment, we do not have enough funds for developing our storage systems and so, we need government support for strengthening onion production," he added.