Big push for solar, waste-based power
Cabinet approves 223.5MW power projects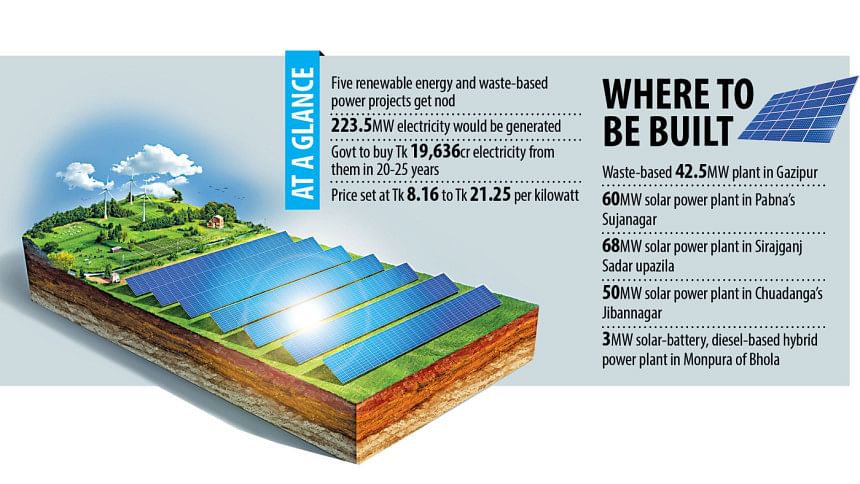 The government yesterday gave a big push to its renewable energy and waste-based power generation drive as it approved five projects with a combined electricity production capacity of 223.5 megawatts.
The cabinet committee on public purchase gave the go-ahead to the projects to be implemented by mainly Chinese companies. The government will purchase electricity from the projects for a period of 20 to 25 years.
The approval came as the government outlined the country's ambitious goal of generating more than 4,100 megawatts of electricity from renewable energy sources by 2030 in its updated Nationally Determined Contributions submitted to the United Nations Framework Convention on Climate Change before the COP26.
The cabinet approved a waste-based 42.5-MW power plant in the Gazipur City Corporation area.
The government will purchase electricity for 25 years from Canves Environmental Investment Company Ltd of China at Tk 17.20 per kilowatt-hour of power.
Shaheen Kabir Khan, chief coordinator for Bangladesh at Canves, says the plant will be based on incineration technology, and its cost is low compared to other waste-based energy projects.
The city corporation will supply 2,500 tonnes of mixed-waste per day to the plant after collecting them from city-dwellers.
The estimated investment will be about $450 million and Canves will bear the cost.
"It will be environment-friendly, and 40 per cent of investment will be spent to safeguard the environment," said Khan.
The plant is part of the government initiative to set up waste-based power stations aiming to streamline waste management.
On December 1, an agreement was signed between the Bangladesh Power Development Board (BPDB), the Dhaka North City Corporation, and China Machinery Engineering Corporation to develop the country's maiden waste-based power plant at Aminbazar in Dhaka.
The plant will have capacity to produce 42.5 MW of electricity.
There will be two more waste-to-power plants in near future in the city corporation areas of Narayanganj and Chattogram. Many such proposals have already been submitted to the ministry and the BPDB, said a BPDB official. The cabinet gave its consent to three solar power-run projects.
Bangladesh-China Renewable Energy Company, a joint venture of North-West Power Generation Company and China National Machinery Import & Export Corporation, will set up a 60-MW solar power plant in Pabna's Sujanagar.
The government will buy electricity for 20 years at Tk 8.48 per unit.
The joint venture will also set up a 68-MW solar power plant in Sirajganj Sadar upazila. Each unit will cost Tk 8.16.
Cyclect Energy Pte. Ltd of Singapore will build a 50-MW solar power plant in Chuadanga's Jibannagar upazila. The government will buy electricity at Tk 8.16 per unit.
Western Renewable Energy Pvt Ltd will set up a 3MW solar-battery, diesel-based hybrid power plant in Monpura upazila of Bhola. Each unit will cost Tk 21.25.
Khondaker Golam Moazzem, research director at the Centre for Policy Dialogue, described the focus on renewable energy as very positive.
About waste-to-power generation, he said, "It would help waste management that is very tough to manage. Besides, electricity generated from such power plants would cut the dependency on fossil fuels."   
"However, site selection should be done with utmost care so that it doesn't affect local communities. The implications of such plants on the environment should also be taken into account."
Currently, Bangladesh's installed power generation capacity is about 24,000 MW. Of the amount, 777 MWs are generated from renewable sources, representing about 3 per cent of the total production.
Electricity generation from renewable sources is expected to rise as projects involving the capacity to produce about 2,000 MW of electricity are in the pipeline.
Presently, nine solar power plants are being constructed with a combined capacity of 450 MW, and a wind power project that will produce 60 MW.
Besides, deals are set to be inked to establish 12 solar plants with a collective generation capacity of 500 MW and a few other wind and biomass plants with the capacity totaling 130 MW.
"Renewable energy in Bangladesh has made impressive strides in recent times, and the total power generation from the segment will increase significantly by the current fiscal year," said Mohammad Alauddin, chairman of the Sustainable and Renewable Energy Development Authority.