Better logistics may boost exports by 20%: experts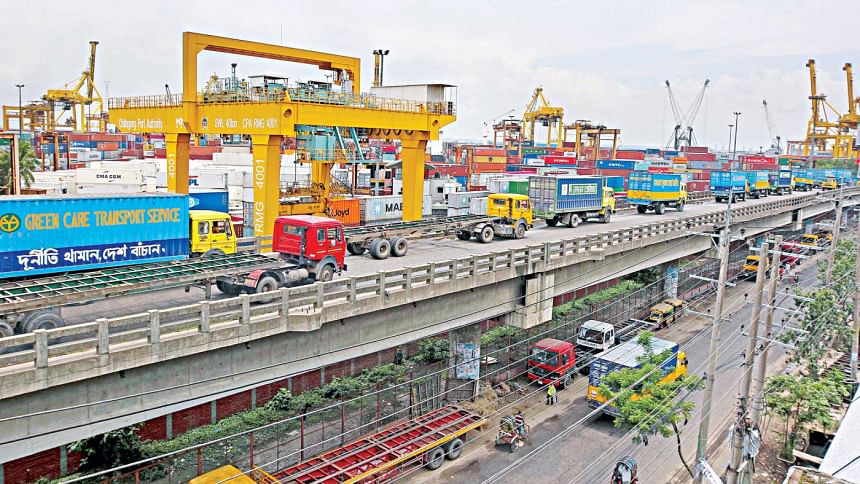 Bangladesh is missing out on at least 20 per cent of its export potential due to poor logistics and clearance services in the country's ports and highways, according to various experts.
"Bangladesh fetched $52 billion from exports in the previous fiscal year but it would be possible to earn at least $63 billion if the logistics services were improved," said Masrur Reaz, chairman of the Policy Exchange, a private research firm.
For instance, the current cost of hiring trailer trucks for transporting goods in the country is $0.12 per kilometre but the rate is $0.6 in Indonesia and about $0.2 in India, he added while referring to a recent study by the World Bank.
Reaz was speaking at a discussion on "Logistics Sector of Bangladesh-Opportunities and Concerns", organised by the American Chamber of Commerce in Bangladesh (AmCham) at Sheraton Dhaka Banani hotel in the capital. He then said if the time taken to secure clearance for goods at local ports is shortened by a day, overall exports would increase by 7.4 per cent.
Moreover, if domestic logistics facilities, such as roads and warehouses, are improved and inland container depots (ICD) are set up in industry dense areas like Dhaka, Narayanganj, Gazipur and Chattogram, exports could grow by another 7.4 per cent.
Currently, the average speed of goods-laden trucks plying the Dhaka-Chattogram highway, which handles 95 per cent of the movement of export and import goods, is 19 kilometres per hour.
"But if the average speed can be increased to 40 kilometres per hour, it would boost exports by some 3.5 per cent," Reaz said.
Bangladesh is lagging behind in the global logistics index as the country ranks 100th among 140 nations while India places 42nd and Thailand is 34th.
Reaz went on to say that a particular ministry, government agency or department should be made responsible for growth in the logistics sector as entrepreneurs currently need to collect signatures from nine ministries and 20 government agencies to open a logistics company.
After Bangladesh graduates from a least developed country in 2026, the country's exports will face 8 per cent to 12 per cent duty.
"So, efficiency in logistics is very important to remain competitive in the global supply chain in the post-graduation period," he said.
AmCham President Syed Ershad Ahmed said estimated employment in the logistics and transport sectors is around 5 million collectively, including more than 1,100 freight forwarders, 5,000 carrying and forwarding agents and several thousand workers in different services, such as port handling, and air, ocean, road, rail and waterway transport.
"The upcoming economic zones and opening of Padma Bridge definitely have great potential to help add more commodities to the export basket," he added.
According to Ahmed, there must be an increase in the number of investors committing to long-term investment in the market for development to continue.
Bangladesh is currently one of the potential sourcing markets in the world, which indicates that the country's logistics industry is highly progressive.
However, some key challenges like policy development and implementation, infrastructure development, process improvement, and increasing management efficiency need to be to addressed.
And although inland connectivity through railways and waterways has high potential, it remains underutilised.
"So, the relevant government authorities must set up strategies to bolster transportation and logistics networks to satisfy the increasing demand and export development," he said.
Bangladesh also needs pragmatic and effective policies and a comprehensive national strategy to improve logistics performance in the country, Ahmed added.
Kabir Ahmed, president of the Bangladesh Freight Forwarders Association (BAFFA), said the standards and services of the domestic logistics sector has improved a lot over the years as many entrepreneurs invested to this end.
This benefitted the country as a whole as it is not necessary to hire foreign logistics companies to cater to the needs of domestic businesses.
The BAFFA president also said local exporters faced a lot of trouble in shipping goods last year due to abnormal congestions at the Hazrat Shahjalal International Airport (HSIA) that were caused by delays in scanning.
The necessary scanning of goods was delayed at the airport mainly because of the lack of the required machinery, he said.
Only dog squads were deployed at the airport for scanning goods last year as the machines were out of order.
The release of goods from Chattogram port were similarly delayed by the various procedures of different departments of the port.
Usually, some 800 tonnes of goods are exported through the HSIA, but very often a handsome quantity of export-oriented goods cannot be scanned and are left unattended because of the lack of machinery and proper warehousing, he added.
While delivering his keynote paper, Mamun Habib, a professor of Independent University, said there was just one ICD in the country 1999, when export earnings stood at $5.31 billion. Since then, the number of ICDs increased to just 21 by the end of 2021, when export receipts totalled $52 billion.
In such a situation, the target of the Bangladesh Garment Manufacturers and Exporters Association to export $100 billion worth of garment items by 2030 may be affected by the poor logistics services, Habib added.