Barishal farmers bet on watermelon
Hope current prices will help offset pandemic losses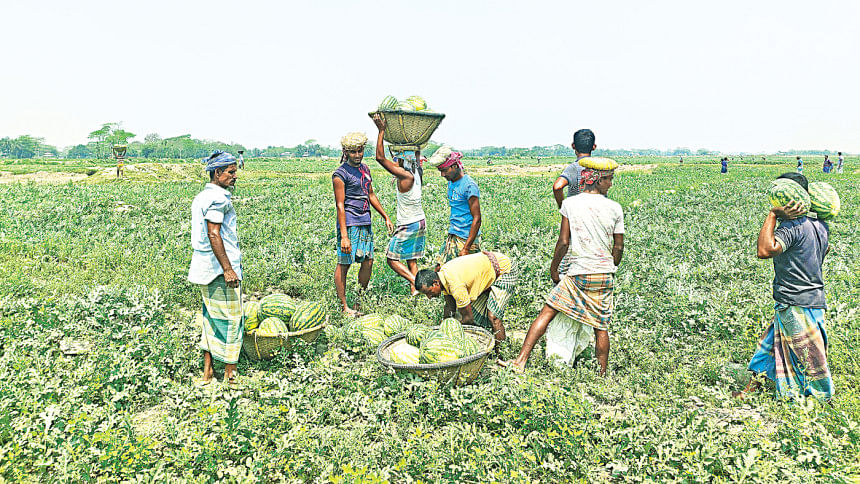 Farmers in Barishal division have bet on watermelon cultivation to help overcome the economic challenges brought on by Covid-19, such as losses incurred in growing other crops, as they are getting good prices this season.
The vine-like plant was planted amidst the cold of December and harvests started in March. The season is likely to stretch to June, thanks to the availability of late varieties.
Yields arearound 40 tonnes to 50 tonnes per hectare, taking the overall wholesale value of the business to about Tk 3,000 crore, according to the Department of Agricultural Extension's (DAE) Barishal office.
About 34,688 hectares of land were being cultivated whereas last year it was 25,000 hectares, said Md Taufiqul Alam, additional director of the DAE's Barishal office. Overall retail sales can be valued at well over Tk 7,000 crore, he said.
In Bhola district, the fruit is being grown on 11,249 hectares of land, over twice of that last year.
Around 30,000 local farmers are expected to directly benefit.
The acreage in Patuakhali district has also risen to about 23,000 hectares from roughly 15,000 hectares last year.
Md Hasan Warisul Kabir, deputy director of the local DAE office, said the business in Bhola alone was worth around Tk 900 crore to Tk 1,000 crore.
"From here, watermelons are sent to all parts of the country, including Dhaka, Narayanganj and Chattogram," he added.
Ganesh Dutta, a wholesaler in Barishal, said at least 1,000 tonnes of the juicy fruit were being sold in local markets every day.
Having bought Tk 42 lakh-worth fruit from farmers, Dutta hopes to make a profit of around Tk 10 lakh this season.
Wholesalers are making purchases from farmers at around Tk 20 to Tk 25 per kilogramme. However, retail prices start at a minimum of Tk 55 per kilogramme depending on the size, he added.
A wide variety of watermelons are now being grown on hundreds of acres of char land in Bhola's Charfesson upazila, where farmers were selling average sized fruits of around six kilogrammes to seven kilogrammes for about Tk 250 at wholesale.
Harun Patwari, a watermelon grower in the area, said farmers like him hope for the sale of the fruits to help make up for the coronavirus-induced losses.
Echoing him, Anwar Mia, a watermelon farmer in Barishal's sadar upazila, said they have been getting good prices since harvests began.
The situation is similar in Patuakhali, where most farmers rely on watermelon to account for a major portion of their yearly earnings.
Sekendar Mia, a resident of the region's Rangabali upazila, hopes for watermelon yields to break all previous records this year thanks to the increased acreage.
Kartik Dutta, secretary to the Barishal District Fruit Traders' Association, said watermelons of all sizes had been available in the market since the beginning of the season, and prices were also higher compared to that last year.