Barguna's Rakhine weavers busy making winter clothes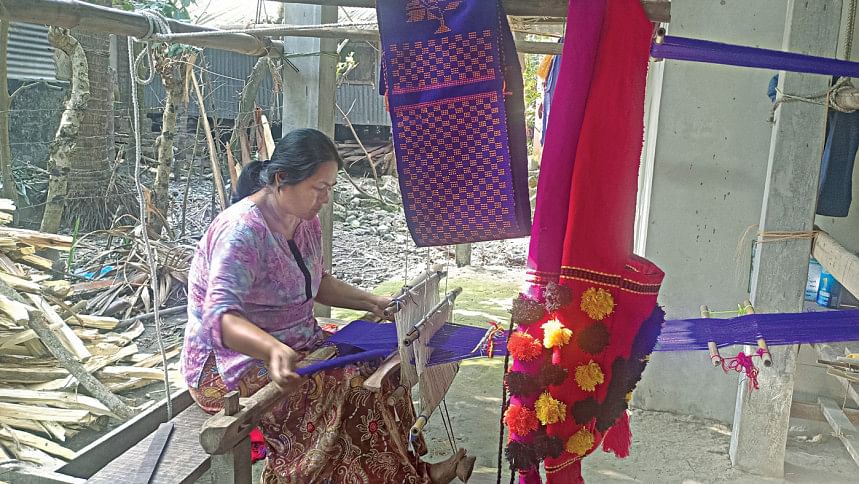 Rakhine weavers in Barguna's Taltali upazila are passing busy days now as demand for warm winter clothes has surged amid a sharp drop in temperatures. 
Weavers in the southern upazila town make various products, including winter shawls, head scarves and shirts as well as bags using handlooms, which are used to weave cloth without the use of any electricity.
Rakhine people traditionally use clothes made using handlooms. But due to the change in times and various other reasons, many have left the profession. Still, handlooms are the source of income for many families.
And the weavers received a boost when the Barguna Zila Parishad set up a market in Taltali upazila in the middle of 2020 to allow women in the community to carry on businesses. As a result, they can now sell their products easily.
There are 12 Rakhine villages in the upazila.
There are about 60 weavers in the villages, clocking sales of Tk 6 lakh to Tk 7 lakh collectively every year, especially during the winter season. 
During a visit to Chhaton Para recently, it was found that weavers were busy making various types of clothing items.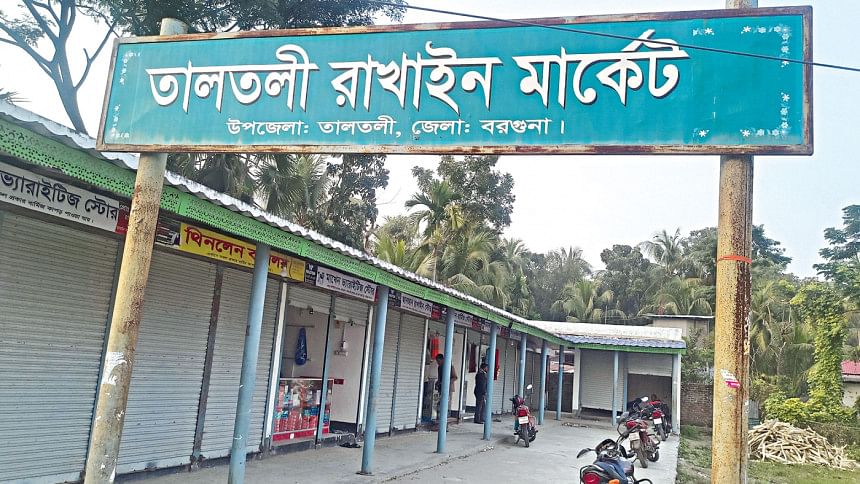 Mathin, a 50-year-old Rakhine woman, was making winter clothes in her house in Taltali para. She has been in the trade for almost 40 years.
She mostly weaves shawls for women as their demand picks up during the winter season. She also makes scarves and shirts.
Mathin takes two days to weave a regular shawl and three to four days to make a design shawl. She sells a regular shawl for Tk 400-450 and a design shawl for Tk 600-700.
Due to the increase in the price of cotton, the price of shawls has also increased. Last year, cotton was available at Tk 200 per kilogramme and now it costs Tk 400.
"Due to winter, the demand for woollen shawls has increased," Mathin said.
She sells shawls in the Rakhine market. Some customers also buy the product directly from her.
Chhaton Para is next to Taltali Para.
Forty-year-old woman Khewen in the village was making bags using design fabrics. Although people from various walks of life are the customers of her bags, the women from the Bede community are the main buyers.
Khewen takes a day to make two bags, with each fetching Tk 400 to Tk 600.
She is the lone earner in her family and her income also supports the education of her only daughter Takhen, who is studying computer engineering at the Patuakhali Polytechnic Institute.
If Takhen can manage a job after completing her education, the family will not have to worry about household expenses, according to Khewen.
Since the quality of the products made by Rakhine weavers is better than others, they get higher prices and thus make higher profits, said a number of weavers.
Waoman, a weaver in Chhaton para, mostly makes bags apart from shawls, scarves and shirts as they fetch higher prices.  A good quality bag can be sold at Tk 800 to Tk 1,000.
"Throughout the year, we make and store products. And when the winter season comes, we sell them to the shops in the Rakhine market," he said.
The 45-year-old received a one-month training on weaving from a private organisation, namely Resource Development Foundation.
Fifty-year-old weaver Makhen says the market offers them a good opportunity to sell the products they make.
The government has set up the market where all of the 10 shops have been allocated free of charge to Rakhine women entrepreneurs.
"We can sell our products in those shops."
Memechen, a shop-owner in the market, says: "The shop offers me the only source of income."
"We buy and display various products produced by the looms in the Rakhine villages."
Khen, another shop owner, says thanks to the Rakhine market, local weavers have got an opportunity to sell their products and found income-generating activities.
Tourists from different parts of the country visit Rakhine villages round the year, especially when the winter sets in.
"Tourists buy products from us. Besides, many people purchase items online," said Khen.
Hairaj Majhi, a local tourist who came to the market to buy shawls, said he buys winter items every year.
"The products are comfortable and relatively cheap. A shawl produced here costs one-third of those available in the market."
Another customer says people should buy the products made by Rakhine weavers to help them sustain their businesses.