Bangladesh–an oasis of growth
Says Standard Chartered CEO for Asia Benjamin Hung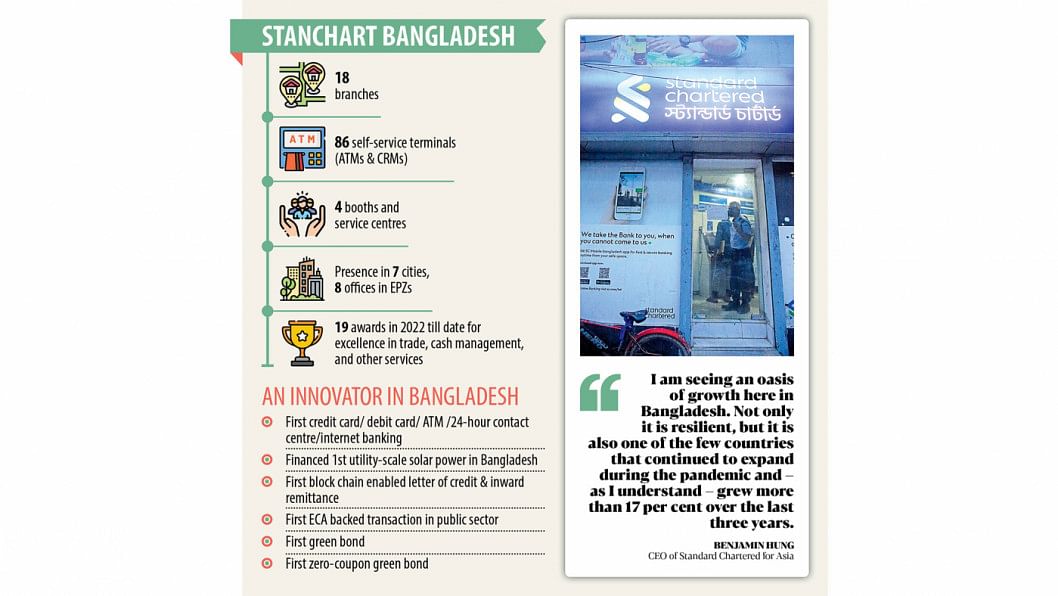 Bangladesh is currently weathering a period of heightened external pressure and economic headwinds like it has done since the outbreak of the coronavirus pandemic and kept growing, said a top official of a multinational bank.  
"I am seeing an oasis of growth here in Bangladesh. Not only it is resilient, but it is also one of the few countries that continued to expand during the pandemic and – as I understand – grew more than 17 per cent over the last three years," said Benjamin Hung, chief executive officer of Standard Chartered for Asia.
He was in Dhaka recently. During the visit, he met the finance secretary and the governor of the Bangladesh Bank.
"It is great to hear their plans to diversify Bangladesh's industries – augmenting the strength you have developed from the garments industry to other sectors, from investments into infrastructure, remittances, and a whole variety of aspects favouring the development of Bangladesh."
Besides, he met with many corporates and was encouraged by both the foresight and desire of the country to follow through to the next chapter.
"I am confident in Bangladesh's great potential to take its economy further forward," he told The Daily Star in an interview.
Hung has been working at Standard Chartered since 1992 and was appointed as the CEO of Standard Chartered for Asia in January 2021. He also sits on the group's management team and is the chairman of Standard Chartered Bank (China) Ltd.
According to him, the financial sector of Bangladesh is one of the top 10 FDI-attracting sectors with major inflows from the UK, the US, and China. 
A burgeoning middle-class is sending demand higher for increasingly sophisticated financial products and a dynamic mobile financial services sector is causing ripples of disruption across the pyramid, driving financial inclusion.
"The confluence of shifting consumer patterns and technological investments has led to digital channels experiencing unprecedented growth. Domestic banks are becoming increasingly sophisticated."
Hung was bullish about Bangladesh's potential.
"Bangladesh strikes me as a country of immense opportunities. It is weathering a period of heightened external pressure and economic headwinds that have impacted many economies. With economic growth trajectory remaining stable and with the mitigatory effects of policy actions being visible, it seems that Bangladesh remains on course to achieve sustainable growth."
In his view, there are some key strategic levers the country could draw on to accelerate growth.
One is mobilising investment to address the infrastructure deficit.
"Economies need to be more connected than they are now, both within and outside their borders. It is not just about the obvious infrastructure – bridges, railroads, ports, but digital infrastructure as well."
Bangladesh needs an estimated $320 billion of infrastructure investment by 2030 if it is to fulfil its potential to act as the gateway to the massive regional markets in South Asia and Asean.
"Developing viable and efficient financing strategies that mobilise resources nationally and globally for infrastructure projects is vital," according to Hung.
So far, Standard Chartered has raised more than $7 billion of financing in power, telecommunication, infrastructure, and other key sectors and can play a vital role in answering how to optimally structure these projects.
"Implementing the right policies to encourage physical and digital infrastructure that will spur flows of trade, investment, information, and people will accelerate the nation's rising prosperity," Hung said.
"For instance, bridging the Padma River is a historic achievement that is a marker for things to come."
The Standard Chartered top regional official is also aware of the challenges facing the country owing to global warming.
While Bangladesh only accounts for a tiny proportion of global emissions, it is in the top 10 of the world's most-affected countries by climate change. The north-eastern floods that happened earlier this year are yet another reminder of the immediacy of the challenge.
"Bangladesh needs to be in tune with the collective effort to mitigate climate change by reducing emissions to limit temperature rises," Hung said.
A study, commissioned by the London-headquartered bank, found that Bangladesh-based suppliers are risking almost $18.7 billion in exports each year if carbon emissions are not cut in line with their biggest clients' net zero plans.
"At the same time, we need to accelerate change. This calls for a greater public-private partnership to unlock more investment and drive the action required. Coordinated government policy, incentivisation and structures that direct money to the projects required to raise this capital will be crucial," Hung said.
"Innovations from the private sector will also be required, including new technologies to help communities adapt and new financial products that direct capital to the technologies and projects where the need is greatest."
When asked about the thoughts that keep him up at night, he lists the Covid-19 pandemic, the geopolitical tensions and their ever-changing dynamics, and supply chain disruptions.
"The scale and depth of today's challenges are something I have never experienced before in my 35-year banking career."
Amidst these headwinds, Hung says, it is easy to overlook that it is these exact shifts that are presenting emerging opportunities for businesses.
"Particularly here in Asia, we are seeing some really transformational and structural changes that will be to the benefit of all of us living here."
Intra-Asia trade dynamics have blossomed over the years.
"We have had almost three to four decades of manufacturing in the East for consumption by the West. I think in the next 10 to 30 years, we will be seeing a lot more of the East producing for the East on the backdrop of rising middle classes in Asia," Hung said.
He also touched upon digitalisation and the fourth industrial revolution, which are bringing about huge business model changes that will have a benefit in terms of how businesses operate.
"That said, vigilance about cybersecurity is critical – cyberattacks come with significant consequences and we can only expect their frequency, scale, and sophistication to increase. There is also the sustainability side of things, which presents a challenge, but also an opportunity."
Over the last two decades, Bangladesh grew consistently by over 6 per cent year-on-year. It performed relatively well even during the global food price hike and economic meltdown in 2007-08 and the pandemic.
Now it is under tremendous pressure as visible by the fast devaluation of its currency and high current account deficit.
"It is important that we are able to filter short-term aberrations from long-term structural trends and opportunities and stay focused," said Hung, while speaking on how to ride out the current difficult period.
"External debt is low compared to its peer group, providing ample headroom to navigate further global uncertainties. Stable macroeconomic indicators and resilient recovery from the effects of Covid-19 is set against a backdrop of global uncertainties. But as global value chains recalibrate, there are also emergent opportunities."
StanChart's recent Future of Trade report identifies Bangladesh as a Hypergrowth Market – markets that are rapidly progressing towards being major global trade partners.
"Favourable demographics, rising urbanisation, digitalisation, increasing financial inclusion and other structural drivers all point toward a bright future for Bangladesh."
He said global trade remains one of the key building blocks of Bangladesh's growing economy, and Standard Chartered is firmly in the business of driving prosperity.
"We are accelerating through innovation, such as setting up the country's first digital trade counter or completing the first digital letter-of-credit transaction, we have been helping businesses dovetail with their global counterparts."
"With our uniquely diverse network, we are also helping Bangladeshi businesses access 59 markets globally, at the same time, reinforcing Bangladesh's potential as an investment destination through our key corridors and international financial hubs in Singapore, Hong Kong and London."
Over the last year, the bank supported Bangladesh's green transition through a series of 'firsts' – from the issuance of the first green bond to the country's first-ever sustainable trade finance transaction.
Hung thinks international banks like Standard Chartered are well-positioned to support clients' network business needs amidst the growing inter-connectivity of Asia.
"We remain vigilant of the inherent vulnerabilities and systemic risks within the financial sector and believe that embedding good governance and healthy risk management culture in all banks would go a long way towards addressing these challenges."