Bangladesh making advances in carpet export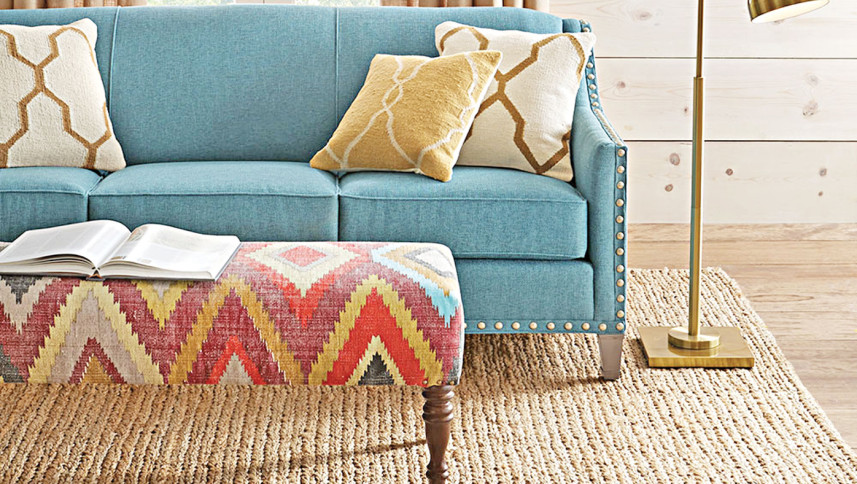 Bangladesh has once again started to export jute-based carpets and earnings from shipment of floor coverings have been rising gradually. 
Exporters fetched $36.8 million, the highest on record, from selling carpets abroad in fiscal year 2021-22, up 10 per cent year-on-year, data from the Export Promotion Bureau (EPB) showed.
Rising awareness about the environment and changing tastes of Western customers are driving the popularity of carpets made in Bangladesh, said exporters.
This was the fifth consecutive year carpet export has grown consistently since fiscal year 2017-18, when total sales proceeds from carpets stood at $19.49 million, according to EPB data.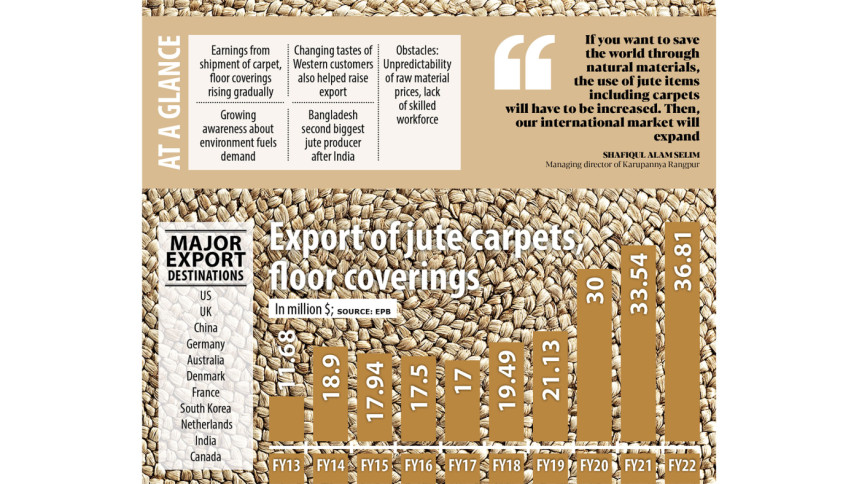 Exporters said Bangladesh, the world's second biggest jute producer after India, used to export carpets in the 1980s to various countries of the world, including the US, Australia and New Zealand.
Exports gradually declined in the 1990s. And in 1995, all seven carpet mills existing in Bangladesh closed down, said exporters.
Shafiqul Alam Selim, managing director of Karupannya Rangpur, attributed global warming as one of the key reasons for the increase in demand for jute carpets and other textile floor coverings in the global market.
"People are increasingly becoming more and more environmentally conscious," he said.
According to the entrepreneur, developed countries have promised not to pollute the environment on various international platforms and were insisting on the use of jute products instead of plastic products.
"If you want to save the world through the use of natural materials, the use of jute items including carpets will have to be increased. Then, our international market will expand," said Selim.
Bangladesh exports carpets and other textile floor coverings to countries such as the US, the UK, China, Germany, Australia, Denmark, France, South Korea, the Netherlands, Poland, Sweden, India, Uruguay, Portugal, Spain, Canada, and Ireland.
Exporters say the government was extending a lot of cooperation for the development of the sector. But the drawback is that some entrepreneurs are not capable enough to capture the international market and they need to make more improvements, they said.
Doing business sustainably in the sector is not easy since compliance to international regulations is a big factor, said Selim.
"But if someone runs businesses being compliant, they can grow. The future of business lies in the sector," he added.
Unpredictability of raw material prices and a lack of skilled workforce are two major obstacles facing exporters.
Shahedul Helal, vice-chairman of Bengal Braided Rugs, said there were a number of fully compliant factories in Bangladesh. Now many international chain stores, which earlier used to make purchases from other countries, are now sourcing products from Bangladesh, he said.
Exporters say that those who are providing backward linkage support in this industry are not compliant to regulations. This puts them in difficultly with foreign buyers and they are working to resolve the issues, they said.
In 1980, Helal, worked as a Bangladeshi agent for carpet buyers in the US, Australia and New Zealand.
He said Bangladesh has great potential to do better in the carpet sector of the world market because there were several private factories in the country which were doing business while complying with regulations.