Bangabandhu Hi-Tech City: PPP model binned for one segment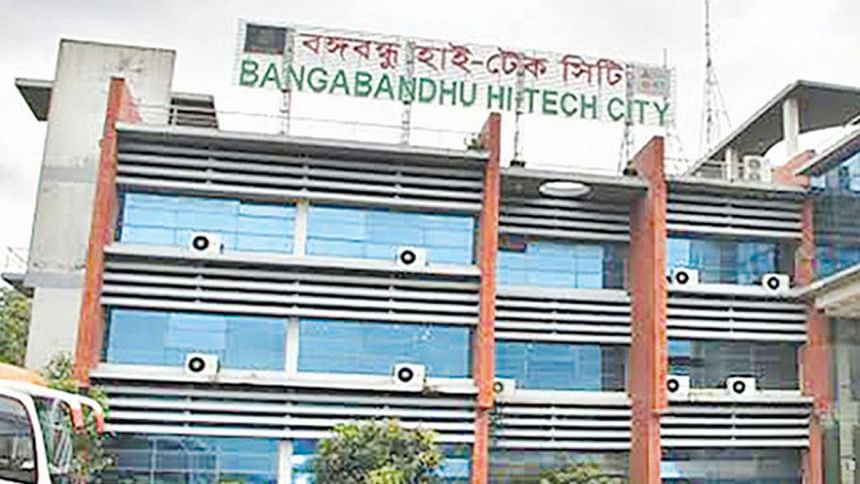 The government has retreated from its decision to develop a portion of Bangabandhu Hi-Tech City in Gazipur's Kaliakoir on a public-private partnership (PPP) model due to lukewarm response from developers. 
To speed up the investment in the park Bangladesh Hi-Tech Park Authority will instead directly allocate land to investors.
The decision was taken at a virtual meeting of the Cabinet Committee on Economic Affairs held on Wednesday.
The 355-acre city is divided into segments called blocks, developed and ready with all necessary amenities for tech-based industries.
According to initial plans, a 65-acre block 1 will have residential facilities, a hotel and administrative buildings while block 2 will comprise training centres, a convention hall, mosques, shopping centre and other residential facilities.
Block 3 (40 acres), block 4 (36 acres), block 5 (29 acres) and block 6 (97 acres) are entirely dedicated for industrial areas and a special zone comprising 97.33 acres of land has been developed for establishing research and development facilities.
According to the documents of the ICT Division, the authority's executive committee had first decided to develop the city hiring developers through the PPP method.
Later, it got the green light from the cabinet committee in September 2011 to adopt the PPP model titled DBFOOT (design, build, finance, operate, own and transfer).
In accordance with this, international tenders were floated for appointment of developers for block 2, 3, 4 and 5.
Subsequently, the authority signed an agreement with Summit Technopolis on June 28, 2015 for the development of block 2 and 5 and another with Bangladesh TechnoSity on August 11 of the same year for block 3.
For block number 4, both Summit Technopolis and Bangladesh TechnoSity had submitted tenders.
Although Summit Technopolis had proposed investing a higher amount of money, the authority's executive committee decided to evaluate their activities first before appointing a developer for block 4.
In this context, a committee formed under the chairmanship of an additional secretary (planning and development) to ICT Division opined against appointing existing developers for block 4.
Afterwards, in July 2020, the authority floated an international tender for appointing a developer for block 4. Only one company submitted a proposal.
But as per a gazette issued by Public-Private Partnership Authority, there is no scope for evaluating a single bid.
As a result, in a subsequent meeting, the authority's executive committee decided to withdraw the PPP system and allocate the land directly to entrepreneurs.
Developers can rent out a facility built by themselves or lease out the land to local and international investors.
"The honourable prime minister also directed us to allocate the lands of block 4 directly to the investors at the meeting of the authority that took place in June," said Bikarna Kumar Ghosh, managing director of Bangladesh Hi-Tech Park Authority, yesterday.
"It also requires the approval of the Cabinet Committee on Economic Affairs, which we have got now," he added.
On why the government is now directly allocating the land, he said, "On one hand we have found just a single bidder. On the other hand, the activities of the existing developers are slow."
"For block 4, we have already primarily selected 18 companies to allocate all of the land," he added.