Ban on new SIM sales erodes GP subscriber base
The operator sheds 8 lakh users in July, while Robi, Banglalink gain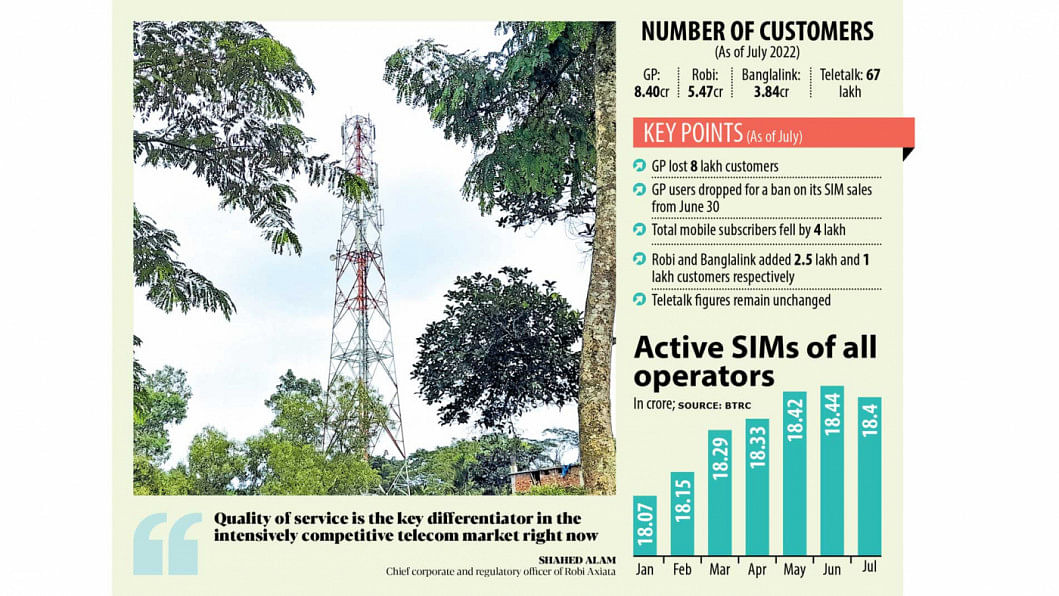 Grameenphone lost 8 lakh customers in July as the country's top mobile network provider is starting to feel the pinch of a ban on new SIM sales imposed by the Bangladesh Telecommunication Regulatory Commission (BTRC).
The number of Grameenphone customers stood at 8.40 crore by the end of July, down from 8.48 crore a month earlier, as per the latest BTRC data.
The telecom watchdog banned Grameenphone from selling new SIM cards from June 30 for what it said was the operator's failure to provide quality service.
Despite the fall, Grameenphone still holds the industry's top spot by a big margin as it now has 45.68 per cent of the market share based on subscribers. The operator saw its profits rise 8 per cent to Tk 920 crore in the April-June period of 2022 riding on higher revenue earnings.
Although the BTRC banned Grameenphone from selling new SIMs on the grounds of call drops and low service quality, the network provider had earlier passed the regulator's test in this regard.
According to the results of a nationwide drive-test published in March, Grameenphone's average call drop rate in December was at 0.29 per cent in Dhaka division, with exception to city corporation areas.
According to the BTRC's policy, the call drop rate should be less than 2 per cent.
Following the ban, Grameenphone recently submitted a compliance report, carried out by the operator itself on the period between December 2021 and July 2022. Results of the drive-test show that the company's average call drop rate stands at only 0.21 per cent while its internet speed stands at 10.13Mbps -- both of which pass the BTRC's benchmarks by a big margin.
However, the BTRC said it will verify the authenticity of Grameenphone's compliance report.
"A student cannot be an examiner. Our technical team will verify the compliance report," Subrata Roy Maitra, vice-chairman of the BTRC, told The Daily Star.
According to the BTRC, Grameenphone will be allowed to sell new SIMs once it improves its quality of services and reduces its call drop rate.
Grameenphone declined to comment on this issue.
On a year-on-year basis, Grameenphone customers rose by 1.93 per cent in July.
Meanwhile, Robi Axiata and Banglalink gained clients that same month.
Robi and Banglalink added about 2.5 lakh and 1 lakh customers respectively in July compared to a month earlier, while state-run operator Teletalk's figures remained almost unchanged that month.
On a year-on-year basis, the number of customers of Robi, which operates under brand names Robi and Airtel, increased 5.5 per cent to 5.47 crore in July.
"Quality of service [QoS] is the key differentiator in the intensively competitive telecom market right now," said Shahed Alam, chief corporate and regulatory officer of Robi Axiata.
"With this backdrop, we are absolutely delighted with the acquisition figures published by the BTRC. It just shows that our relentless drive for improving QoS is being recognised by our valued customers," he added.
Robi recorded Tk 2,018.8 crore in revenue for the first quarter of this year, up 2 per cent year-on-year.
At the same time, the company's net profit grew 16 per cent to Tk 34.29 crore in the January-March period.
Axiata Group Berhad of Malaysia holds a controlling stake of 61.82 per cent in Robi Axiata while Bharti Airtel of India holds 28.18 per cent and the general public holds the remaining 10 per cent.
The subscribers of Banglalink, a subsidiary of Amsterdam-based connectivity provider Veon, rose by about 5.20 per cent year-on-year in June to about 3.85 lakh.
"We have added hundreds of new base transceiver stations to our network, expanding our coverage significantly," Taimur Rahman, chief corporate and regulatory affairs officer of Banglalink.
"Besides our quality of services also improved, so we have been witnessing steady growth," he added.
The operator added about 3,300 cell sites to its tower network in the last one year to take the total number to around 13,000.
Despite the gains of Robi and Banglalink, the country's total mobile subscriber base dropped by 4 lakh month-on-month in July.
This means that the customer loss of Grameenphone could not be made up by the gains of the two other private operators.
Teletalk's subscriber base rose by 10 per cent year-on-year to 67 lakh in July but it still holds only 3. 65 per cent of the market in terms of subscribers.
On a year-on-year basis, the total number of mobile customers grew by 4 per cent to 18.40 crore in July.