Ahead in numbers, not in service, reach
Bangladesh has more banks, insurance and finance firms than peers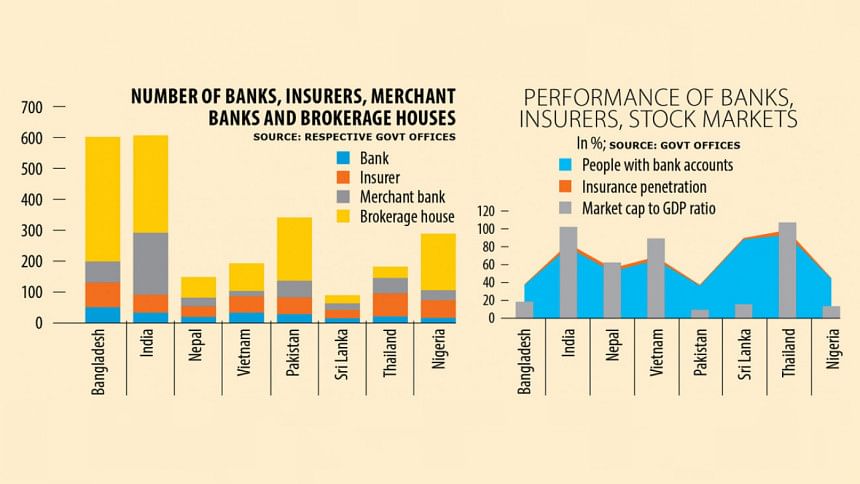 The number of banks, insurance companies, brokerage firms, and merchant banks is much higher in Bangladesh than in many other countries at a similar level of development or having a similar size of population and economy.
This is largely because the government, in the last few decades, has granted licences for the firms in the financial sector under political consideration and without a proper analysis, said analysts.  
For example, the number of local banks in Bangladesh is 51 where it is 34 in India, 20 in Nepal, 34 in Vietnam, 29 in Pakistan, 16 in Sri Lanka, 22 in Thailand, and 17 in Nigeria, according to the data of the central banks of the countries.
Similarly, Bangladesh has the highest number of insurance companies among them: there are 80 insurers in the country whereas India has 58 insurers, Nepal 34, Vietnam 53, Pakistan 54, Sri Lanka 27, Thailand 74, and Nigeria has 57.
Bangladesh also topped the list in terms of stock brokerage firms, with 402 brokers serving investors through the Dhaka Stock Exchange and the Chittagong Stock Exchange.
In India, the number of brokerage firms is 314, while it stands at 67 in Nepal, 89 in Vietnam, 204 in Pakistan, 26 in Sri Lanka, 36 in Thailand, and 183 in Nigeria.
At 68, Bangladesh is home to the second-highest number of merchant banks among the eight countries, just behind India where 200 merchant banks operate.
Nepal has 28 merchant banks while the number is 17 in Vietnam, 54 in Pakistan, 21 in Sri Lanka, 50 in Thailand, and 32 in Nigeria.
Still, nearly 60 percent of Bangladesh's population has remained unbanked, insurance penetration is one of the lowest in the world, and the contribution of the stock market is thin.
Besides, many companies in the financial sector make headlines every now and often because of a higher level of irregularities, embezzlements, and manipulation driven by political influence and a lack of good governance, according to analysts.
Since the number of banks, non-bank financial institutions (NBFIs), insurers, brokerage firms and merchant banks is high compared to the needs of the economy, the business volume is not large for many of them, said AB Mirza Azizul Islam, a former finance adviser to the caretaker government.
"As a result, the firms can't achieve the economies of scale, which force them to charge higher fees."
The economist argues when the number of firms in a segment rises, companies can't hire an adequate number of efficient officials.
"Thus, monitoring remains lax and corporate governance is not followed properly."
The former chairman of the Bangladesh Securities and Exchange Commission thinks such a large number of financial firms is not necessary for an economy like Bangladesh. Still, licences were granted owing to an unholy nexus between businessmen and politicians.
Md Main Uddin, a professor of the Department of Banking and Insurance department at Dhaka University, echoed Islam.
"The service quality is still low whether it is a bank, non-bank or insurance company."
Owing to worsening corporate governance, Bangladesh's banking sector had the second-highest ratio of non-performing loan (NPL) among the countries in South Asia in 2022 at 9.4 percent.
India had an NPL ratio of 5 percent, Nepal 2 percent, Pakistan 8 percent and Sri Lanka 11, said the World Bank in a report in May.
Besides, Nigeria's NPL stood at 4 percent, Vietnam's 1.6 percent and Thailand's 2.8 percent, according to the website of the development lender.
Despite having a large number of banks, their presence in the rural areas and among the marginalised groups is not satisfactory, while the contribution of brokerage firms and merchant banks to the stock market is lower compared to the comparators.
"The penetration of the insurance sector is significantly low," Prof Main said.
In Bangladesh, the insurance penetration was 0.46 percent in 2022, against 4.2 percent in India, 3.57 percent in Nepal, 3.38 percent in Vietnam, 0.91 percent in Pakistan, 1.39 percent in Sri Lanka, and 0.5 percent in Nigeria.
Merchant banks in India manage initial public offerings for 2,183 companies between 2018 and 2022. During the same period, Bangladeshi merchant banks helped 50 companies raise funds.
The market capitalisation-to-GDP ratio, which is used to determine whether an overall market is undervalued or overvalued compared to a historical average, dropped to 13.02 percent in the fiscal year of 2021-22 from 18.39 percent a year ago. It went up to 19.14 percent in 2022-23, buoyed by the listing of government securities.
The ratio is 103 percent in India, 63 percent in Nepal, 90 percent in Vietnam, 10 percent in Pakistan, 16 percent in Sri Lanka, 108 percent in Thailand, and 14 percent in Nigeria, media reports showed.
Prof Main said the stock market and the insurance sector are suffering from a confidence crisis and some small companies were a major reason for the situation.
"Small companies lag when it comes to corporate governance and their activities dampen the enthusiasm of many people. And it ultimately spooks the confidence of people in the entire sector."
He cited the case of insurance companies whose claim settlement ratio is less than 2 percent.
"When companies fail to return funds to policy-holders, it creates a bad impression about the industry."
Four insurance companies had a claim settlement ratio of less than 40 percent in 2022. Of them, Baira Life Insurance's settlement ratio stood at 1.83 percent, the lowest among the insurers, data from the Insurance Development and Regulatory Authority showed.
Another issue is, according to Prof Main, when the number of firms in a sector rises to the higher-than-expected level, unhealthy competition surfaces.
"Now, firms are engaged in poaching customers from competitors instead of creating new ones. Such a practice can't make the business sustainable."
"Had licences been available for all instead of providing permissions under political consideration, the situation would not have been much dire."
"Most insurance companies are not having good business owing to fierce competition. So, they are unable to provide good service to customers," said SM Ibrahim Hossain, director of the Bangladesh Insurance Academy.
Mirza Aziz and Prof Main both recommended merger and acquisition in all areas of the financial sector to ensure sustainable businesses and proper services.