3 submarine cable firms to team up owing to US dollar crunch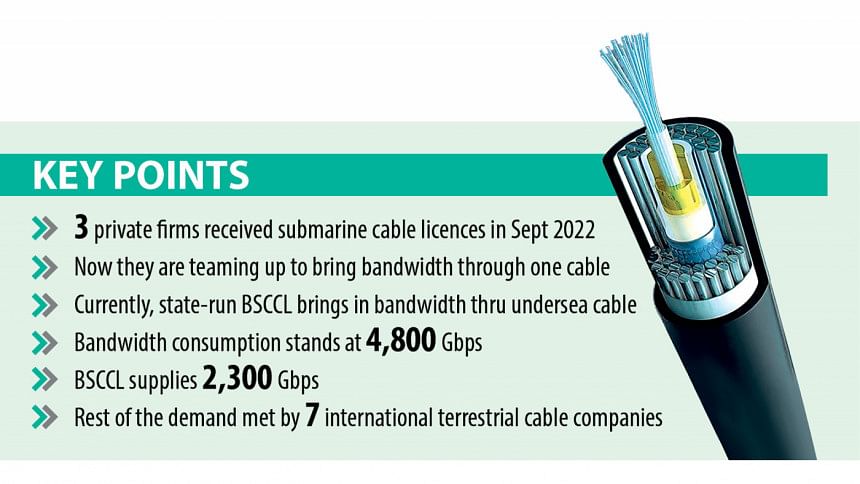 Three private submarine cables have backtracked from their initial decisions to supply bandwidth separately through undersea cables and have now agreed to collaborate on one connection amid the US dollar shortage. 
Top officials of the three licensees -- Summit Communications, CdNet Communications and Metacore Subcom Ltd -- said their collaboration would help the country save foreign currencies and cut their investment costs.
In September last year, the three obtained licences to establish, maintain and operate submarine cables in a development that broke the state monopoly in the wholesale bandwidth business.
Currently, Bangladesh Submarine Cable Company Limited (BSCCL) is the only company that connects Bangladesh with the global bandwidth network through undersea cables.
As per their previous plans, the three firms were supposed to invest around Tk 2,000 crore collectively to connect the country with three more submarine communication cables.
However, an official of one of the firms said that as US dollars have become dearer, their investment would surge to about Tk 3,000 crore if they go for establishing the connectivity separately.
"So, we have agreed in principle to join a consortium," Md Arif Al Islam, managing director of Summit Communications, told The Daily Star.
The ongoing US dollar crunch is the main reason for the companies to opt for forming an alliance as it would lessen the burden of having to pay a substantial amount of foreign currencies as a down payment for connections.
"We are in the process of evaluating the global consortium. We haven't decided yet," Islam said.
Submarine cable systems generally use optical fibre cables laid undersea to carry international data traffic, creating telecommunication links between countries across the globe. As such, cable systems cost several hundred millions of dollars to establish. In most cases, the construction is funded by consortiums of telecom operators, private cable operators and private-public partnerships.
All three local companies said they are in discussion with the initiatives of three foreign firms, namely Reliance Jio Infocomm of India, NTT Ltd of Japan, and Campana of Singapore.
Mashiur Rahman, CEO of CdNet Communications, said discussions with Campana have advanced to the final stage.
According to a study by Cushman & Wakefield, Singapore ranks among the most desirable data centre location, tying with Silicon Valley for second place globally, and ranking first in Asia.
Aminul Hakim, a director of Metacore Subcom, said it is almost confirmed that they are joining an initiative and plan to enter an agreement in this regard by June.
"If the three firms want to connect with Singapore, the route will be the same. So, it will be a waste of money if you deploy three cables."
"Besides, those payments have to be made in US dollars and it is almost impossible to do so under the current circumstance."
Owing to the Russia-Ukraine war, Bangladesh has been going through a foreign exchange crisis for the past one year as higher import bills have lowered the country's international currency reserves by about 30 per cent during the period, making it difficult for companies to open letters of credit for non-essential and luxury items.
The dollar has strengthened by about 29 per cent against the taka in the past one year.
Each of the three companies will be able to bring about 18,000 Gbps bandwidth through the cable, enough to meet the rising demand for bandwidth in the country.
In addition, the cost of the joint initiative would be reduced to Tk 1,500 crore, Hakim added.
In Bangladesh, bandwidth consumption witnessed a remarkable rise during the coronavirus pandemic as people turned to internet to work, study and find entertainment at home.
Bandwidth usage surged to over 4,800 Gbps in May from 1,000 Gbps before the health crisis erupted, according to the Bangladesh Telecommunication Regulatory Commission (BTRC).
BSCCL supplies 2,300 Gbps while the rest comes from India through seven international terrestrial cable service providers.
Bangladesh is a member of the South East Asia-Middle East-Western Europe 4 (SEA-ME-WE 4) consortium, the first undersea cable with which Bangladesh was connected in 2006. It supplies about 800 Gbps bandwidth.
The state-run entity supplies 1,500 Gbps through the SEA-ME-WE 5, for which the connection was established in 2017.
The company is set to receive 13,200 Gbps from the third undersea cable, SEA-ME-WE 6, by 2025.
Also, BSCCL is going to spend $3.2 million to raise the capacity of its first undersea cable by more than four times to 4,600 Gbps.
According to the BTRC's guideline, submarine cable firms must roll out cables within 48 months of obtaining licences.
CdNet Communications CEO Rahman said the firms would connect the country with a private submarine cable before the rollout deadline.