Online market largely untapped: experts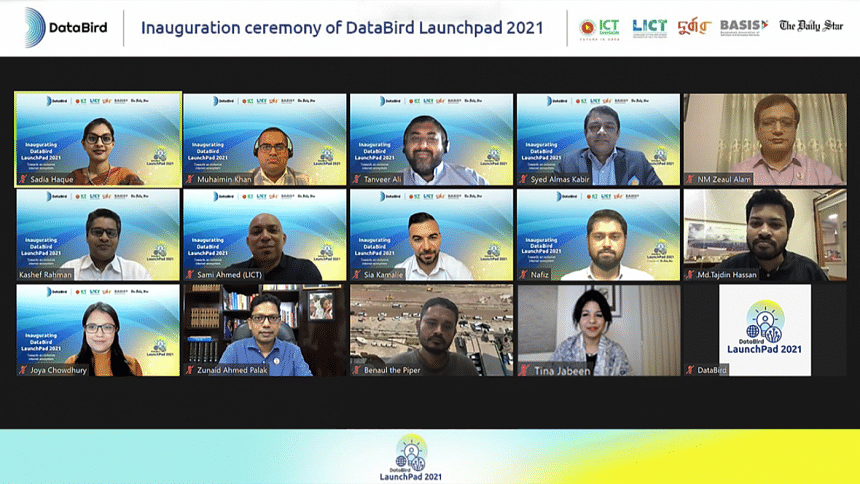 Bangladesh currently has one of the largest untapped online markets as the country expects 80 million more smartphone users by 2030.
This makes Bangladesh a very promising hub for such a market with local startup systems being a turning point.
These possibilities were discussed by speakers at the virtual inauguration ceremony of "DataBird LaunchPad 2021" yesterday.
State Minister for ICT Zunaid Ahmed Palak attended as chief guest while NM Zeaul Alam, senior secretary to ICT Division, joined as special guest.
DataBird LaunchPad 2021 is a platform that aims to help young innovators solve their various problems uniquely with technology.
The platform is working with ICT Division, LICT Bangladesh, Durbar, BASIS and The Daily Star to widen its horizon to create more opportunities for future innovators in the digital ecosystem.
The event began with Kashef Rahman, chief executive officer (CEO) of DataBird, giving a brief overview of the company's initiatives.
Olympic Industries Executive Director Tanveer Ali provided insights on how the country could reach total internet inclusivity across all industries.
According to him, promoting local innovation towards new internet verticals, enabling the local tech talent, connecting local innovations with international opportunities, and accelerating the "Digital Bangladesh" initiative could facilitate the process.
Sia Kamalie, founder of Skycatcher and a board member of DataBird, said Bangladesh was a very promising internet market since the country remains largely untapped in this regard, offering a first-mover advantage.
"We'll see a thousand times more money from the market by 2030," he said, adding that Bangladesh is considered the most promising market since it will add 80 million smartphone users and $350 billion to its GDP by 2030.
"We want to support DataBird's initiatives that are working with students, SMEs, micro-merchants and are promoting Bangladesh as a technical hub in the coming decade," said Tina Jabeen, CEO & managing director of Startup Bangladesh.
Syed Almas Kabir, president of the Bangladesh Association of Software and Information Services, deemed this initiative a wonderful move for new innovators and business owners.
"We provide different kinds of services, including accounting, tax preparation, product packaging, and so on to our customers on a complimentary basis. This platform will make this work easier," he added.
The DataBird LaunchPad could help the country's youths and business owners be more creative as well, according to Md Tajdin Hassan, chief strategy and digital transformation officer of The Daily Star.
"We need to be more creative and this platform could help youths become more innovative and make such a change," he said.
The launchpad shows that Bangladesh is heading towards a more digitalised society as DataBird has come forward with various services to include those left behind with regard to internet inclusivity, said Sami Ahmed, policy adviser to the LICT.
NM Zeaul Alam PAA, senior secretary to ICT Division, mentioned that digital tools were being used to eradicate poverty and develop the country's human resources.
"Besides, the ICT Division is already working on different aspects of Vision 2021," Alam said.
The ICT division always encourages digital innovations, according to State Minister for ICT Palak.
"The local startup ecosystem is the cornerstone of our innovation-focused development," he said.
More than $30 million has been spent on the local startup sector in the last 3-4 years.
"Hopefully, this launchpad will encourage our youths to solve the country's challenge of creating internet products by amplifying Bangladesh's power to create such products locally and help us to become self-dependent," Palak added.