Two more banks get to trade in rupee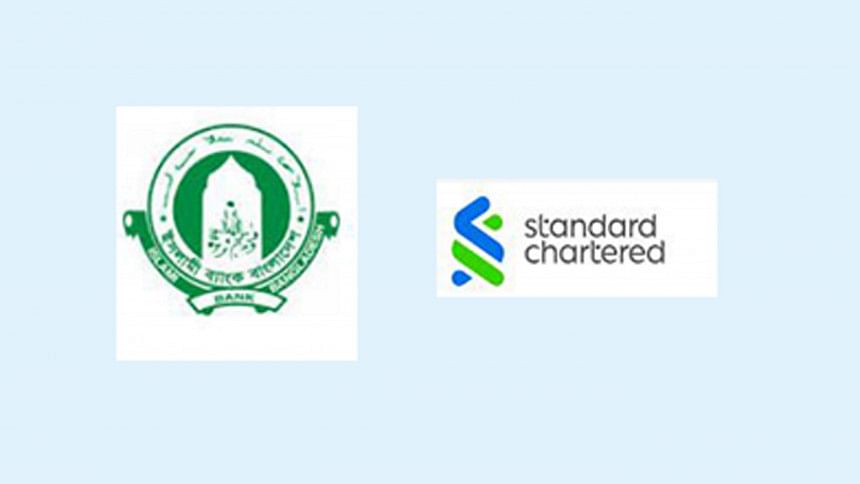 Standard Chartered Bangladesh (SCB) and Islami Bank Bangladesh PLC have received approval from Bangladesh Bank to conduct bilateral trade with India using the rupee. 
Up until now, Sonali Bank PLC, Eastern Bank PLC and the State Bank of India were doing the same under a landmark cross-border trade settlement mechanism rolled out by Bangladesh and India on July 11.
Under the mechanism, meant to reduce dependency on the US dollar for transactions, Indian exports and imports, which amount to about $16 billion, can be invoiced, paid for and settled in the rupee.
This is being done through the lenders' nostro accounts, which are essentially bank accounts held in another country by domestic banks, denominated in the currency of the overseas country.
Bangladeshi exporters are receiving their proceeds in rupee in those accounts and that balance is being used to pay for the imports from India.
In short, import bills equivalent to the export proceeds can be settled under the mechanism. The exchange rate used would be market-determined.
The banking regulator gave the permission to the SCB and Islami Bank Bangladesh PLC last month, a senior central bank official, seeking anonymity, told The Daily Star.
The banks opened nostro accounts with their counterparts in the neighbouring country, he said.
Similar applications are being scrutinised of six more banks -- Trust Bank Ltd, Social Islami Bank Ltd, AB Bank Limited, NCC Bank Limited, Prime Bank Limited and Premier Bank Limited.
"We got permission from Bangladesh Bank last month to trade in rupee," confirmed Naser Ezaz Bijoy, chief executive officer of the SCB.
"After getting the approval, we received export proceeds of Rs 1 crore and will make imports against the export soon," he added.
"Another client will also conduct export and import through our bank," he said.
Bilateral trade with India in rupee saves time and costs because the currency conversation with the US dollar is not needed in this case, said Bijoy.
"This is the main advantage in this situation but it will take time to boost the trade in rupee," he said.
The demand and supply of the US dollar will not change at this time but when more exporters and importers conduct trade in the rupee, the demand for the US dollar will be reduced, he explained.
Mohammed Monirul Moula, managing director of Islami Bank Bangladesh PLC, could not be reached for comment till filing of this report in the evening yesterday.
Tamim Agro Industries was the first company in Bangladesh to open a letter of credit for exports worth Rs 16 million. Over in India, Nita Company Ltd was the first to open an LC for exports worth Rs 12 million.
Afterwards, a number of companies have conducted trade using the rupee.
Yesterday settlement of a recent trade worth over Rs 2.4 million on exports of Habiganj Agro Limited, a concern of Pran-RFL Group, was celebrated by Eastern Bank PLC.
This is a transformative chapter in the economic and commercial partnership between Bangladesh and India, said Ali Reza Iftekhar, managing director of Eastern Bank PLC.
The purpose of this mechanism is to alleviate pressure on Bangladesh's foreign currency reserves and reduce transaction costs, ensuring a smoother and more efficient trade process, he said.
Commerce Minister Tipu Munshi and Pranay Verma, India high commissioner to Bangladesh, were present at the bank's head office marking the event.