Forex market: Six banks apologise for making excessive profits
BB asked them to set aside half of profit for CSR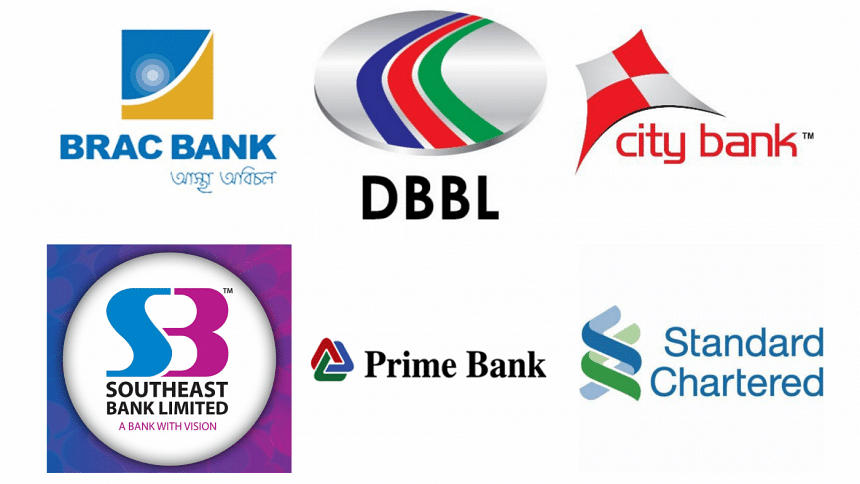 The central bank yesterday ordered six banks to spend 50 per cent of the profits they had earned from their foreign exchange businesses unethically between May and June for corporate social responsibility (CSR) programmes. 
The six banks -- Brac Bank, Dutch-Bangla Bank Ltd, The City Bank, Southeast Bank, Prime Bank, and Standard Chartered Bangladesh -- have also sought an apology from the Bangladesh Bank for their actions.
On August 17, the BB asked the lenders to set aside the profits in a separate account.
As per a central bank probe, the banks sold the American dollar at an excessively high rate and purchased them at a much lower rate from exporters, cashing on the volatility in the forex market.
For instance, many banks bought each dollar for Tk 93-Tk 94 in May and June but sold them at Tk 110-Tk 112.
According to the half-yearly balance sheets of a dozen banks, profits from their foreign exchange businesses surged 770 per cent year-on-year.
The BB, in its letters to banks, said the lenders can make a profit by complying with banking rules, policies and ethics.
"It is not expected that a lender will make excessive profit unethically, harming the economy."
The central bank initiated a probe after receiving allegations that banks were making excessive profits by taking the advantage of the dollar shortage.
The BB, after reviewing the feedback from the banks, said this was the first time excessive profits were made. It directed banks to follow banking rules while running their businesses.
It said banks will be able to transfer the rest of the profit earned from the foreign exchange business to their income accounts after setting aside 50 per cent of the funds for CSR activities.
It also allowed banks to reinstate the treasury chiefs, who were removed on August 8 for their roles in the volatility of the forex market.
"The banks have sought an apology from the central bank and gave their word that they would not breach banking rules in the future," said Md Serajul Islam, spokesperson of the BB. 
This prompted the central bank to take the latest decision, he said.
Contacted, Selim RF Hussain, managing director of Brac Bank, says his bank has always been compliant and is known as a standard bearer for governance in the banking industry in Bangladesh.
"The bank is respectful to the BB and will continue to work under its guidance to serve the customers and contribute to the Bangladesh economy."
The managing directors of five other banks could not be contacted for comments.